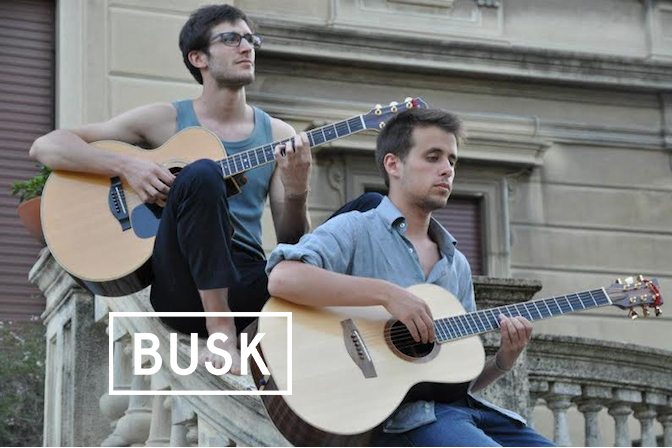 April 14, 2016
BUSK 2016: I Lacci
BUSK Singer-Songwriter Festival is back in Bolzano Bozen: on May 20th and 21st 2016 once again we're bringing buskers and their music out to the streets of the city. VOTE this profile and YOUR FAVOURITE MUSICIANS by clicking the facebook like button at the end of the article (the result will be added to a selection made by an expert group). Spread music!
Name/Name/Nome
I Lacci (Mattia Gamba e Alessandro Venturin)
Genre/Musikrichtung/Genere
Chitarra acustica fingerpicking
Hometown/Herkunftsort/Luogo di provenienza
Biella (BI), Piemonte
Age/Alter/Età
26
Your first contact with music?/Dein erster Kontakt mit der Musik?/Il primo contatto con la musica? 
Siamo entrati entrambi in contatto con la musica intorno ai nove, dieci anni di età. Già compari di merende alle scuole elementari ci divertivamo strimpellando con strumenti di fortuna, inventandoci canzoni strampalate. Siamo poi approdati per vie diverse alla chitarra classica e successivamente all'acustica. Il nostro "sodalizio" artistico va avanti da anni, dal momento che ancora oggi suoniamo assieme… ma abbiamo lasciato da parte le parole. Cosa buona e giusta, nel nostro caso..! Speriamo di poter parlare con la musica. 
What do like about playing music on the street?/Warum spielst du gerne auf der Straße?/Che cosa ti piace del suonare per strada? 
La strada permette di avvicinare i musicisti al pubblico. Tuttavia non sempre questo accade: capita, anche in caso di successo del musicista, che il pubblico si "confini" dietro ad una sorta di palco immaginario, mantenendo una sorta di distanza di sicurezza. A noi piace quando questa barriera si rompe e si crea un contatto intimo con l'ascoltatore. Per questa ragione cerchiamo l'angolo, il portico, il luogo che ci sembra più adatto. Ci piace condividere un bel momento con chi ci ascolta. Per noi è importante, anche in ragione del genere musicale che suoniamo.
Which artist or concert impressed you particularly and why?/Welcher KünstlerIn oder welches Konzert hat dich besonders beeindruckt und warum?/L'artista o il concerto che ti ha colpito di più e perché? 
Mattia: un concerto di Tommy Emmanuel che ascoltai a Milano. Un sol uomo sul palco ma sembrava un orchestra intera. 
Alessandro: i Pink Floyd. Li ascolto sin da ragazzino, e ne sono tuttora innamorato.  The soundtrack of your current life?/Der Soundtrack deines derzeitigen Lebens?/La colonna sonora della tua vita ora?
Mattia: Marina, marina, marina ..!! e.. Teresa! Non Sparare!
Ale: .. Zefiro Torna ! Di Monteverdi
What does it mean to be a musician?/Was bedeutet es MusikerIn zu sein?/Cosa significa essere un musicista?
Per noi, che musicisti di professione non siamo, rimane un obiettivo capirlo..! 
What does your family think of your choice to be a musician?/Was meint deine Familie zu deinem MusikerIn-Dasein?/Cosa ne pensa la tua famiglia della scelta di fare musica?
Mattia: mi hanno sostenuto nella mia scelta di studiare musicologia e nelle mia attività legate alla musica. Detto ciò .. la pagnotta prima di tutto!
Ale: il mi babbo è appassionato di chitarre… è un liutaio! Mi ha sempre sostenuto. Ad ogni modo non lavoro nel campo della musica, che per me è una passione che coltivo nel tempo libero.
Dream concert – impossible concert: who would you like to hear?/Wunschkonzert – mögliches unmögliches Konzert: Wen würdest du gerne mal hören?/Concerto dei sogni – concerto impossibile: chi vorresti sentire?
Mattia: Enzo Jannacci..
Ale: Pink Floyd… lo realizzerò in parte molto presto, andando a sentire David Gilmour
Best or worse experience of your musical career?/Erzähl uns eine Anekdote aus deinem Musikerleben, was war die  schönste oder schlimmste Erfahrung?/Aneddoti: la migliore o peggiore esperienza della tua carriera musicale?
Quella volta da ragazzini, quando gli organizzatori di un festival chiamarono per errore noi e un altro gruppo a suonare … e ci lasciarono a mani vuote, senza nemmanco un "drin"… 
Contact/Kontakt/Contatti
 www.facebook.com/duolacci 
www.youtube.com/channel/UCZxS7SL3y-xJRTxp4kg4Nkg 
vimeo.com/25728729 
For more information, the guidelines and the call click here.
Foto: I Lacci