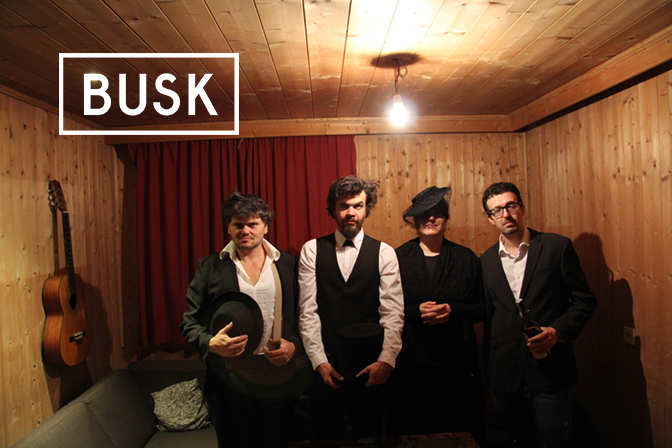 June 21, 2017
BUSK 2017: Undertaker's Mom
On September 9th 2017 we're bringing again buskers and their music out to the streets of Merano. VOTE this profile and YOUR FAVOURITE MUSICIANS by clicking on the facebook like button at the end of the article (this result will be added to a selection made by an expert group). Spread the music!
Name
Undertaker's Mom 
Musikrichtung
Dark Folk 
Herkunftsort
Passeier, Sarntal, Lana 
Alter
27 – 50 
Dein erster Kontakt mit der Musik?
Durch einen Stromschlag.
Warum spielst du gerne auf der Straße?
Des Überlebens wegen.                                      
Welcher KünstlerIn oder welches Konzert hat dich besonders beeindruckt und warum?
David Hasselhoff, weil wir nicht dabei waren. 
Der Soundtrack deines derzeitigen Lebens?
A Fistful of Dollars von Ennio Morricone. 
Was bedeutet es MusikerIn zu sein?
Einer unterbezahlten Selbsthilfegruppe anzugehören. 
Was meint deine Familie zu deinem MusikerIn-Dasein?
Lern epis gscheit`s. 
Wunschkonzert – mögliches unmögliches Konzert: Wen würdest du gerne mal hören?
Jimi Hendrix im Duett mit Johnny Cash. 
Erzähl uns eine Anekdote aus deinem Musikerleben, was war die schönste oder schlimmste Erfahrung?
Mit sechs Liedern im Gepäck ein vier Stunden Set spielen.
Kontakt
facebook.com/Undertakers-Mom-718328008202867
youtube.com/watch?v=ywiK1jpMGBI&t=263s
For more information on the call for the BUSK Singer Songwriter Festival Meran|o 2017, click
here
.
Photo: Undertaker's Mom