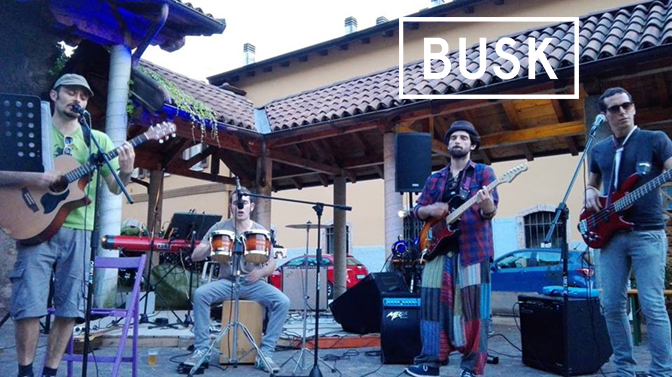 June 26, 2017
BUSK 2017: Rum'ba'bestia 
On September 9th 2017 we're bringing again buskers and their music out to the streets of Merano. VOTE this profile and YOUR FAVOURITE MUSICIANS by clicking on the facebook like button at the end of the article (this result will be added to a selection made by an expert group). Spread the music!
Nome
Rum'ba'bestia 
Genere
Patchanka, Reggae 
Luogo di Provenienza
Trento 
Età
tra i 25 e i 37 anni
Il primo contatto con la musica?
Nonostante non siamo più giovanissimi, come gruppo suoniamo assieme da 3 anni, io personalmente mi sono avvicinato alla musica all'età di 18 anni. 
Che cosa ti piace del suonare per strada?
L'immediatezza del momento, poter vedere le persone negli occhi e condividere con loro una canzone, bambini o adulti che siano. 
L'artista o il concerto che ti ha colpito di più?
Manu Chao nell'estate del 2001 in Piazza Duomo a Milano, durante l'epoca delle manifestazioni no global.
La colonna sonora della tua vita ora?
Fastidiado a lo bien di El Caribefunk, canzone che ti carica di positività e ci ricorda di essere grati alla vita. 
Cosa significa per voi essere musicisti?
Aver l'opportunità di esprimere noi stessi, i nostri pensieri e quindi di avere un canale privilegiato per comunicare con le persone. Per noi suonare è l'essenza della vita, liberarci da qualsiasi vincolo e esprimere la nostra voglia di condividere un momento speciale con persone che ci ascoltano. 
Cosa ne pensa le vostre famiglia della vostra scelta di fare musica?
Sono entusiaste, quando possono ci accompagnano. Il figlio di Mattia di tre anni è il nostro fan numero uno, canticchia le canzoni e durante i concerti salta e balla. 
Concerto dei sogni, concerto impossibile, chi vorresti sentire?
Bob Marley in Zimbawe, 1980. 
Aneddoti: la migliore o peggiore esperienza della tua carriera musicale?
Ziggy Wiggy Festival nel 2015, facevamo da gruppo spalla a tutti i gruppi principali che si alternavano, tra un gruppo e l'altro avevamo 20 minuti per mantenere calda l'atmosfera, alla fine era rovente. 
For more information on the call for the BUSK Singer Songwriter Festival Meran|o 2017, click
here
.
Photo: Rum'ba'bestia