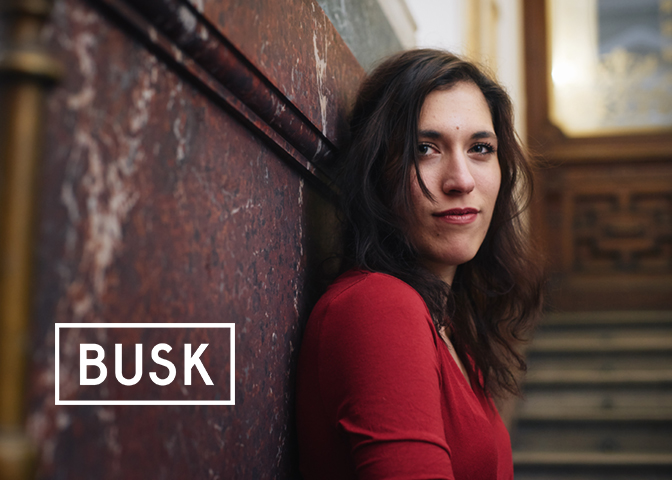 June 23, 2017
BUSK 2017: Anne Dromeda
On September 9th 2017 we're bringing again buskers and their music out to the streets of Merano. VOTE this profile and YOUR FAVOURITE MUSICIANS by clicking on the facebook like button at the end of the article (this result will be added to a selection made by an expert group). Spread the music!
Name
Anne Dromeda (real name: Lisa-Marie Hiller)
Genre
Folk Pop / Psychedelic Chanson 
Hometown
Vienna (AT) 
Age
27 
Your first contact with music?
My mother used to play the guitar and sing songs of Leonard Cohen, Bob Dylan, Donovan, The Beatles and many other great musicians when I was a child, ever since I can remember. I loved listening to her play – and still do.
What do you like about playing music on the street?
I have to admit that I have only once played a whole set on the street (yet) – and as with all unplugged concerts that I've played, I liked the closeness it created between me and the people listening. I personally feel much more exposed when I'm playing without amplification – but that might be exactly why I also feel more open and connected to the audience in those moments… Also, knowing that so many people you see on the street are in a constant hurry and always on their way to the next appointment, it's a great experience when some of them actually stop and enjoy listening to the music for a little while.
Which artist or concert impressed you particularly and why?
Oasis at Wembley Stadium 2009. They are my favorite band, so it was a big thing for me anyway – but there was a special moment when the band stopped playing – and the whole audience in that huge stadium sang "Don't look back in anger" in unison. Yes, I did cry. 
The soundtrack of your current life?
A mixture of Bob Dylan, Joni Mitchell, Ella Fitzgerald, Leonard Cohen, Jeff Buckley, Oasis, PJ Harvey, Blur… and Scroobius Pip. 
What does it mean to be a musician?
I don't think anyone could find a fully satisfying answer to that question. But first of all, I guess unless you belong to the small group of musicians who manage to earn a living by making their original music, it seems to me that it means to deliberately choose to either be quite poor but to love what you're doing  or to lead a rather stressful life, having a day job and dedicating most of your spare time to music. Still, I know many wonderful artists who did not choose the easiest way to go through life by deciding to become musicians, filmmakers, writers or other kinds of artists – and the one thing they have in common is that they would never want to do anything else with their life, they just keep going. And second of all, in my understanding, a big part of what it means to be a musician or artist is a never-ending fascination with taking perceptions of real or fictional moments or sentiments and capturing them by putting them in some kind of shape that is audible or visible or in some way shareable.
What does your family think of your choice to be a musician?
I think they have mixed feelings about it. But overall, they support me a lot. And I'm very thankful for that.
Dream concert – impossible concert: who would you like to hear?
There are a lot of musicians I'd like to see back in their glory days – Bob Dylan, Joni Mitchell, Leonard Cohen, The Who, Led Zeppelin, The Doors and of course The Beatles… I'd also like to go back to 1969 and go to Woodstock or make a stop at Chicago in 1995 to see Jeff Buckley – and then go on to 1996 to see Oasis at Maine Road / Manchester… and that's just to begin with. There have been too many concerts in pop music history that I'd like to have been at, I definitely couldn't choose one.
Best or worst experience of your musical career?
The best experience of my musical career was the release concert of my debut album, which was in November 2016. I have never been as nervous on stage, just because it was such an important moment to me – and I remember being absolutely stunned by how many people showed up. Also, nearly all of my friends were there, and a lot of people who mean much to me… I was very happy on that evening. 
For more information on the call for the BUSK Singer Songwriter Festival Meran|o 2017, click
here
.
Photo:  Benjamin Thomes