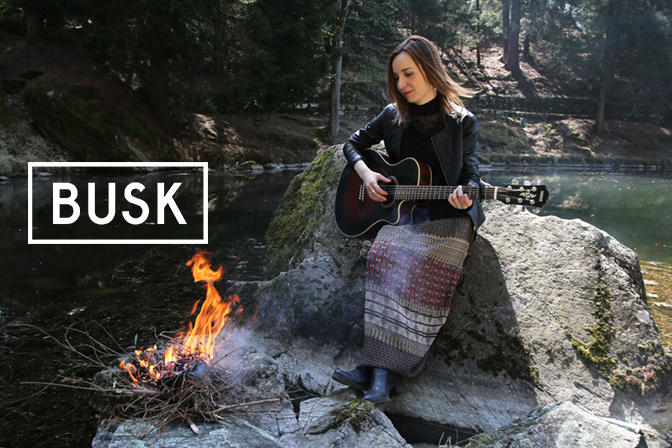 June 26, 2017
BUSK 2017: Bleu Klein
On September 9th 2017 we're bringing again buskers and their music out to the streets of Merano. VOTE this profile and YOUR FAVOURITE MUSICIANS by clicking on the facebook like button at the end of the article (this result will be added to a selection made by an expert group). Spread the music!
Nome
Bleu Klein
Genere
Folk, ethereal wave, psych folk, dream folk
Luogo di provenienza
Sondrio
Età
36
Il primo contatto con la musica?
I primi ascolti fin da bambina grazie a mio padre che è fisarmonicista. Ho iniziato a studiare la chitarra all'età di 15 anni e ho fatto diverse esperienze con piccole band locali, di seguito ho iniziato a studiare canto. Ad oggi, da circa due anni, ho avviato questo progetto legato alla figura di Yves Klein.
Che cosa ti piace del suonare per strada?
La libertà che mi trasmette lo stare a contatto con i luoghi aperti e il contatto diretto con le persone, la possibilità di sentirmi davvero libera.
L'artista o il concerto che ti ha colpito di più e perché?
L'artista che mi ha colpito di più è senz'altro Joni Mitchell per la capacità di emozionare e di utilizzare la voce in modo così versatile, il concerto che mi ha colpito di più è stato quello di Antony and the Johnsons che ho sentito dal vivo a Verona anni fa, una delicatezza infinita sia nella voce che nel modo di suonare.
La colonna sonora della tua vita ora?
Learning to fly, Tom Petty.
Cosa significa per te essere musicista?
Poter essere me stessa fino in fondo e continuare a crescere musicalmente e come persona. 
Cosa ne pensa la tua famiglia della tua scelta di fare musica?
Ho trovato poco supporto inizialmente da parte dei miei familiari e ho dovuto sempre insistere da sola, ad oggi sono molto cambiati e mi appoggiano parecchio.
Concerto dei sogni – concerto impossibile: chi vorresti sentire?
David Sylvian, live in Japan.   
Aneddoti: la migliore o peggiore esperienza della tua carriera musicale?
La miglior esperienza è stata in Svizzera all'interno di una casa di inizio 900 dove oltre a me si sono esibiti vari artisti, non solo musicisti e c'è stato uno scambio diretto tra di noi e nel mio caso con il pubblico svizzero che ha molto apprezzato il fatto che componessi e cantassi in inglese. 
For more information on the call for the BUSK Singer Songwriter Festival Meran|o 2017, click
here
.
Photo: Bleu Klein