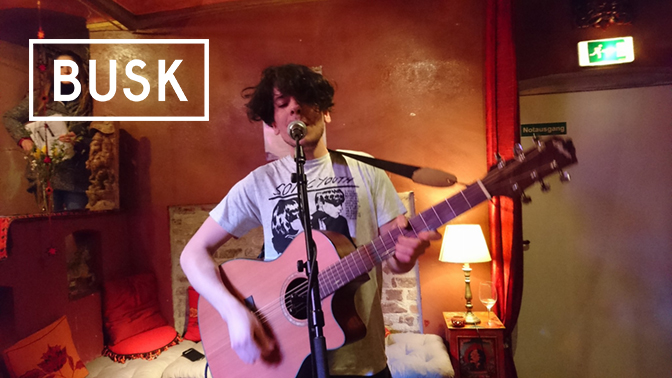 June 21, 2017
BUSK 2017: Jonathan Pinto
On September 9th 2017 we're bringing again buskers and their music out to the streets of Merano. VOTE this profile and YOUR FAVOURITE MUSICIANS by clicking on the facebook like button at the end of the article (this result will be added to a selection made by an expert group). Spread the music!
Name
Jonathan Pinto
Genre
Indie/Folk
Hometown
Gothenburg
Age
28
Your first contact with music?
Michael Jackson or Back Street Boys, I don't exactly remember.
What do like about playing music on the street?
It's liberating, for both oneself and for passersby, especially when they start dancing. It's a reminder of something humane: that people do stuff, we're not just machines on our way to and from work.
Which artist or concert impressed you particularly and why?
Pixies and Velvet Underground, they both made me wanna do music. I had never heard anything like it before. Just amazing, original music and it just inspired me. Concert: The Flaming Lips, same there, amazingly inspirational performances. 
The soundtrack of your current life?
A lot of roots reggae and at work: Queens of the Stone Age and Belle and Sebastian aaand…. roots reggae.
What does it mean to be a musician?
It means to be a samurai and a warrior, it means self-discipline, it means refining your art everyday, whatever you have to do to to keep your mind sharp, whatever situations you have to expose yourself to in order to keep your heart open. To be a musician is dedication and staying true to your dreams and ideals.
What does your family think of your choice to be a musician?
They support it.
Dream concert – impossible concert: who would you like to hear?
The Clash! with its London Calling line up. That would be the most important one.
Best or worse experience of your musical career?
Best? I can hardly remember, I like to think that it just gets better and better. 
For more information on the call for the BUSK Singer Songwriter Festival Meran|o 2017, click
here
.
Photo: Jonathan Pinto