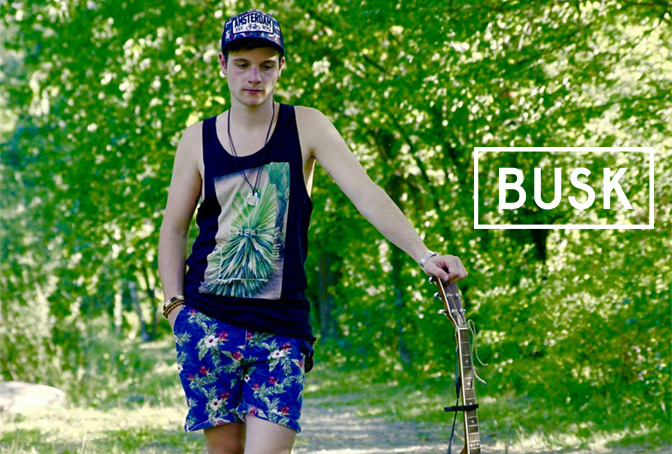 June 16, 2017
BUSK 2017: Alex Shylow 
On September 9th 2017 we're bringing again buskers and their music out to the streets of Merano. VOTE this profile and YOUR FAVOURITE MUSICIANS by clicking on the facebook like button at the end of the article (this result will be added to a selection made by an expert group). Spread the music!
Nome
Alex Shylow    
Genere 
Folk  
Luogo di provenienza
Merano/San Francisco   
Età 
20  
Il primo contatto con la musica? 
Sono praticamente nato con la chitarra in mano, ho iniziato a scrivere le prime canzoni a 8 anni e ho sempre suonato e cantato quanto e dove potevo.   
Che cosa ti piace del suonare per strada? 
La magia di trasformare una strada in un palco e sentire la connessione tra pubblico e artista.  
L'artista o il concerto che ti ha colpito di più e perché?
Milky Chance a San Francisco. Sono riusciti a mischiare l'elettronica con l'acustico, creando della musica che ha riempito il concerto di amore e positività.   
La colonna sonora della tua vita ora? 
Barfuss am Klavier – AnnenMayKantereit. 
Cosa significa per te essere musicista?
Everything. It's the reason I'm on this planet and that's what I'm supposed to do in my life.   
Cosa ne pensa la tua famiglia della tua scelta di fare musica? 
Non sono proprio entusiasti della scelta, perché temono di dovermi mantenere per il resto della mia vita, però a loro la mia musica piace eccome. 
Concerto dei sogni – concerto impossibile: chi vorresti sentire? 
Bon Iver. 
Aneddoti: la migliore o peggiore esperienza della tua carriera musicale? 
Best: suonare sulle strade di San Francisco ed avere 100-150 persone che ascoltano la mia musica con entusiasmo.  Worst: La mia chitarra si è rotta durante il secondo pezzo che suonavo e quindi sono stato costretto a smettere di suonare deludendo un bellissimo pubblico. 
For more information on the call for the BUSK Singer Songwriter Festival Meran|o 2017, click
here
.
Photo: Alex Shylow