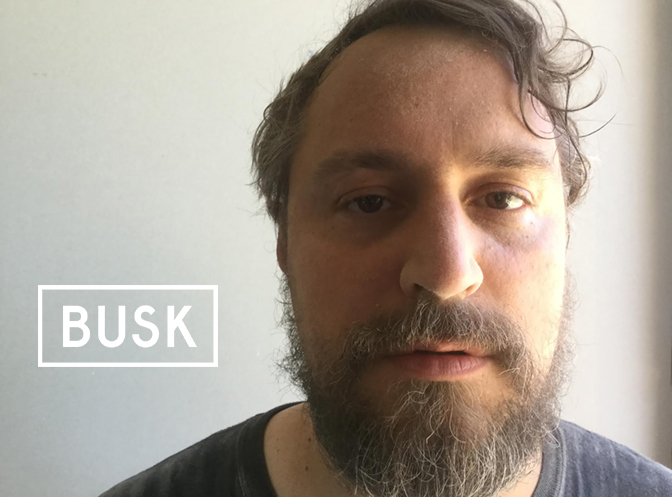 June 16, 2017
BUSK 2017: Beauty Lies
On September 9th 2017 we're bringing again buskers and their music out to the streets of Merano. VOTE this profile and YOUR FAVOURITE MUSICIANS by clicking on the facebook like button at the end of the article (this result will be added to a selection made by an expert group). Spread the music!
Name
Beauty Lies
Musikrichtung
Singer Songwriter / Dark Folk / Dream Pop 
Herkunftsort
Wien 
Alter
40
Dein erster Kontakt mit der Musik?
Als Kind, der Kofferplattenspieler meiner Mutter und deutsche Schlagersingles der 60er (Freddy Quinn). 
Warum spielst du gerne auf der Straße?
Es ist die Königsklasse von Performance weil die Leute im Gegensatz zur Konzertsituation nicht konkret zur/zum Künstler/in kommen, sondern die/der Künstler/in ihre Aufmerksamkeit erregen muss.
Welcher KünstlerIn oder welches Konzert hat dich besonders beeindruckt und warum?
Ennio Morricone, Stadthalle Wien. Wunderschönes Musik, beeindruckendes Setting, Orchester, viele Bilder dazu im Kopf, Musik (& Filme) die mich bereits über Jahrzehnte begleiten. Eine Riesenlegende zum ersten Mal live. Extrem berührend! Ansonsten noch weit vorne: Leonard Cohen, Vic Chesnutt, Bolt Thrower. 
Der Soundtrack deines derzeitigen Lebens?
Im Sommer am liebsten Melody-Punk: Descendents, Bad Religion, Lagwagon, Pennywise, Nofx. Macht Stimmung. 
Was bedeutet es MusikerIn zu sein?
Für mich bis dato auf alle Fälle die schönste und befriedigendste und somit persönlich wichtigste Tätigkeit von allen!
Was meint deine Familie zu deinem MusikerIn-Dasein?
Finden sie toll und unterstützen sie!
Wunschkonzert – mögliches unmögliches Konzert: Wen würdest du gerne mal hören?
Townes Van Zandt (rip 1997). 
Erzähl uns eine Anekdote aus deinem Musikerleben, was war die schönste oder schlimmste Erfahrung?
Schönste Erfahrung für diese Band/Projekt: Im Vorprogramm von Black Heart Procession, einer meiner Lieblingsbands. Gut gespielt, vom Publikum die natürlich für Black Heart Procession gekommen sind äußerst gut aufgenommen worden, von Black Heart Procession Mastermind Pall Jenkins großes Lob bekommen. Beglückend.
Kontakt 
www.facebook.com/beautyliessound
https://soundcloud.com/beautyliessound
www.youtube.com/beautyliessound
For more information on the call for the BUSK Singer Songwriter Festival Meran|o 2017, click
here
.
Photo: Beauty Lies