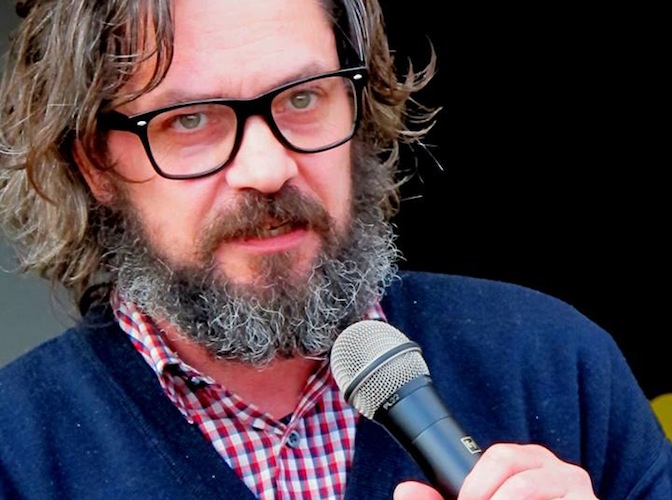 July 11, 2013
Meet the locals #15 – Claus Ankersen, Poet, Writer, Artist from Copenhagen
Correva l'anno 2010 e per la prima volta andavo a Istanbul insieme a un bel po' di scrittori e traduttori per parlare di letteratura. Tra loro c'era anche Claus, che come me condivideva la passione per i poetry slam e lo storytelling. Claus è un performer a tutto tondo e ha una personalità davvero (davvero) incredibile. Ladies and Gentlemen, please meet Claus Ankersen.
Your name, age and job?
Claus Ankersen. They say that poets have no age, so I usually say 1123 and 1986. Poet, writer, artist. I really do not like titles. So I usually say 'Human on a good day'. I like to pretend that I am free. Even though it's an illusion, I still believe it.
Where are you from?
I am an intergalactic traveler. Some say I was born in Denmark.
What would you be if you were not a poet/writer/artist/human? What do you want to be when you grow up?
I think I'd be a cook. Or perhaps a male concubine for some noblewoman. A lover, a driver, a cook or a drunk. Perhaps I'd be an assassin. Or a guru. That'd be nice too. Priest, perhaps. I like to pretend that I am a free roaming spirit, a nomad – when I was a small child I wanted to be one of those Hollywood movie presenters with coarse voices introducing the action movies. I always thought that'd be a pretty cool way to make a living.
How long have you lived in Hopenhagen and why did you first come?
I've lived in Vesterbro in Copenhagen off and on, pretty much since 1997.
What is the best thing to do (what do you like doing ) in Periscopenhagen?
I like peoplewatching and I do that a lot, wherever I am. I like local life, hanging out at Enghave Square or at McKluud. I like the whole village feel of it. If I so choose, I can walk a certain path and meet EVERYBODY. And the day after walk another path and be completely anonymous. Actually my absolute favorite thing to do, is to check in on my poetic installation on Enghave Quare, ALTID. It is perhaps the largest poem in the world and I am childishly and unashamedly thrilled with it. If you come to the city, go check it out.
Is there something you don't like about More-closed-than-open-Copenhagen?
The pollution from the cars. All cities should be car free. Also Danes tend to be extremely inobservant. They simply don't notice other people. Not out of malice. Simply an extreme short sightedness. Or perhaps it's because they are so tall. Very tiresome. In general the population have drifted to the right and have lost a lot of citizen-to-citizen solidarity. Likewise pretty tiresome.
What is the craziest thing you have done in Sniperscopenhagen?
If I tell you, I'll have to kill you. No, just joking. I had a real crazy session with Hemingway and Bono at a local bar once. I know how it sounds, but I live in a strange neighborhood. Everything seems to be centered around it. Like some sort of interdimensional vortex. I guess this is why all these magazines keep voting Istedgade the hippest street in the world time and time again.
Where would you live if not in Smokinghagen?
I feel at home almost everywhere. Basically because I really like humans. And being here on the planet. There is so many places I haven't been, so it's hard to say. If in Denmark, I'd probably live in the forest where I grew up. But I also like India. And Appleville of course. I could settle for a barrel or the wildest luxury. Either or. Just not in the middle.
Have you ever been to Italy or (South) Tyrol?
I have been to Florence, once. As a younger man. I was in Switzerland to visit a girlfriend, and going back, I realized that Italy and Florence were just around the corner. So I just HAD to go. Spent my last money on a night train, got bored, seduced two sleeping British teachers using magic and was caught purple handed by an old nun. It scared me so much, I didn't do practical magic for a decade. And… oh. I've been to Munich. And Vienna. Love the pastry.
What did you like / did not like about it?
Oh, I liked Italy. Hitchhiked through it, once and had a fabulous time in an Alfa Romeo with a crazy dude going 230 the entire way. I loved walking the bridges of Florence, and I like the sound of the Italian language, how it sounds like people are permanently tormented by agony from being insulted. It's very endearing and cute.
Anything else you would like to add?
Please, please take me to Italy again and commission me to do a public artwork. Or grant me an artist residency. I'll settle for anything. As long as I get a professional excuse for going. There are too few nomads, you know – like Danes – we are a scarce resource so you've got to take care of us. I'll write a special poem. Just for you.