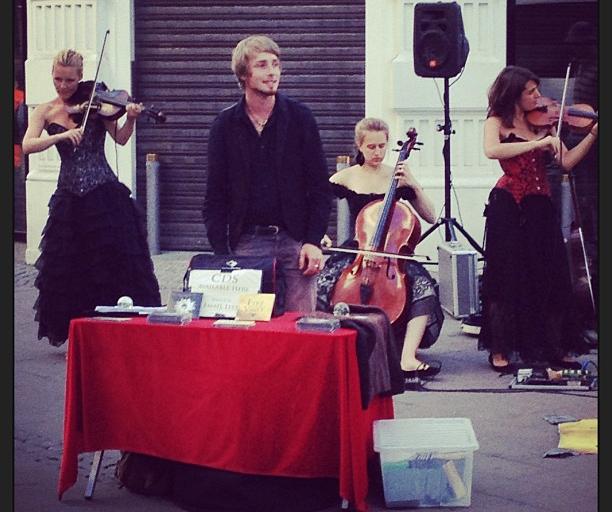 July 12, 2013
Snapshots Ideas for the Weekend #12. Hot in Copenhagen
She walks on stage wearing extremely high heels, with the elegance of a man dressed up like a woman for Halloween. She is not a jazz lady and is not pretending she is one. She's wearing leggings underneath a shiny, green dress à la Marilyn Monroe to match David Murray's song. But when she starts to sing, what a voice. What a performer Macy Gray is, here with David Murray's Infinity Quartet, what an energy she has in that voice of hers while she sings Be My Monster Love. She makes the crowd sing along, wants it louder and louder.
"We have come a long way to meet you sexy people: from LA, New York, from the Washington area, and we want to hear you."
After singing a few of David Murray's compositions, she finally performs her I try which ends up being song by the whole crowd in the Copenhagen Royal Theatre. Before leaving she tells the people: "I need to take a picture of you guys. My mom goes like 'You sing for a living, you don't do shit' I need to show her you are real". So she goes backstage, gets her phone, comes back and takes a picture of the standing ovation in the theatre.
That's when I find myself recalling a concert by Keith Jarrett and his trio at Umbria Jazz, a few years ago, where the public was not even allowed to clap their hands. Apparently he did it again, he left the stage at Umbria Jazz the other day after someone dared to take a picture. So let me tell you this: if you want to listen to great jazz, go and buy Keith Jarrett's CD's, but if you want to have fun, go and see Macy Gray and other jazz or R&B performers in concert. They may be not that pure, but they are definitely more fun.
The Copenhagen Jazz Festival is a great excuse to explore this city where you can still see the sky at 11 p.m., the people are extremely tall and nice (and tall) and you can enjoy summer without being too hot. Still you are going to be #HotInCopenhagen.