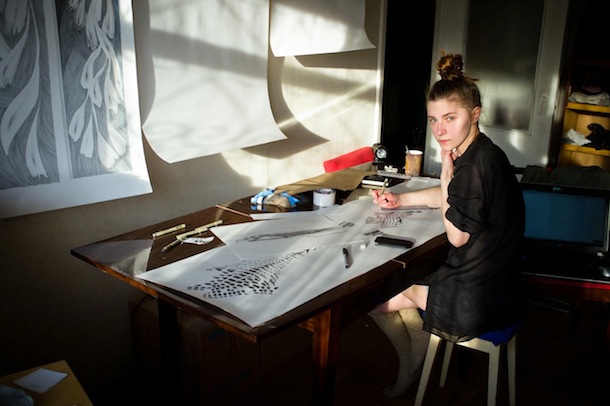 June 29, 2012
FranzFashion: DipDipDiploma, Yuli Chulkova from Russia in the Alps
Yuli Chulkova is a 23 year old Fashion Design student originally from Krasnoyarsk in Sibiria. One rainy day she decided to apply for exchange program at the Faculty of Design and Art in Bolzano. Studying Product Design instead of Fashion Design was challenging. During the semester project Yuli projected a helmet, she went on sewing though and created the first dress of her Diploma collection "Biomechanics" in Bolzano. Elisa, who is recently in Russia talked to lovely Yuli about her Diploma and her adventure Bolzano:
"I did not open a map to look up where I am headed. I had just woken up one morning and saw the Alps out of my window. Then it became clear to me that this cosy little place is what I have unconsciously desired, the very thing my soul needed at the moment. The exuberant coloration of the mountains, changing gradually in the course of the day, those cosy sun-lit miniature streets, elegant people, contented dogs. Everything is heartwarming yet cerebral, austere. While I contemplated events unfolding around me, nothing stood unchallenged in my mind, as I couldn't have helped but delight in the stream and arrangement of this 'petit Alpine life.' Feeling, reflection, inspiration swept me, as I wanted to express them all. Speaking of which, one should also learn how.
Product design course taught me prudence and sobriety. The course of the student's work, the logic of his or her thinking exposed me to the primary function of design, which is its utility that I have until that overlooked. Thus, to be utilitarian even though not to complicate human beings life is what is essential. I was struck upon discovering how polar people's thinking could be depending on their environment. There is no make-believe, over-elaboration, histrionics or grotesque, things are as transparent as a fact. Those who studied or worked in Russia will understand what I am saying. Every day is an eye-opener and unexpectedness. The fact is that we got so used to it, that when work goes on without a hitch, we are bored.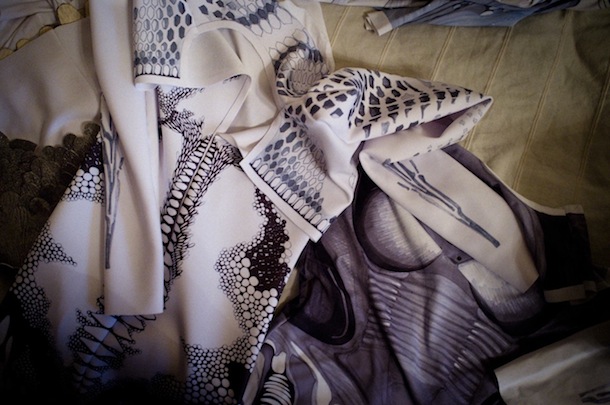 The title of my Diploma is "Biomechanics". It's a discourse on human organism and mechanics. I took a sheet of paper, a pencil and rendered the surface of human body juxtaposed with the elements of its constitution: carcass (skeleton), ribs, lungs and spine. You can notice not only fragments of the human origin but also of birds and fish. Emphasizing gender markers of the female body, I also tasked myself with entertaining the spectator's fantasy, adding a slight element of exposure. Simple construction and fabrics with high wearability were one of my main points.
In addition I cooperated with Julia Kamakova, shoe designer with whom I studied in Bolzano. We created a shoe collection for Biomechanics.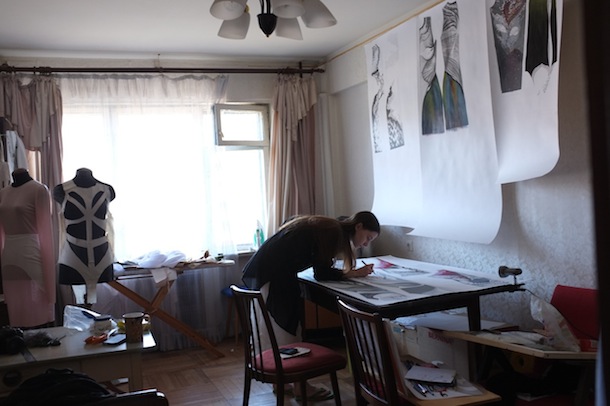 For my future I have a feeling that I want to try something different… New constructions? New coloring? You can develope this infinitely until you're exhausted. It would be very interesting to work with companies.
St.-Petersburg summer turns out to be extraordinary showery this year… How things look like in Bolzano?"
Foto: Sergey Artemyev