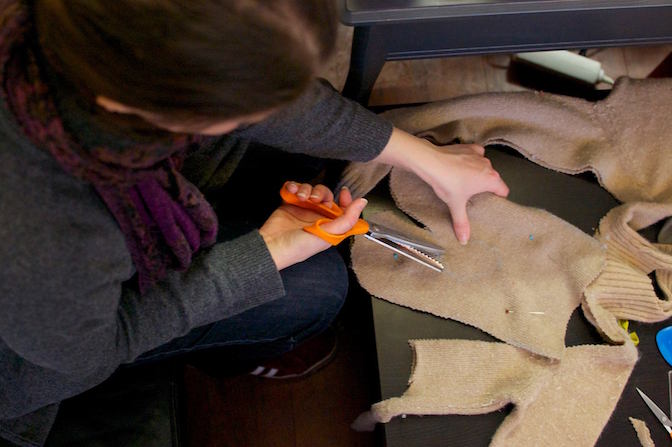 December 14, 2016
make yourself… a Christmas fashion maker space and pop-up shop by + for everyone
make yourself... warm, happy, busy, a friend... ...a hat, a gift, a scarf, a new look...
Was kannst du? Was kann ich? Was können wir gemeinsam? Für die manchmal alles andere als ruhige und besinnliche Zeit im Dezember hat sich Alastair Fuad-Luke, Autor, Aktivist und Professor für Nachhaltiges Design an der Fakultät für Design und Künste der Uni Bozen, mit seinen Studierenden etwas Besonderes vorgenommen: Mach's dir selbst! Das Projekt "Make yourself" soll Menschen von hier und auswärts, Neuankömmlinge, Flüchtende, Gäste, Touris und Kreative, HandwerkerInnen, SchneiderInnen, NäherInnen, StrickerInnen, ModedesignerInnen usw. zusammen bringen, damit sie für einen Christmas-Pop-up-Shop gemeinsam Kleidung und Accessoires entwerfen und produzieren. An den Workshops und Veranstaltungen kann jede oder jeder teilnehmen.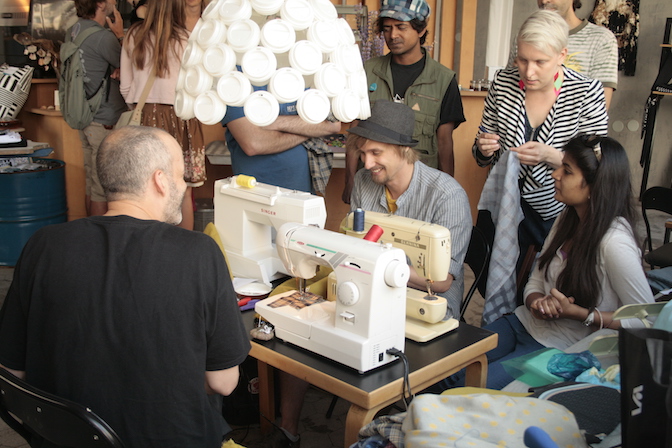 Upcycling wtf?! Bereits stattgefunden hat am 28. November das gemeinsame Designen und Einrichten des Makerspaces und Pop-Up-Shops. Nun geht's ans (Ein-)Gemachte: von 12 bis 17. Dezember 2016 finden im Bitz, dem FabLab der UniBZ in der Rosministraße 7–9 in Bozen, verschiedene Design-Workshops zu verschiedenen Themen statt, wo beispielsweise Taschen, Schals, Handschuhe, Hüte usw. gefertigt werden. Täglich kann ausserdem von 17 bis 19 H im Pop-up-Laden mitgebrachte Kleidung getauscht oder eventuell spontan abgeändert werden. Wer will, kann auch saubere Stoffe, Wolle oder andere Materialien zum Verarbeiten zur Verfügung stellen und mitbringen.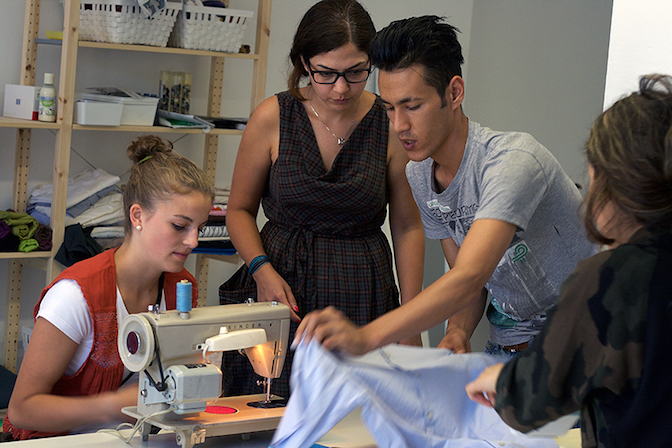 Ich lern was von dir und du von mir. Alastair Fuad-Luke geht es darum, Gegenentwürfe zur populären Modewelt aufzuzeigen und Initiativen anzustoßen sowie Talente, Kreativität und Fertigkeiten von Locals und Non-Locals, DesignerInnen, Design-Studierenden und Handwerksleuten miteinander zu verknüpfen. Alle Workshops sind kostenlos. Und beim Arbeiten und Kreieren kann nebenbei geratscht und socialised, können Tipps ausgetauscht und neue Kontakte geknüpft werden. Mitgetragen wird das Projekt von Mode Uncut, Think-Do-Tank und Plattform + Netzwerk für Nachhaltigkeit in Mode und Design. 
Voilà, hier das detaillierte Programm:
THE CHRISTMAS MAKER SPACE AND POP-UP SHOP
12-17th December 2016, 11.00-13.00hrs + 14.00-17.00hrs daily + 17.00-19.00hrs daily Fashion Swap Shop & Open Making  
Bitz, Unibz FabLab, via Rosmini 7/9, Bolzano
Potential activities include: Design and make your own fashion accessories or clothes; finishing 'half-made' clothes and accessories; modifying your clothes; making or altering textiles; and more…
Mo,12th Make Yourself… a bag 
Tue,13th Make Yourself… warm
Wed,14th Make Yourself… shirts, dresses & ponchos 
Thurs,15th Make Yourself… socks & mittens
Fri,16th Make Yourself… hats & accessories
Sat,17th Make Yourself… EXHIBITION
'DISRUPTIVE FASHION MODES: FUTURE GOALS, STRATEGIES AND PRACTICES'
16th December 2016, 14.00-17.00hrs
F0.01, Faculty of Design & Art, Unibz, piazza Università, 1, Bolzano
A seminar focusing on disruptive modes of creating clothing that contest the wasteful, socially unjust practices of the mainstream fashion industry. Speakers include Zoe Romano from Milan, Italy; Cecilia Palmer from Berlin and Anja-Lisa Hirscher from Ulm, Germany; Francesco Mazzarella from Loughborough, UK.
REFLECTIVE WORKSHOP
20th January 2017, 14.00-17.00hrs
F0.01, Faculty of Design & Art, Unibz, piazza Università, 1, Bolzano
A half-day workshop with participants and stakeholders of the Christmas makerspace and pop-up shop to discuss the project, its achievements and future possibilities. What worked well, what is scalable, opportunities for new businesses…?
Photo: UniBZ