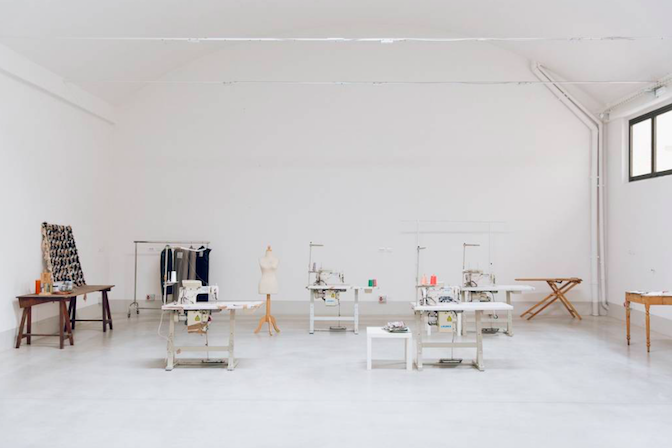 April 12, 2019
La Banda dei Bandi: Make it Here! A Lottozero Residency for Fashion Revolution
Lottozero has been active for Fashion Revolution, the global movement calling for greater transparency, sustainability and ethics in the fashion industry, with a variety of projects for the last 3 years. The goal of FR is to unite the fashion industry and ignite a revolution to radically change the way our clothes are sourced, produced and purchased, so that what the world wears has been made in a safe, clean and fair way.
Just like FR, Lottozero want a cleaner, safer, fairer, more transparent and more accountable fashion and textiles industry and that is why THIS YEAR Lottozero want to give one designer/fashion brand the chance to come to the production district of Prato. Get to know the district, the history, the main players of textile and fashion production. SEE who makes their clothes with the objective of sourcing at least one material or producing at least one new item here.
CALL: Lottozero offering 1 independent designer or small brand the opportunity to complete a 1–3 week residency in the heart of the textile district of Prato. The designers will be living in the Lottozero residency apartment and working with the consultation of Lottozero and the consultation of some of the key figures of the leading textile/fashion companies of the district.
The selected designer/brand will have the opportunity to access the most prestigious textile and fashion companies in the district, to see the best dead stocks and to visit the Prato Textile Museum and get exclusive access to its historical textile archives. Scope of the project is to source at least one material or produce at least one new item of their collection here.
What does this residency provide? 
A 1–3 week stay between September and December 2019 (please indicate your preference in the application), at the Lottozero Residence. Access to Lottozero's co-working space and laboratory in Prato and to the textile archives of the participating companies of Prato and of the Textile Museum. 
Up to 12h of personalized consultancy, logistical support and mentorship from the Lottozero staff
Technical support from the companies, for the successful realization and/or development of the project
1 day visit to the main fabric dead stock suppliers of the area
1 visit to the Textile Museum of Prato
Participation in company visits
TO APPLY: 
Please submit a 
1) C.V. 
2) motivation letter and project outline for the residency (in one unique pdf file)
3) your portfolio or website/instagram to info@lottozero.org
Applications are due by April 28th, 2019.
Applicants will be notified by May 13th, 2019
The residency must last between minimum 1 and maximum 3 weeks (necessary time decided in relation to the project) and take place between the 10th of September and the 10th of December 2019. This project is done in collaboration with Beste S.p.a. 
Foto: Lottozero