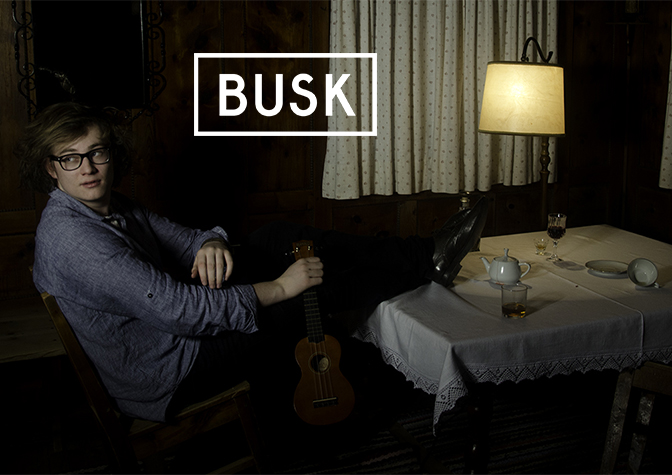 May 9, 2014
BUSK 2014:
Jo Stöckholzer
Nach und nach stellen wir euch alle KandidatInnen für das BUSK Singer-Songwriter Festival Bolzano-Bozen 2014 vor. Ihr könnt auch mitstimmen – klickt dafür einfach auf den Facebook-Like-Button am Ende des Artikels. || Mano a mano ogni giorno vi presentiamo i candidati per il BUSK Singer-Songwriter Festival Bolzano-Bozen 2014. Per votare i vostri preferiti cliccate il bottone Facebook Like in fondo alla pagina.
Name/Nome/Name
Jo Stöckholzer
Musikrichtung/Genere/Genre
Deutschsprachiger Folk mit einem Hauch von Elektrizität
Herkunftsort/Luogo di provenienza/Hometown
Österreich – Innsbruck
Alter/Età/Age
20
Dein erster Kontakt mit der Musik?/Il primo contatto con la musica?/Your first contact with music?
Kochlöffel trifft Kochtopf.
Warum spielst du gerne auf der Straße?/Che cosa ti piace del suonare per strada?/What do like about playing music on the street?
Auf der Straße trifft man auf die wohl unterschiedlichsten Reaktionen unserer Mitmenschen. Von Kindern, die sich neben dich hinstellen und mitsingen, über Musikbegeisterte, welche dir über einen längeren Zeitraum zuhören, bis hin zu Passagieren, denen Musik augenscheinlich auf die Nerven geht. Sprich, es gibt keine spannendere Bühne als die Straße.
Welches Konzert hat dich besonders beeindruckt und warum?/Il concerto che ti ha colpito di più e perché?/Which concert impressed you particularly and why?
Nicolas Sturm spielte vor kurzem mit seinem Schlagzeuger als Support von Findus im Weekender Club Innsbruck. Bei spärlichem Besuch setzten sie zu spielen an – unglaublich welche musikalische Energie transportiert wurde. Auch wenn sie "nur" als Support gespielt haben und eine nicht allzu lange Spielzeit hatten, war das unbestreitbar eines der besten Konzerte, auf denen ich je war. Es hat sich definitiv gelohnt, denn Live war das noch einmal um Welten besser als auf den Tonträgern.
Der Soundtrack deines derzeitigen Lebens?/La colonna sonora della tua vita ora?/The soundtrack of your current life?
Moritz Krämer – Wir können nix dafür
Was bedeutet es MusikerIn zu sein?/Cosa significa essere un musicista?/What does it mean to be a musician?
Die Berufung zum Beruf zu machen, zu leben und zu leiden, zu kämpfen und zu verzweifeln, zu lernen und zu verzeihen, aber das Schöne überwiegt und kommt zurück.
Was sagt deine Familie zu deiner Entscheidung, Musik zu machen?/Cosa ne pensa la tua famiglia della scelta di fare musica?/What does your family think of your choice to be a musician?
Zur Zeit nicht wirklich viel…
Wunschkonzert – mögliches unmögliches Konzert: Wen würdest du gerne mal hören?/Concerto dei sogni – concerto impossibile: chi vorresti sentire?/Dream concert – impossible concert: who would you like to hear?
Kid Kopphausen wäre schon noch wundervoll gewesen…
Erzähl uns eine Anekdote aus deinem Musikerleben, was war die schönste oder schlimmste Erfahrung?/Aneddoti: la migliore o peggiore esperienza della tua carriera musicale?/Best or worse experience of your musical career?
Es ist immer wieder interessant, wie mein Name falsch geschrieben wird. Meist ist es der Nachname – Stockhölzer, Stöckholzner… – was ich irgendwie auch noch verstehen kann. Aber ziemlich kurios war, als sogar mein Vorname, der nicht wirklich der komplizierteste ist, falsch auf einem Plakat erschien – aus Jo wurde "Joe". Also wenn ich mich noch kurz vorstellen darf, mein Name ist Jo (ohne Tsch) Stöckholzer (engl. Woodstocker oder Stockwooder?).
Kontakt/Contatti/Contact
www.facebook.com/jostoeckholzermusik
www.youtube.com/jostoeckholzer
soundcloud.com/jo-st-ckholzer
twitter.com/JoStoeckholzer
jo@jostoeckholzer.com
For more info about the festival click this
Photo: Jo Stöckholzer