October 12, 2016
Mind-bending: Ebbot Lundberg & The Indigo Children @ Kaltern Pop 2016
The Reverend wird er auch genannt. Konzerte zelebriert er wie Rock-Hippie-Messen. "Here I am again, here I am the only one again, and it's a story that will never end…" In der Tat, he is back! "For The Ages To Come" heißt das neue Album, Ende April auf Haldern Pop erschienene Album von Ebbot Lundberg und seiner neuen fünfköpfigen Band: The Indigo Childern sind jung an Jahren, konzerterfahren, neugierig und hungrig.
Am 13., 14. und 15. Oktober 2016 reisen Ebbot Lundberg & The Indigo Children zum Kaltern Pop Festival an. Der Mastermind von "The Soundtrack Of Our Lives" (1994–2012) und "Union Carbide Productions" (1986–1993) ist zurück und wir wollten vom 50-jährigen Musiker wissen, warum, weshalb, wieso?
Ebbot Lundberg, simple, but difficult question at first: What means making music for you?
It means basically everything. The ability to change the universe as we know it. And to consciously apply mystery to everything with the frequencies you are creating by sheer excitement.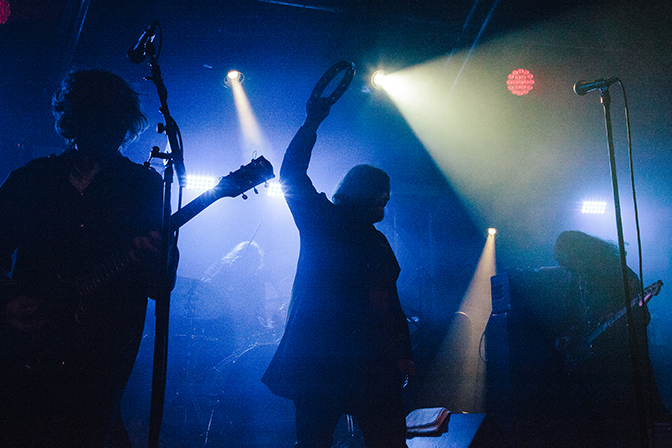 Ebbot, you were singer, founder and producer of a lot of Swedish bands. Now your on tour with The Indigo Children. What's nice about this new constellation? 
It is like total freedom within limitless excursions.This new constellation is absolutely a mindbender! 
Youth meets experience. Shouldn't it be different? 
Not at all.
Why? 
Because age is in spirit and we are all old Atlanteans coming back to save Mother Earth. And that's the experience. The purpose is to tune people in to the right path in the transition we now are experiencing on this planet. 
Are you looking forward to play at the Kaltern Pop Festival? 
Yes, in deed.
Have you ever been in South Tyrol?
Yes, I have, but not for a while. 
What do you expect?  
I usually don't like to expect anything except open minded people that hopefully can receive and boost the atmosphere when we play.
Your songs are psychedelic, dreamy, involving, maybe retro. Would you say you are a timeless flower child?
I am an artist with a certain flavour, I guess.  
Why?  
Because I obviously have to in this era.
Check  out the whole line-up of the Kaltern Pop Festival 2016.
Photo (c) Mirja Kofler for franzmagazine