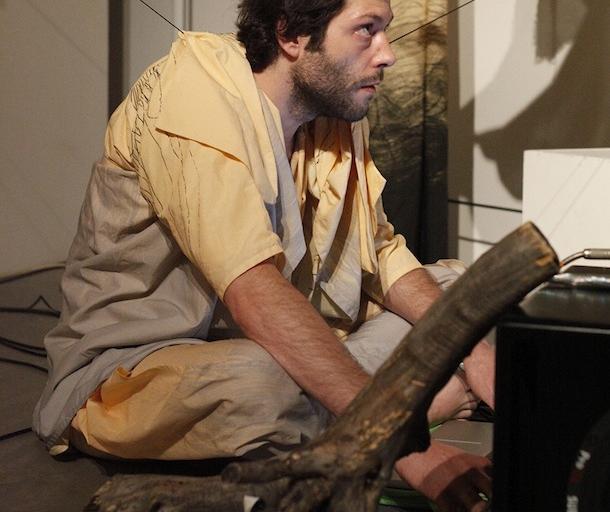 September 4, 2012
We are Panorama4: Benjamin Tomasi
Geboren 1978 Bozen. 2000–2008 Universität für Angewandte Kunst, Fotografie bei Prof. Rothemann, sowie in der Listaháskóli Íslands – Reykjavik, Island. Austellungen Auswahl: 2012 Panorama 4 Festung Franzensfeste, Italien; 2012 ANEIGNUNG II – RE-INACTMENT Fotogalerie Wien; 2011 Imitation of Action, gallery Latned Atsär, Los Angeles, USA; 2012 Set Staged Envisoned, 308at156 Project Artspace New York, NYC, USA; 2009 Next Reality, YCC, Yokohama, Japan.
Deine erste Erinnerung, was Kunst betrifft? Das waren, glaube ich, die AquarellmalerInnen, die vor meiner Haustür die Berglandschaft mit dem idyllischen Kirchlein im Vordergrund abmalten.
Welche (Kunst)Veranstaltung hat dich am meisten beeindruckt und dein Leben verändert? …

Wo hast du deine Ideen? Dort, wo ich sie nicht erwarte.

Kulturelle Freuden? Meistens.

Dein Lieblingskünstler? Wieso? Hab ich keine/n.

Was heißt es, Künstler/Künstlerin zu sein? Alles andere nicht zu sein.

Kunst ist? Wenn ich das wüsste…

Deine erste Ausstellung? …

Schaust du Fernsehen? Falls ja, was? Nein.

Liest du? Was? Online: Standard, VICE, verschiedene Blogs, Zeit, NY Times und was mir sonst an Papier in die Hände fällt.

Welche Musik hörst du? Querbeet.

Wenn dein Leben ein Film wäre, wer würde Regie führen? …
Was gefällt dir an Südtirol? Das Essen.

Was gefällt dir an Südtirol nicht? Die Tunnels.

Was fehlt dir in Südtirol kulturell? Aus der Beobachterperspektive: Am ehesten Mut. Ideen gibt es genug.

Was bedeutet es, Südtiroler zu sein? …

Welche Ausstellung oder welchen Künstler/Künstlerin möchtest du in Südtirol sehen? Schwierig… The Yes Men vielleicht …

Von hier aus ist die Welt… außen.

Was macht dich glücklich? Unabhängigkeit und Courage.

Was macht dich unglücklich? Warten. Katzbuckeln. Effizienz.
Panorama4, Neue Kunst in Südtirol, Arte nuova in Alto Adige, Ert nueva de Südtirol, www.provinz.bz.it/panorama
Photo: pelican avenue: the hanging garden party scene 2/ © dune