November 11, 2015
Caspian:
Telling a story without words
The Caspian Sea is actually a lake, but we called it a sea. That is, because it is not any lake, but the biggest one on the planet. The American band "Caspian" has not only the name in common, but also the paradox: the members play solo instrumental music, but are still storytellers, and as much as the lake is a big one, they are big storytellers. On November 21, they play a show in Schio @ Teatro Civico and on November 22, in Innsbruck @ LiveStage. Here is an interview we had with guitarist Jonny Ashburn to see, who they are, what they expect from the tour, and how you tell a story without words. 
Who is Caspian? What does the band stand for? What does the name mean?
First and foremost, we are great friends that love playing music with each other. That's a huge part of being in a band that goes the distance. As far as what we stand for, it's not any one thing specifically. I'd say that we're dedicated to giving it everything we have and creating something fresh musically, whether it's a studio recording or a live set. We don't have a dogmatic mission laid out. We tend to follow our hearts where they lead. The name Caspian resonated with us for various reasons. There's some Narnia influence there, maybe the Caspian Sea. In the end it just sounds like a cool name for a rock band.
The latest Album "Dust and Disquiet" was released in September, three years after "Waking Season". How did the music develop and change within these three years?
The first two years after "Waking Season" was released were filled with lots of touring. Once that cycle was done, we dove down deep into the rehearsal space for 8 or so months – more or less without a break. We set a pretty strict schedule for ourselves and worked very diligently. We road tested "Arcs of Command" on a short festival tour and that song certainly evolved from what it was then to what we hear on Dust and Disquiet. There were three different recording phases for this record: We recorded what we had at the end of every practice and listened and made changes from day to day. Once the record was written, we did a demo of the whole thing at "Radar Recordings" with Will Benoit, and some little things were added here and there. And during the final version we did with Matt Bayles, we put in the last stitches and the 'headphone extras' which become the reward for a close listen. The record definitely evolved at a steady pace over the course of the whole process.  
In 2013, you experienced a tragic loss of the founding bassist Chris Friedrich. How did this influence your music?
The impact is difficult to put into words but the influence is there. It had a big effect on our lives and our lives are the roots in our music.
In general, how do negative emotions influence music? Is grief essential to music?
You could argue that negative (or sad) emotions get as much attention in our music as positive (or happy) emotions. Like I said, our music mirrors our lives and hopefully conveys the full range of emotions that we experience every day. I wouldn't say grief is essential to music. If anything, I think music is essential to grieving.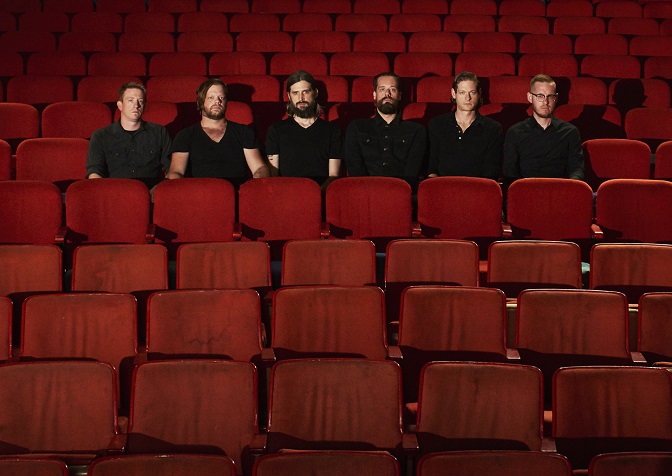 This year also marks a ten years anniversary for Caspian. What has changed and what has remained during those ten years?
Above all else, our passion for writing and performing has been the constant over the years. Since the band formed, some of us found excellent ladies and promptly married them before they could get away, one of us has two awesome kids, and we've traveled to some pretty far off places that open our minds to cultures that we would not have been able to experience without Caspian. But in the end we're still just six dudes who love playing music together.  
Apart from occasional sentences, your music is purely instrumental. However, you still see Caspian as storytellers. How do you tell a story without words?
When lyrics are absent or sparse, there is greater emphasis on every note and every rest. It's a very intentional endeavor. We'll write with movements and themes, similar to classical music, to keep all the necessary chapters connected and rolling forward. The title track at the end of the new record is as close to a storied resolution as we'll ever get. Also, the song order on the record is as important as any of the notes we're playing. We wouldn't want to give away the ending at the beginning of the book.
Many instrumental bands work with an overload of melodies, instruments and solos. You seem to work more with rhythm and atmosphere. Is this part of a certain philosophy of music writing?
I love a good melodic hook as much as the next guy. We try to incorporate as many avenues as we can to get our ideas across. The more the merrier. Our drummer, Joe certainly has a handle on how to create a pulse in the songs that brings them to life. Phil has had many a late night working on the samples that create the atmosphere. Nothing is off the table for us. 
You go on an extended tour through Europe. What is different on shows in Europe or other parts of the world from the US?  
Well, our cell phones don't work without a wifi network when we're not in the US.  It forces us to pay attention to our surroundings, and have conversations, and be present in a world where there are ever increasing technological distractions. It's a nice break. The food at rest stops in Europe is far better than what we see here in the US and we spend a lot of time at them, so it doesn't go unnoticed on our end. You can get fresh baked baguettes at gas stations in the middle of nowhere in Europe. Often in the US your only option is prepackaged crap that doesn't taste very good even when it's fresh (which it never is) or candy. Audiences vary from city to city no matter what country you're in, with the exception of China – they're pretty outgoing no matter what – which is cool. Any change in scenery from our van window is welcome. It's nice to spot old castles on the side of the road in Europe instead of shopping malls. We feel very at home in Europe at this point. By the time this album cycle is done it'll be somewhere around a dozen trips across the pond for us. We've made some great friends there and it's always a pleasure when we get to visit. We're very much looking forward to seeing you all out on the road.
Caspian Europe Tour, all dates here, shows close to you:
November 21 – Schio, IT @ Teatro $ - Info | Tickets
November 22 – Innsbruck, AT @ Livestage $ - Info | Tickets
Photo: Caspian