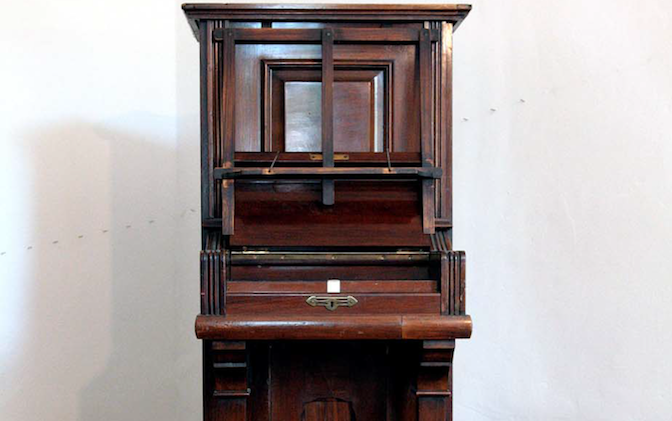 September 1, 2015
Jacopo Mazzonelli for 'inEquality' Art Show @ Forum Alpbach 2015
On the occasion of 10 years of CASA and 70 years of EFA, Club Alpbach Südtirol Alto Adige CASA, Südtiroler Künstlerbund SKB, franzmagazine.com, European Forum Alpbach EFA and Studio Calas invite to 'inEquality" art show [19.8–30.9.2015] with Irene Hopfgartner, Giancarlo Lamonaca, Jacopo Mazzonelli, Christine S. Prantauer, Peter Sandbichler and Anna Scalfi Eghenter in Alpbach.
Chi sei?
Cerco una molteplice lettura del rapporto tra materia e suono, parlandone in silenzio, attraverso il volume scultoreo. Un oggetto sonoro è osservabile da diverse angolazioni, in questo senso mi occupo dei tessuti connettivi che intercorrono tra la forma dello strumento musicale e i significati archetipici che richiama in noi.
Come si svolgono i tuoi processi di lavoro artistico?
Il processo di progettazione delle opere non è altro che una serie di intuizioni suscitate dagli studi che compio in ambito musicale. Mi interesso di etnomusicologia, paesaggio sonoro e sociologia della musica. Come artista cerco di dare forma a contenuti che ritengo interessanti.
Come ti sei avvicinato al tema inEquality?
Se consideriamo la tastiera di un pianoforte come un grafico, una proiezione di 88 elementi univoci ma correlati tra di loro, il confine tra uguaglianza e ineguaglianza diventa interessante. In questo caso, il lavoro realizzato per Alpbach mostra un pianoforte modificato, ridotto nelle sue dimensioni tanto da lasciare spazio ad un solo tasto. La visione focalizzata di tale opera diviene così un'operazione complessa, dove l'astante è chiamato ad osservare ciò che rimane di un pianoforte, quanto ad immaginarne il suo naturale sviluppo.
Jacopo Mazzonelli nasce a Trento nel 1983. Si diploma in pianoforte e in musica contemporanea presso l'Accademia Internazionale TEMA di Milano. Parallelamente agli studi musicali comincia a realizzare sculture e installazioni attraverso cui indaga spesso l'elemento sonoro (musica e rumore, ritmo e silenzio) pur non includendolo necessariamente come evento uditivo nell'opera. 
Ha tenuto mostre personali in Italia e all'estero (Federico Bianchi Contemporary Art, Milano – Paolo Maria Deanesi Gallery, Rovereto – Fondazione Galleria Civica di Trento – Palazzo Incontri, Roma – CIAC / Centro Internazionale per l'Arte Contemporanea Castello Colonna di Genazzano – Festival TINA B., Praga – DOCVA, Milano – MART / Museo di arte moderna e contemporanea, Rovereto – L'Ozio, Amsterdam – Galleria Studio 44, Genova – Teatro dal Verme, Milano – Neon>Campobase, Bologna – Embassy of Italy, Bruxelles – Maison Particulière, Bruxelles). 
Le sue opere sono già incluse in importanti collezioni, tra cui AGI Collection – Verona, Caldic Collection – Rotterdam, Unicredit Art Collection – MART, VAF – Stiftung Collection – MART, Rovereto, Collezione Fondazione Francesco Fabbri – Treviso). 
Nel 2014 è stato selezionato dalla Fondazione VAF per la mostra Posizioni Attuali dell'Arte Italiana, toccando le sedi museali di Kiel, Sindelfingen e Perugia.
www.jacopomazzonelli.com
Foto: Jacopo Mazzonelli