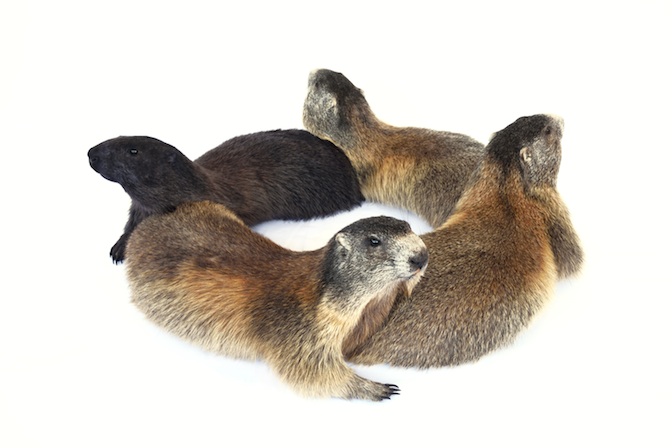 August 25, 2015
Irene Hopfgartner for 'inEquality' Art Show @ Forum Alpbach 2015
On the occasion of 10 years of CASA and 70 years of EFA, Club Alpbach Südtirol Alto Adige CASA, Südtiroler Künstlerbund SKB, franzmagazine.com, European Forum Alpbach EFA and Studio Calas invite to 'inEquality" art show [19.8–30.9.2015] with Irene Hopfgartner, Giancarlo Lamonaca, Jacopo Mazzonelli, Christine S. Prantauer, Peter Sandbichler and Anna Scalfi Eghenter in Alpbach.
Wer bist Du?
Mein Name ist Irene Hopfgartner. Ich habe in Venedig und Wien Malerei und Fotografie studiert und lebe und arbeite seit einigen Jahren in Wien. 
Wie gestaltet sich Dein Arbeitsprozess?
Ich arbeite im Bereich der künstlerischen Fotografie und baue Installationen in die Ausstellungen ein. Bei diesen verwende ich oft Tiere, die ich in Positionen präparieren lasse, die es in der Natur nicht gibt. Ich beschäftige mich mit der Repräsentation von Natur und der Inszenierung des Natürlichen, untersuche das Verhältnis des Menschen zur Natur, dessen Eingreifen und Manipulieren. Auch Genmanipulation und Mutation sind Themen meiner Foto- und Installationsprojekte.  
Was ist und bedeutet Ungleichheit für dich? 
Ungleichheit bedeutet für mich Verschiedenheit und Vielfalt. Betrachtet man das aktuelle Zeitgeschehen, sind diese Begriffe in vielerlei Hinsicht höchst aktuell. Ich bin sehr gespannt, wie diese Thematik im diesjährigen Forum Alpbach von den unterschiedlichsten Blickwinkeln beleuchtet wird. 
Wie hast du dich dem Thema inEquality genähert?
Für mich war es reizvoll, eine künstlerische Arbeit für einen bestimmten Ort zu entwickeln. Als Ausstellungsfläche dient ein Rasenstück, welches an der Straße zum Forumgebäude liegt. Für diesen Platz habe ich ein Objekt entwickelt, das aus vier präparierten Murmeltieren besteht, welche sich zu einem Kreis verbinden. Eines davon unterscheidet sich farblich von den anderen Dreien, da ich es vor dem Präparieren mit schwarzer Farbe gefärbt habe. Das Tierobjekt ist in einer Vitrine präsentiert, wie man sie von naturhistorischen Museen kennt.  
Irene Hopfgartner, geboren 1986 in Bruneck, Studium an der Accademia di Belle Arti in Venedig (Malerei) und an der Universität für Angewandte Kunst (Bildende Kunst, Fotografie).
Ausstellungen 2015: 
"Bitte mir den Kopf von links nach rechts sehend zu präparieren.", Einzelausstellung, Vordere Zollamtsstrasse, Wien
"00110001″ Ausstellung mit Maureen Kägi in der Galerie Gefängnis, Kaltern
"The Essence", Künstlerhaus Wien
November 2015: OFF_Festival, Pisztory Palace, Bratislava.
www.facebook.com/irene.hopfgartner.7

Foto: Irene Hopfgartner