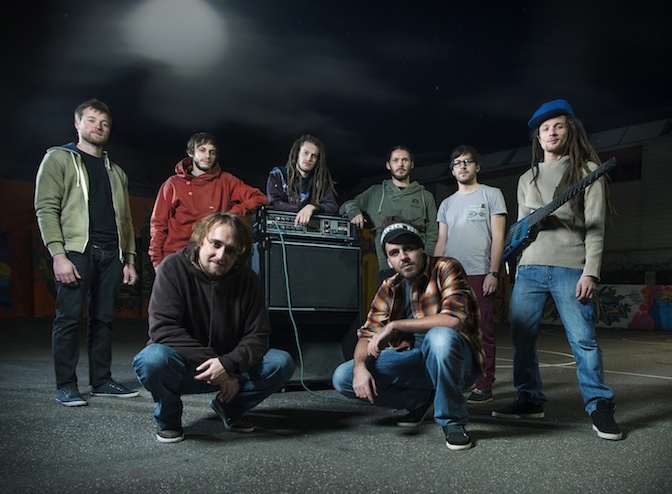 March 10, 2014
Sisyphos "Travel Wide"- nuovo album e nuovo tour europeo
I Sisyphos, "band incidentalmente locale" ma di portata decisamente internazionale, presentano la loro ultima fatica "Travel Wide". Un viaggio affascinate e colorato tra reggae, dub, jazz ed elettronica. Un grande traguardo.
Gli otto ragazzi di Vipiteno e Bressanone, forti anche degli importanti riconoscimenti ottenuti a livello internazionale (migliore band italiana e terza migliore band europea al Rototom European Reggae Contest 2013; presenza al Rototom Sunsplash in Spagna sempre nel 2013), con "Travel Wide" raggiungono il traguardo del fatidico terzo album. E, mantenendo appieno le aspettative, alzano ancora l'asticella: sonorità, atmosfere, parole, arrangiamenti, intrecci e vibrazioni, tutto di grandissima qualità. Il risultato è tanto esaltante a livello artistico, quanto godibile a livello di ascolto. Un gran bel risultato!
Anticipato dal singolo omonimo e dal relativo video girato nella meravigliosa cornice dell'alta Val di Isarco, "Travel Wide" (prodotto in collaborazione con Paolo Baldini degli Africa Unite) attinge alla grande tradizione della musica giamaicana per espanderne i confini verso un sound colorato e meticcio, dalla sensibilità spiccatamente contemporanea. Se il ritmo in levare rimane il principale trait d'union di tutto l'album, questo incontra e incorpora al suo interno un caleidoscopio di sfumature e suggestioni, dall'elettronica (Stone of Dread) al trip hop (The Power of  Words),  dal neo soul (Destino feat. Mellow Mood) fino alla dancehall più solare e danzereccia (Twisted Roads feat. Andrew I), che rende il viaggio davvero… wide!
Menzione speciale per Echoes, il vibrante pezzo che chiude l'album. Con quella chitarra acustica a scandire il ritmo e quella voce calda e suadente, il brano ti avvolge dolcemente con un'atmosfera al tempo stessa minimale e rotonda. E t'invita ad aprire gli occhi sulla realtà, a prendere coscienza del dolore e della distruzione che attraversano il mondo. Arriva e ti trasforma, come una preghiera dolorosa e purificatrice.
Appuntamento con i Sisyphos giovedì 13 marzo per il pre-lease concert a Bolzano (Sudwerk). E poi venerdì 14 marzo a Silandro (Juze Freiraum) per la presentazione ufficiale dell'album e il lancio del relativo tour europeo:
14/3 Juze Freiraum (Silandro) 

15/3 Centro Giovani (Bressanone)

16/3 Teatro Comunale (Vipiteno)

28/3 Hoibó (Milano) 

04/4 Pippo Stage (Bolzano)

06/4 Destroy the Winter (Canazei)
16/4 Ufo (Brunico)

19/4 Easter Clash (Merano)

01/5 Hootannany (Londra)

03/5 Attic (Bristol)

04/5 Rocket (Londra)