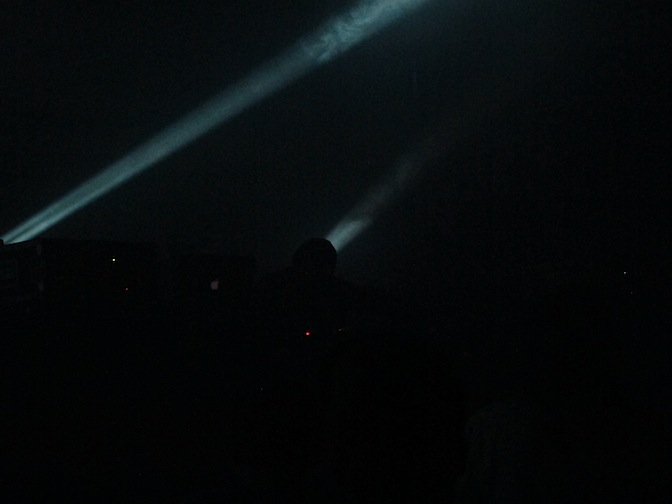 June 29, 2015
Heart of Noise 2015 + 10 Lektionen für's Leben
1) Es mag am Trennungsschmerz liegen, aber am dritten Tag des Heart of Noise riecht es in den Stadtsälen nach Faschingskrapfen (ja, sogar nüchtern gerochen). Die Location wird bald abgerissen. Wir werden sie sehr vermissen. 
2) Ein Satellit ist ein Satellit ist ein Satellit ist ein Satellit. Para Noise Garden überrascht Jahr für Jahr für Jahr für Jahr. Sag Hallo zu Architektur, Phantasie, columbosnext. Wohlwissend, dass leider alles vergeht. Was bleibt, ist Klang – Knrrz. 
3) Hab Mut zur Sound-Entschleunigung und Reduktion: Auch Geräusche können Geschichten erzählen, selbst wenn sie verstören oder in ihrer Performance wie Soundcheck aussehen. Und ist nicht ein Geräusch Ursprung allen Sounds? – Eben. 
4) Ist die Verstörung, egal ob von Einheit Brötzmann, Prurient oder dem King of Electrolore verursacht, zu groß? Frischluft spendet Trost, vor allem auf dem Pema-Tower, mit Fluktuation8, Dalhous und dem Panoramablick auf den Rest der Welt. Selbst bei Regen.
5) Hattest du bei Alexander Marcus dieses Kribbeln im Bauch und du fragst dich, ob er von einem Ballermannpublikum genauso liebevoll angenommen werden würde? Lass es dir egal sein, manchmal ist Ironie eine zu subjektive Angelegenheit.
6) Muss auch sein: Go retro und hab keine Angst vor offenen Hemden, Amulette-Halskettchen, Baustellentrash, Louder-louder-Sprechgesang, offensichtlichen Phallussignalen… Banal ist nicht geistlos oder nichts sagend, Geschmack with no breaks, führt nolens volens zu: go deep und bleib nicht an Fassade kleben…  Fast rewind zu Typen wie Einheit, Brötzmann, The Bugs Manga-Man, Generation Angewandte 4.0… – sometimes not extreme but just boredom-exploring
7) Fast forward: das Zukunftgewandteste bleiben neben jungen, aufstrebenden, neuen Acts wohl die KünstlerInnen der Heart-of-Noise-Vinyl-Edition [2015 von Andi Stecher]. Als Kontrapunkt zum Mainstream in der Subkultur. #lustaufechtneues
8) Der gotische Keller ist wunderschön. Durch die dortige Performance und Installation des Quiet Ensembles geht einem sofort ein Licht auf: So fühlt sich "Tradition trifft Moderne" an. Punktezahl: Zehn von Zehn Goldfischen.
9) Die Nächte sind traumlos, traumavoll; es durchwacht sich leicht. Das Ohr lebt. Das Auge auch: grandios auch die Lichtspiele. Du fragst, was gibt's zum Frühstück? Fisch. Geht's noch?
10) Allerletztes Wunschkonzert für 2016: bloß keine Bestuhlung mehr! Sitzparties sind weder Kling noch Klang, weder Hedonismus noch Ontologie, flutet die Hallen und das Netz.