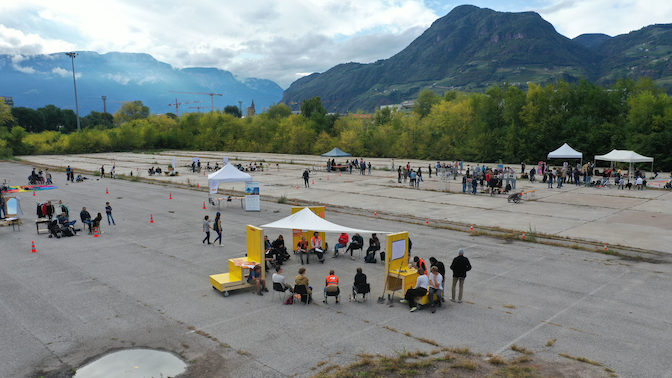 July 31, 2023
La Banda dei Bandi: A place to B(z) – Open Call
Dear creatives, activists, energetic people and cultural workers,
in the framework of the Bolzano Art Week "play_ground" A place to B(z)warmly invites you to participate in our event "Community Play". 
Like last year, A place to B(z) will open the parking lot behind the train station in Bolzano to offer space for exciting ideas and moments of encounter.
While on Tuesday, October 3, 2023 we want to deal intensively with the area and develop and prepare it collectively, onSaturday, October 7, 2023 we want to show how much potential there is for our urban society in this unused area. Community Play is about the emancipation of citizens and the strengthening of citizen participation. In addition, we want to achieve a change of perspective in the focus of public spaces through the revitalization of this forgotten area. In many creative ways we want to show how temporary use of space promotes independent culture and what value such non-commercial spaces have for inclusion and equal access. In short, we are about accessible and human-centered urban development.
WORKSHOP & TALK
We're especially on the lookout for workshops and speakers that will raise awareness about civic participation, creative space design, and the right to the city. This will culminate in a small conference on the very same topics, right at the heart of our event site.
GASTRONOMY
At the heart of every community is the joy of coming together over delicious food and drinks. We're eagerly searching for gastronomic offers that will not only delight our visitors' taste buds but also foster a sense of togetherness and belonging. This can also take shape in a workshop.
INTERVENTION & ACTION
Our mission is to revitalize public spaces and inspire active citizen engagement. That's why we're on the lookout for artists and participants who can bring life to the event through interactive and participatory methods, creating lively exchanges and moments of connection.
PERFORMANCE & MUSIC
Of course, what's a celebration without performances and music? Whether you're a singer, instrumentalist, rapper, poet, dancer, actor, comedian, or any other performer, we have a stage eagerly waiting for you to showcase your talents!
EXHIBITION & INSTALLATION
If you have a project that aligns with the theme of "Community Play," we'd love to feature it at our event. The area offers space for large installations, too,so don't hesitate to bring your creative ideas to life.
FILM & PHOTOGRAPHY 
We are looking for dedicated photographers, videographers and those who would like to become one to accompany the event. Furthermore there will be possibilities or screenings of your work.
HELPER & DONATION
Feeling enthusiastic but not sure how to contribute? No worries! We need many helping hands for planning and realization. Material donations in any kind for the area and the event, as well as monetary donations, are greatly appreciated and will go a long way in making this celebration a memorable one. 
HOW TO TAKE PART
Please email your ideas and proposals to: placemakingbz@gmail.com
Deadline: 13. August 2023, 10:00AM
Please include:
– A short introduction about yourself (incl. contact details, website)
– An explanation of your contribution and how it supports the goals of the event (app. 200 words) if possible including photos/visuals of your work
– if applicable how many participants can join and the duration of your activity
– how much space and what kind of resources you need
Unfortunately, we cannot offer any financial compensation, but we will make every effort to reimburse possible costs. We especially want to promote young talent and local culture, so we encourage local artists and initiatives to actively participate.
We are looking forward to creating something extraordinary together! Let's make this event an unforgettable celebration of community, creativity, and connection.
Photo: (c)