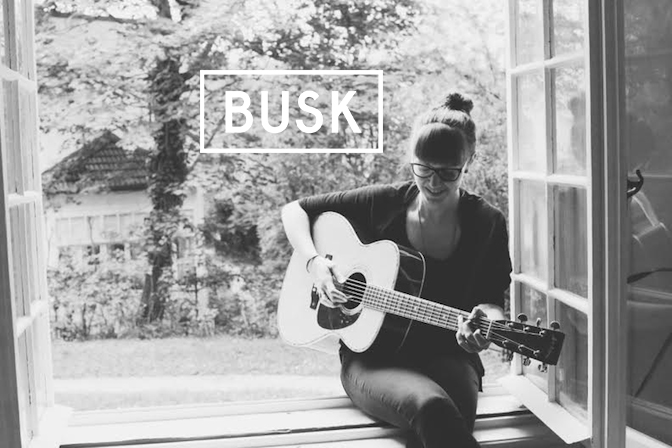 April 14, 2016
BUSK 2016: aNNika
BUSK Singer-Songwriter Festival is back in Bolzano Bozen: on May 20th and 21st 2016 once again we're bringing buskers and their music out to the streets of the city. VOTE this profile and YOUR FAVOURITE MUSICIANS by clicking the facebook like button at the end of the article (the result will be added to a selection made by an expert group). Spread music!
Name/Name/Nome 
aNNika
Genre/Musikrichtung/Genere 
Indie-Pop, Singer-Songwriter
Hometown/Herkunftsort/Luogo di provenienza 
Wien
Age/Alter/Età 
26
Your first contact with music?/Dein erster Kontakt mit der Musik?/Il primo contatto con la musica? 
Ich habe immer schon gerne gesungen und meine Mama hat, denke ich, sehr früh begonnen mit meiner Schwester und mir Kinderlieder zu singen…Eine musikalische Erinnerung, die sich sehr eingeprägt hat (und, glaube ich, sehr früh in meiner Kindheit war), ist Sinéad O'Connor hören beim gemeinsamen Abendessen mit meiner Familie.
What do like about playing music on the street?/Warum spielst du gerne auf der Straße?/Che cosa ti piace del suonare per strada? 
Weil man nie weiß, was als nächstes passiert. Weil man Menschen unerwarteterweise ein Lächeln und vielleicht sogar einen kleinen Glücksmoment bescheren kann. Weil ich meine Musik teilen möchte. Und weil man so wunderbare, spannende, interessante (und auch schräge ; ) ) Menschen kennenlernt!
Which artist or concert impressed you particularly and why?/Welcher KünstlerIn oder welches Konzert hat dich besonders beeindruckt und warum?/L'artista o il concerto che ti ha colpito di più e perché?
Amanda Palmer am Bluebirdfestival im Porgy & Bess 2013 in Wien. Sie war Headliner und hat bis 2:00 früh ihre Seele aus dem Leib gespielt, einfach immer weiter und weiter gespielt… großartige Musik, so wunderbare und ehrliche, unter die Haut gehende Texte, eine Wahnsinns Bühnenpräsenz und eine unglaublich sympathisch echte Art mit dem Publikum zu plaudern und zu connecten… wirklich großartig.  The soundtrack of your current life?/Der Soundtrack deines derzeitigen Lebens?/La colonna sonora della tua vita ora?
All The Luck In The World von All The Luck In The World bzw. ein 'echter' Soundtrack – The secret Life of Walter Mitty!
What does it mean to be a musician?/Was bedeutet es MusikerIn zu sein?/Cosa significa essere un musicista? 
Gedanken, Gefühle, Stimmungen, Erinnerungen, Ideen, Wünsche, Erfahrungen, Erlebnisse… in Musik umwandeln und mit anderen Menschen teilen zu können. Und – wenn es gelingt – ist das Schönste daran, Menschen damit zu berühren und glücklich zu machen.
What does your family think of your choice to be a musician?/Was meint deine Familie zu deinem MusikerIn-Dasein?/Cosa ne pensa la tua famiglia della scelta di fare music? 
Meine Schwester und auch meine Eltern haben mich von Anfang an sehr unterstützt… Ich habe mit 15/16 Jahren begonnen kleine Konzerte in Bars/Restaurants zu spielen. Meine Mama hat ganz viel fotografiert und war von Anfang an sehr stolz… Meine Schwester hat mir Mut zugesprochen, mich beraten, hat mich auch musikalisch sehr (positiv ) beeinflusst… Ja und mein Papa war mein Roadie ; ) und hat – vor allem – die unglaublich schweren PA-Boxen getragen… Heute sind sie einerseits froh und stolz, dass ich das mache, was mich inspiriert und glücklich macht. Andererseits sind sie – denke ich – schon auch ein wenig besorgt, was die Zukunft betrifft etc. … Im Großen und Ganzen freuen sie sich aber mit mir und das ist schön. 
Dream concert – impossible concert: who would you like to hear?/Wunschkonzert – mögliches unmögliches Konzert: Wen würdest du gerne mal hören?/Concerto dei sogni – concerto impossibile: chi vorresti sentire? 
Janis Joplin. Leider unmöglich, aber eines meiner absoluten Wunschkonzerte…
Best or worse experience of your musical career?/Erzähl uns eine Anekdote aus deinem Musikerleben, was war die schönste oder schlimmste Erfahrung?/Aneddoti: la migliore o peggiore esperienza della tua carriera musicale? 
Puh… "schönste" oder "schlimmste" Erfahrung kann ich jetzt gar nicht entscheiden…Eine ganz wunderbare Erfahrung war bei der Aftershowparty des vergangenen Bluebirdfestivals. Die MusikerInnen (Wild Promises, Rhob Cunningham, Chloe Charles) und das Bluebird-Team haben gemeinsam gefeiert. Zu später Stunde wurde die Gitarre herumgereicht und auch ich habe zwei, drei Lieder gespielt (Rhob Cunningham war mein Kapodaster! : D ) und sehr liebe, schöne Rückmeldungen bekommen… Wild Promises hat eine so, so feine akustische Version von "Ballymore" zum Besten gegeben und Rhob war einfach auch nur großartig. Eine ganz, ganz wunderbare Nacht! 
Contact/Kontakt/Contatti 
www.facebook.com/annikaonline.at 
soundcloud.com/annikamusic 
www.youtube.com/user/aNNikaPaNNikaP 
For more information, the guidelines and the call click here.
Foto: aNNika