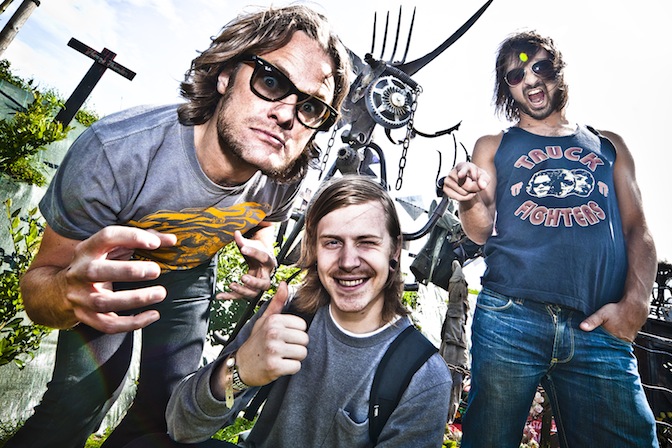 October 14, 2013
Truckfighters in arrivo! La migliore band al mondo? L'intervista a Dango
In un momento di esaltazione Josh Homme, frontman dei Queens Of The Stone Age, li ha definiti nientemeno che "The best band that ever existed". Forse si è lasciato prendere un po' la mano, ma certo è che i Truckfighters spaccano di brutto e martedì suonano a Innsbruck, giovedì ad Egna.
Fuzz out! I Truckfighters stanno per arrivare dalle nostre parti con la loro distortissima visione dello stoner rock, all'incrocio tra blues primordiale, bruciante heavy metal e psichedelia desertica. Il risultato è un assordante acid rock versione terzo millennio, capace di attrarre l'attenzione dell'indiscusso capostipite del genere, Josh Homme. Con rocciosi tre album sulle spalle (The Chairman EP fresco di stampa) e tour in Europa, Stati Uniti, America del Sud e Australia, il trio svedese è in arrivo a Innsbruck (15.10 @ PMK) e a Egna (17.10 @ POINT). Abbiamo intervistato il chitarrista della band Niklas Källgren, meglio conosciuto come Dango.
Lo stoner rock è il rock del deserto, ma di deserti in Svezia non se ne vedono molti. Da dove deriva la vostra passione per lo stoner?
Hahaha, non lo so. Forse i lunghi inverni, o le enormi foreste, generano sensazioni simili a quelle che si provano nel deserto.
Quali sono gli ingredienti ideali per creare una canzone dei Truckfighters?
Tutto dipende dalle vibrazioni! Non facciamo mai un piano prima di creare una canzone. Facciamo semplicemente le cose che ci piacciano e tutto il resto non conta. Alcune canzoni suonano meglio con un climax che crea progressivamente l'atmosfera, altre canzoni suonano meglio se picchiamo duro dall'inizio alla fine. Non esiste la ricetta perfetta, una canzone non si crea a tavolino, dipende dall'incontro di diversi musicisti e ogni volta è un'esperienza diversa.
Chi è il "chairman" che dà il titolo al vostro nuovo EP?
Il nostro bersaglio sono quei pezzi grossi, manager o politici, che una volta che raggiungono la vetta sembra che non possano mai più scendere. Non importa quante cazzate facciano né se si impegnino in qualche modo per rimanere al top, sono inamovibili. Ogni tanto poi vengono spostati in un nuova posizione ben pagata, dove possono continuare a comportarsi come "ass holes".
Josh Homme vi ha definiti "The best band that ever existed", tu come definiresti invece i QOTSA? Col nuovo album "Like Clockwork" spaccano ancora o si sono rammolliti?
Spaccano ancora. Per certi versi "Like Clockwork" mi piace molto, ma personalmente preferisco le loro cose più vecchie. È un po' troppo tranquillo per i miei gusti… Comunque un paio di anni fa ho avuto il piacere di vederli dal vivo in un concerto in cui suonavano il primo album dall'inizio alla fine. Una cosa davvero radicale, uno dei migliori concerti che ho visto nella mia vita.
Le voci dicono che siete probabilmente la migliore rock band al mondo. Ma Truckfighters a parte, chi è per te la migliore più forte?
Potrò sembrare noioso, ma ti dico Tool.
Tickets Online: www.poisonforsouls.com