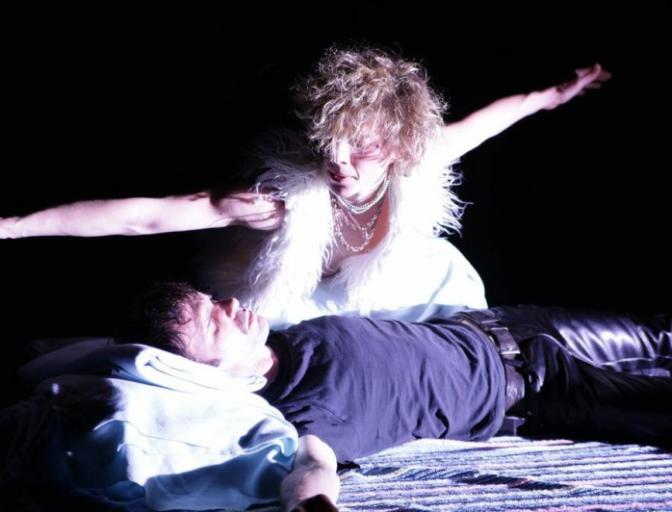 August 1, 2013
Mein Herz beats at Drodesera: Motus
Dal 26 luglio al 3 agosto, Drodesera, edizione 33. Già emozionati, già con il cuore che batte, all'unisono con quello delle appassionate anime che riempiono Centrale Fies, già pronti ancora una volta a farci rapire, stupire, turbare, stravolgere mente membra meningi. E allora, eccoli, i protagonisti di Mein Herz, eccoli a raccontarci il loro cuore, le loro immagini, i loro ritmi. E a regalarci un pezzo di sé.
Cosa farai a Drodesera? // What are you going to do in Drodesera?
Costruiremo alfabeti, montagne, mari in tempesta, grattacieli, vascelli, rifugi, isole, animali selvatici… Andremo e verremo dalla natura, a cercare aculei d'istrice notturna per bucare orecchie sane e innocenti con musica eolica in tempesta. Passeremo tempo a respirare -fra copriletti ricamati- l'eccentrica libertà dello stare "sotto il fiore che pende dal ramo".
Mein herz. Cosa ti fa battere il cuore ogni giorno? // Mein herz. What does it make your heart pound every day?
Platone ha definito l'uomo "un bipide senza ali". Il ritmo del tamburo del cuore è dato da questa mancanza: il desiderio di staccarsi da terra e lanciarsi in picchiata dai tetti. Alzare la testa, ti mette di fronte a un potenziale infinito di immaginazione. Rifarsi al cielo non è disonorare la terra. Ecco cosa mi fa battere il cuore ogni giorno: pensar sia possibile alzarsi in volo e scatenare tempeste.
Cosa, se accadesse, lo farebbe smettere di battere? // What could make it stop beating?
Non accadrà mai.
Il cuore non è solo un organo anatomico. Dov'è e cos'è il cuore per te? // Heart is not only an anatomical organ. Where and what is the heart for you?
Il cuore è l'albero maestro di una nave in mezzo a un Uragano. Il vento può stracciare le vele, le onde possono rifrangersi, il mare ruggire e far diventar carcassa bompresso e cordame… I marinai possono lasciarsi andare a scene disperate… Ma perfino nel più disprezzato relitto, l'albero, anche spezzato, resiste.
Il cuore accomuna uomini e animali. Se il tuo cuore battesse nel corpo di un animale, che animale sarebbe? // Heart equates humans and animals. If your heart could beat in an animal's body, which animal would it be?
L'uomo è un animale. Diventa pecora nel gregge, capra che guarda le cose dall'alto, lupo in piccoli branchi, termite che scava e costruisce strutture senza ricevere comandi… Ma se il mio cuore battesse altrove, allora sarebbe quello di una pianta, sottoposta al ciclo mortale del sole. Nostalgia vegetale… Si, vorrei proprio che il mio cuore battesse nel corpo di un albero.
Drodesera e Fies incrociano i linguaggi. Se tu fossi un film/video/storia che film/video/storia saresti? // Drodesera and Fies use to intersect different languages. If you were a movie / video / story, which movie/ video / story would you be?
Un b-movie Hong-konghino, In cui il saggio di turno dice al palestrato Americano: – Il vostro problema è che non avete i draghi per spiegare le cose… Io voglio i draghi per il non detto, lo sconosciuto!
Se tu fossi invece una canzone/musica/ritmo che canzone/musica/ritmo saresti? // If you were a song / music / rhythm, which song / music / rhythm would you be?
Sonata N°.17 "The Tempest" di Beethoven.
Ci regali un'immagine che ti racconta più di mille parole? // Could you choose an image that tells something about you more than thousands of words?
Una tigre enorme, con interiora di ferro, che vaga su un'isola trafitta dal vento. Divora, e quel che non riesce a inghiottire, lo trasforma con il fuoco. Tutti le danno la caccia, ma è troppo veloce per essere presa. Compare solo nei sogni.
Dai una forma al tuo cuore e regalalo a qualcuno. Che forma? A chi o cosa? // Give a form to your heart and give it to someone. Which form? Who? What?
Una coperta rossa, che esce dal buio del dentro e prende forme sempre diverse, fuori. Che può scaldare ed essere riparo, o scudo, abbraccio o carezza: può fare caldo, fare bene, fare sognare e "piangere per sognare ancora…". E' solo per chi ne ha davvero bisogno. Motus_Ariel I corsivi sono di Shakespeare.