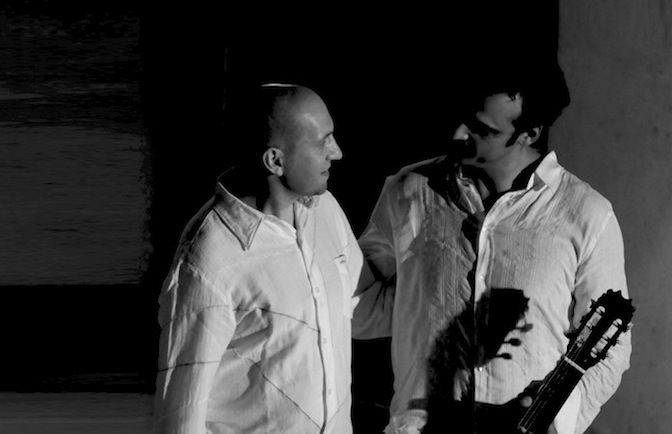 July 15, 2013
Marco Facchin e Manuel Randi, un incontro pericoloso
Manuel Randi chitarrista virtuoso e versatile come pochi, tra rock, folk, jazz e flamenco. Marco Facchin clavicembalista affermato nella scena Early Music internazionale, oltre che compositore di colonne sonore. Da una lunga frequentazione è nato "Dangerous Encounters".
Che il conflitto in politica sia produttivo l'aveva capito benissimo Nicolò Macchiavelli, e in questo sta una delle vette del suo scintillante pensiero. Che il conflitto sia creativo anche nell'arte lo sanno bene Marco Facchin e Manuel Randi che con Dangerous Encounters (2013), sprezzanti del pericolo, portano lo "scontro" ad un livello sublime: la musica barocca è lontanissima dalla sensibilità contemporanea, il clavicembalo di Facchin e la "Red Flamenco Spider" di Randi sembrano appartenere a mondi troppo lontani per potersi incontrare… ma quello che sulla carta appare come un dialogo quantomeno improbabile, si eleva da terra e spicca il volo. In questo caso, è proprio il caso di dirlo, con la carta possiamo farci un bell'aeroplanino, perché la realtà di questo album va al di là delle classiche categorie con cui siamo soliti inquadrare la musica.
"I needed a new experience in Early Music – racconta Facchin nel booklet – and Manuel was eager to be challenged". Ebbene, dopo sei mesi di prove e un concerto, abbiamo il piacere di ascoltare un grande album in cui è proprio il senso della sfida a caratterizzare ogni singolo momento: in cui una conoscenza profonda degli autori e il rispetto filologico del modello non si risolvono in comodi schemi consolidati, ma anzi si sposano con un'ansia sperimentatrice acuta e originale che colma la distanza tra partitura e improvvisazione.
L'apertura con The King's Hunt di John Bull ha qualcosa di travolgente. La sensazione che si ha all'ascolto è che il discorso originario venga rigenerato nell'attualità dell'istante, grazie al fitto interscambio tra i due musicisti. Prendendo dal jazz la dinamica dell'interplay e trapiantandola nell'ambito della musica d'arte, i pezzi pescati dalla letteratura per clavicembalo solo del XVI-XVII Secolo acquistano nuova vita. Sentire tra le infinite pieghe e riccioli di una Suite di Händel, clavicembalo e chitarra che si rincorrono, si sovrappongono, si combattono e poi si fondono, non può che lasciare a bocca aperta. Davanti a una simile meraviglia, non si può che dar ragione al Poeta quando dice: "Wo aber Gefahr ist, wächst das Rettende auch".
Appuntamento dunque domani, martedì 16 luglio alle 20.30 a Castel Mareccio, per sentire dal vivo la magia di Dangerous Encounters.