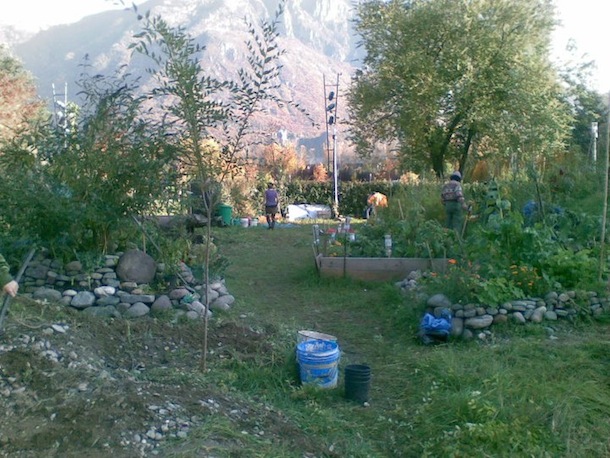 February 21, 2013
L'orto Semirurali Garten
Der Garten ganz am Anfang
Ein zweisprachiger Titel für eine multikulturelle Dimension. Der Semirurali-Garten im Bozner Don-Bosco-Viertel (an der Kreuzung zwischen Bari- und Alessandria-Straße), ein sehr interessantes Experiment, ein multikultureller Gemeinschaftsgarten. Urbane Gärten – die Natur, die die Stadt zurückerobert, ein neuer Dialog mit der urbanen Dimension, Hände im Dreck – sprießen wie Pilze aus dem Beton und Asphalt der Städte Europas und der Welt. Urbane Gärten sind sicher nichts Neues, dennoch ist das Thema hochaktuell und spricht verschiedenste Menschen in einer Art globalen Resonanz an. Es ist Zeit, nach einer Betonierung der Geister und Städte wieder etwas Grünes sprießen zu lassen.
Der Semirurali Garten besteht schon seit 3 Jahren und wird von der englischen Anthropologin Hilary Solly für den Verein Donne Nissà koordiniert. Er wird von der Gemeinde Bozen und dem Amt für Kabinettsangelegenheiten unterstützt. Es sind ca. 50 Gärtner und Gärtnerinnen dieses Jahr und sie stammen aus vieler Frauen Länder: Pakistan, Bangladesh, England, Deutschland, deutsch- und italienischsprachige Südtirolerinnen… Alessia Capra hat den Garten sogar zum Thema ihrer Tesi an der Universität von Verona gemacht: "Gli orti comunitari: un'opportunità per coltivare relazioni. L'esperienza dell'orto Semirurale Garten di Bolzano".
Ein solches Projekt bietet sicher viele Herausforderungen, um jedoch einen etwas anderen Blick in den Garten zu werfen, hier die Antworten auf die Frage: Was magst du am Garten? – Die Antworten habe ich in der Originalsprache belassen.
Hilary: The diversity of people, the challenge of having to learn to get along together, to collaborate in the context of gardening. Spending time with other people.
Rachele: Una sperimentazione di condivisione e partecipazione dove produrre cibo localmente per un progetto di transizione.
Flavio: Un rifugio, una parentesi in un contesto sociale in cui non mi riconosco più. Un punto d'incontro tra la natura e il relazionarsi tra le persone.
Farhana (ein Mädchen aus Bangladesh, noch im Kindergarten): Aiutare und pflanzen. Ich mag es hier.
Husein (der Vater von Farhana, er spricht nicht gut Italienisch oder Deutsch, sie hat mir die Antworten übersetzt): Mit Pflanzen arbeiten und das Gemüse.
Taiqui Mohammed: Mi piace tutto. È una cosa naturale, troppo bella, il profumo, il sapore delle verdure è speciale, poi posso venire qui a lavorare per scaricare le tensioni, lo stress del lavoro. È molto bello, venire e trovare amici, parlare, un'altra esperienza sull'agricoltura.
Hossein Sharif: Il posto intero, perché è bello, almeno c'è qualcosa in città, c'è un orto, incontrare nuovi amici, trovarsi, passare il tempo, un modo di fare piacere, per fare felici.
Paolo: Una parentesi ritagliata alla quotidianità, in cui riappropriarsi di relazioni con le persone e la terra.
Katherina: Die Zeit bleibt stehen, es fühlt sich an, als ob man in einen Sog rein kommt, alles wird langsamer; worauf man sich fokussiert, wird ganz klar, und das Umfeld verschwindet, ich fühle mich regeneriert, und ich finde mich immer wieder selbst.
Maximilian: Für mich ist es sehr entspannend, ich kann abschalten und die Natur beobachten. Ein kleiner Fleck in der Stadt, wo man wirklich mit verschiedensten Menschen in Kontakt kommt und sich austauschen kann. Es ist schön hier!
http://youtu.be/ao3ld_xPNAI
http://youtu.be/z3L_LORpfoM
Zum Abschluss noch ein grüner Gruß aus dem Garten: