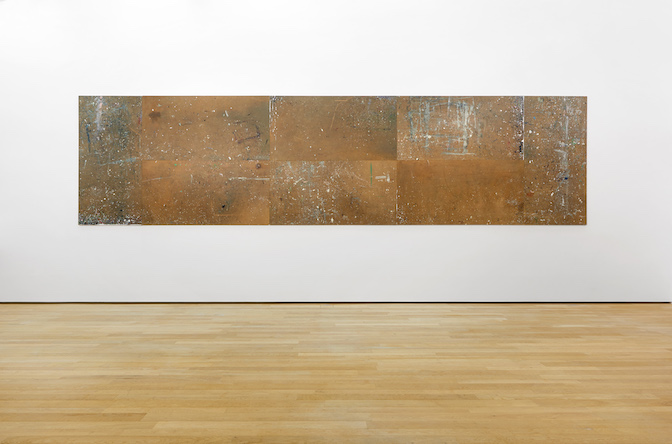 August 9, 2021
"I had not precisely formulated what I had wanted to get"
Michael Krebbers Werk lässt sich nicht gerne beschreiben. Vermutlich genauso wenig wie er selbst. Das kann von einer kritischen Selbstwahrnehmung zeugen, vielleicht aber auch von der Unnachgiebigkeit, irgendetwas, und seien es Worte, über sich stülpen zu lassen. Wie also naht man sich an das Unnahbare, wie schreibt man einen, der sich bewusst nicht fassen lässt? Und ist diese Annahme schon zu viel des Guten? 
In Kollaboration mit der Greene Naftali Galerie (New York) konzipierte der Kurator Vincenzo de Bellis eine kompakte Einzelschau in der Fondazione Antonio dalle Nogare Stiftung und holte Krebber mit Werken aus den frühen Nuller-Jahren nach Bozen. studiofloor MK/P MK19/087/1-8 (2000) bringt Teile des Künstleratelierbodens in die Vertikale: Holzfaserplatten, rechteckig und gelebt, mit Farbe und Tagen, neu angeordnet zu einer fast zweieinhalb Meter breiten Installation. Da stellt er sich plötzlich vor uns (dieser Boden und dieser Künstler), wo wir ihn sonst vielleicht nie gesehen hätten (unter unseren Füßen der eine, über unseren Köpfen der andere) und das Alltägliche (oder doch auch nicht, denn wer hat schon Zutritt zum Atelier des Künstlers?) legt uns den Perspektivenwechsel auf (wenn es doch nur so einfach wäre!). Strotzend, so fühlt es sich für mich an. Unzufällige Zufälligkeit.
Auch in der zweiten Arbeit, der Serie Diamond Painting (2003), hält sich Krebbers üblicher Pinselstrich zurück und lässt graphischen Pattern den Vortritt. Auf begleitendend Sprachliches verzichtet er in diesem Arrangement, nur eine Widmung an der Wand für Sven Sachsalber – die Künstler kannten sich – macht Worte. Die Geste ist es, die hier in allem überwiegt und die Anordnung erhält Gewicht. Aber das scheint in diesen Räumen, wie in der ganzen Fondazione, sowieso ein Unbedingt und ein Unausstellbar zu sein. Die Ausstellungsräume sind hoch, bis ins Detail geformt, fordernd großzügig. Schön und doch auch nicht immer ein Leichtes, für den Künstler oder die Künstlerin, die sie zu füllen hat. Vielleicht umso treffender, dass Krebber hier den Boden an die weiße Wand pinnt. Ist es das, was ihr euch erwartet habt?
Ich habe nachgefragt, und wenn ein deutscher Künstler auf deutsche Fragen englisch antwortet bleibt es dabei:
"Studiofloor is part from an old installation of works of mine, where I used the floor as work on the wall and the works as floor. To avoid having them lying on the floor I put them on a table. 
For Bozen the first idea was to remake this installation with the Diamond Paintings, but then I decided to avoid a remake. Therefor in Bozen everything is on the wall. 
Studiofloor as a wall was already made by Dieter Roth before.
Paul McCarthy once tilted his studio setting it up in a box and one can sometimes find the tilting of a room in amusement parks.
The diamond paintings were entirely made by an assistant.
I had not precisely formulated what I had wanted to get.
I also had intended to paint on what I had asked for.
I was delivered something completely different from what I had had in mind and liked it so much that I kept everything as finished work."
Michael Krebber, geboren 1954 in Köln, lebt und arbeitet in New York. Seine Einzelausstellung mit dem Titel "Studio Floor and Diamond Paintings" ist derzeit bis zum 8. Januar 2022 in der Fondazione Antonio Dalle Nogare Stiftung in Bozen, zu sehen. Sein nächstes Projekt ist eine Ausstellung in der Greene Naftali Galery in New York. Michael Krebbers Werke befinden sich weltweit in den großen Sammlungen und Museen für Gegenwartskunst.
Fotos: Jürgen Eheim Fotostudio