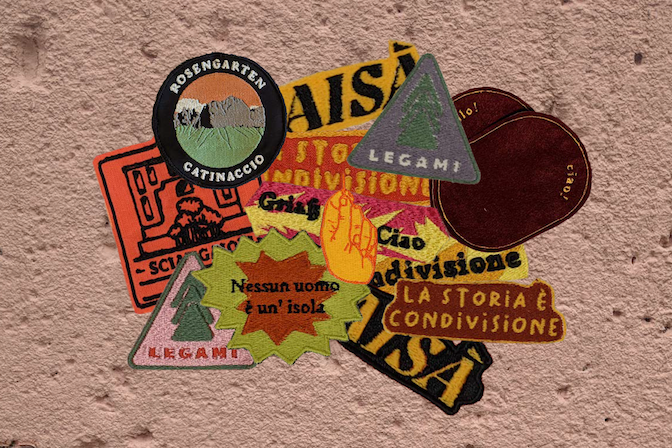 February 19, 2021
Elastica, Rattoparole e Pacco Abbraccio:
tra gioco, parole e sensi
Di solito i bambini guardano queste persone che sono invecchiate invano; non capiscono cosa vogliono e tornano ai loro giochi, giochi semplici e molto seri.
Bruno Munari
Rieccomi a parlare di"Transforming the City by Care (TCC)", 10 micro trasformazioni che hanno avuto come principale luogo di azione, il quartiere di Don Bosco di Bolzano, ma non solo. Si tratta di un progetto sviluppato all'interno del Master in Eco-Social Design e nato dagli intenti comuni e dalla collaborazione tra la Libera Università di Bolzano, la cooperativa sociale OfficineVispa e L'Ufficio Famiglia, Donna, Gioventù e Promozione sociale del Comune di Bolzano. 
Per questo primo articolo mi sono interfacciata con tre gruppi che hanno, ognuno a loro modo, lavorato alla creazione di oggetti: carte-gioco, toppe-parole e pacchi-abbraccio. In tutti sento risuonare le parole di Bruno Munari e il suo intento di farci scoprire nel gioco semplicità e serietà, due elementi fondamentali per ogni progetto, non solo di design. 
Il primo gruppo "Elastica" (EL) ha realizzato un progetto in collaborazione con i bambini delle scuole di Don Bosco. Mi sono innamorata a prima vista di questo kit di carte, che se volete potete scaricare nella sua versione stampabile da questo link. Il secondo gruppo ha ideato un "Pacco Abbraccio" (PA): mi hanno conquistato con questo nome altamente risuonante, soprattutto per le restrizioni COVID a cui siamo sottoposti. Si tratta una serie di suggerimenti che forniscono alle persone affette da disabilità la possibilità di inventare e creare nuovi artefatti per comunicare sensorialmente. Infine c'è "Rattoparole" (RP) un progetto che per me potrebbe essere definito di "poesia tattile verbo-visuale": alcune parole sono state tradotte in elementi di stoffa, aggiunti, cuciti o ricamati su indumenti. Una bellissima rivendicazione della potenza del linguaggio come rivelatore delle relazioni profonde e intergenerazionali nascoste in ogni comunità.
Queste qui sotto sono state le mie domande per conoscerli meglio:
Ci raccontate un po' di voi? Chi siete? Raccontateci chi siete attraverso i vostri sogni nel cassetto!
Qual è stata la più grande difficoltà e soddisfazione del progetto?
Quali parole chiave sintetizzano il vostro progetto?
In che modo volete o pensate di portare avanti il vostro progetto?
Andiamo ora a leggere e curiosare tra i loro sogni nel cassetto, tra le difficoltà con cui hanno dovuto confrontarsi e tra i loro progetti per il futuro…
EL:We are the project team of elastica! Mara a product designer from Germany, Sarah an artist from Italy and Nicole a graphic designer from Honduras. We have complementary personalities and share through elastica a dream (our personal secret dreams we keep as a secret) where a kid's imagination is as important as rocket science. By caring for their personal well being and happiness we were able to fulfill our vision. 
EL:The biggest challenge was the pandemic situation. We were not able to meet the kids of the afterschool in Don Bosco, had to keep the distance and were just allowed to develop elastica with them over video calls. Nevertheless this challenge positively shaped the outcome. While the afterschool slowly started to be in presence again, we were able to play the game elastica with the kid. Experiencing how elastica made them laugh and connect with each other, was for us one of the biggest gratifications.
EL: Kids, children, Don Bosco, Doposcuola, Officine Vispa, game, fun, activities, imagination, organic learning, creativity, movement, relaxation, education, design, eco-social design, participation, UniBZ 
EL: The game elastica is incorporated in the afterschool of Don Bosco and in the kid's space at home. We also developed a free printable version that is available on the social media platform Instagram, accessible to new kids, parents and teachers all over the world. For our future steps we would like to get in touch with education associations and spread the game as much as we can in social and didactic environments. Because we believe that reinforcing curiosity through play will be a key to build lively mental, physical and social abilities. 
No matter your age, try it out! Share your self-made cards with us at @eeelastica : ) we would love to see your ideas.
PA: We are a group of students with diverse backgrounds and experiences. Elizabeth comes from the US and has studied Fine Art. Henri, from Germany with a degree in Art Direction for Advertising. Despoina comes from Greece with a background in Architecture. We all met here in Bolzano chasing our aspiration to learn more about the ecological and social face of design. In collaborating on our first project, we looked to combine our shared concern for mental health issues with a curiosity for how people in Don Bosco stay connected during the pandemic.
PA: Our project approaches a very sensitive topic that people sometimes treat as a taboo or avoid referring to altogether. We found it extraordinarily difficult to approach and adequately familiarize ourselves with the people who are most vulnerable to this topic, while also following the COVID regulations. On the other hand, the demanding nature of the project kept our interest throughout the process and intrigued us to find creative and alternative ways to achieve our goal which contributed to the result of the final prototype.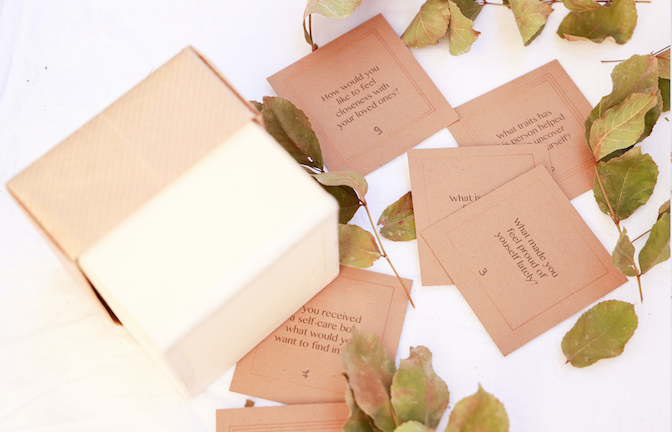 PA: Mental health, inner balance, self-care, self-awareness, expression, emotions, closeness, intimacy, relationships.
PA: The COVID restrictions did not allow us to work with a more specific target group in the way that we wanted and this resulted in us addressing a broader audience. Over time, we would like to continue working on our prototype, adding new elements, and engaging with the target group we aspired to at the beginning.
RP: Siamo Andrea e Guillermo e siamo entrambi studenti del Master in Eco-Social Design di Unibz. Andrea è di Treviso, ha un background in architettura ed è appassionato di libri e fotografia del paesaggio mentre Guillermo è venezuelano, laureato in Disegno Industriale in Colombia e ha avuto esperienze in vari campi del design nel corso degli anni. La nostra motivazione nasce dal desiderio di lavorare su progetti che abbiano un impatto su una comunità attraverso la creazione di "forme sociali". Con questo intendiamo le relazioni intrecciate tra persone (e tra persone e luoghi) che, quando durano abbastanza a lungo, acquisiscono caratteristiche riconoscibili.
(Ezio Manzini, Progettare coalizioni: Design for social forms in a fluid world, Strategic Design Research Journal, 10 (2): 187-193 maggio-agosto 2017). 
RP: Riuscire a lavorare in questo contesto di pandemia non è stato per niente semplice, fortunatamente abbiamo trovato il modo per parlare con le persone di Don Bosco attraverso dei sondaggi online e grazie alla comunità che ruota attorno all'associazione "La Rotonda". Ciò che consideriamo sia il nostro più grande cruccio che la nostra maggior soddisfazione è il fatto di essere riusciti a lavorare in un contesto come questo ottenendo dei risultati tangibili, questo grazie al FabLab BITZ dell'UniBZ che ci ha permesso di utilizzare i macchinari all'interno di esso per ottenere dei prototipi delle toppe che avevamo elaborato, non senza difficoltà.
RP: Rattoppare, toppe, parole, identità, collettività, comunità, patrimonio, cucire. 
RP: Vorremmo sviluppare ulteriormente il progetto facendo dei workshop con i giovani della comunità per creare dei prototipi di toppe e co-creare proposte future basate sui loro input. Inoltre, abbiamo intenzione di lanciare il sito web in modo che il progetto possa funzionare da solo, stabilendo un contatto tra la comunità e i nostri partner (Officine Vispa, Unibz FabLab e gruppi di cucito indipendenti di Don Bosco). 
Foto e grafiche di Mara Vöcking, Sarah Solderer, Nicole Faiella; Despoina Tzirou, Henriette Kirsch, Elizabeth Maldari; Gullermo Mondelli , Andrea Righetto