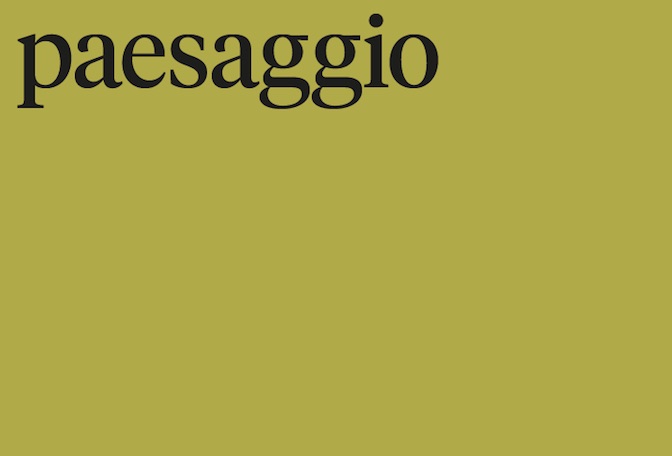 December 12, 2020
Moreness in December. Day Twelve: One Man's Wilderness
Now that mountains are the talk of the town, we feel like letting our eyes and thoughts be gobsmacked by the very heights encircling the city. We are going to gather observations, notes and scribbles for the whole of December by taking our cue from our brainchild Moreness. Moreness in December will unfurl until the 31st of the month, which takes it beyond the merely Christmassy. In fact, our calendar is a compendium of 31 brief love letters addressed to our Dolomites.
"Thinking of Holland // I see broad lazy rivers // flowing through infinite // low-lying land, // rows of incredibly // delicate poplars // like plumy feathers // on the horizon, and // sunken and small in this // space so stupendous // the farmhouses // scattered about, // clumps of trees, villages, // squat stumpy towers, // churches and elm trees, // in one grand layout. // The skies hang low // and grey, multicoloured // mists slowly make the // sun disappear, // and in every region // the voice of the water // with its endless disasters // is heard and is feared."
'Herinneringen aan Holland' By Hendrik Marsman, translated by Renée Delhez.
As opposed to the mountainous region of South Tyrol, I come from a place whose name even alludes to its striking flatness: The Low Countries, or rather, The Netherlands. For me, mountains were only ever fantastical creatures from films, fiction and far-away countries. Strangely enough, however, I recall telling my aunt that I wanted to be a mountain hermit when I grew up. She, a child psychologist, found this incredibly fascinating, of course. I had seen some elevation during my life, but mountains were never part of my reality. Why did I have such an inexplicable longing for a cabin by a lake in the woods with mountains in the backdrop?
It could be because of the stark differences between these two places, whether it is that The Netherlands is about six times denser in population than South Tyrol, or that our average elevation is only 30 meter above sea level. When I logged my mountain bike trip on Strava the other day, at first sight the elevation graph looked quite impressive, until I noticed the Y-axis only ranged from 0 to 3 meters. There are similarities too. The inhabitants of my home region Fryslân are also part of a linguistic minority, for example, and we like apples and cows as well.
This Hiraeth – a Welsh word for the feeling of longing for a home that never was – is a feeling I am often troubled by. Whether it is spatial or temporal, and perhaps a form of escapism, I always yearn a return to more primitive times. The peace and majestic nature South Tyrol offers, along with the culture and folklore I have come to know over the past few years, is exactly that mountainous retreat I had carved into my mind many decades ago. Are we always unknowingly drawn to those things we desire most? Certainly, my unsatiable desire signposts that I have thus far dwelled in an unsatisfactory habitation.
I have been fortunate enough to become a something of a regular in Bolzano. When the lockdown was lifted back in May, I was able to work remotely from Bolzano for an Amsterdam-based start-up for two months, for example. The lasting impressions of this wild yet cultivated land are manifold. For starters, it is at the same time staunchly authentic and forward-thinking. South Tyrol makes growing your own crops, pressing your own apples and fermenting your own grapes hip again; classic attire is widespread but also continuously reinvented, allowing the creative mind to never cease combining; old paths are conquered by new sports. Above all, South Tyrol is a region of contrast and symbiosis, whether in terms of culture, language, cuisine, nature, or anything else you can really think of. The Netherlands, on the other hand, is very level. Everything looks very much same, it's all flat, efficient, and we pride ourselves for our consensus decision-making: we look for the mean and the middle.
So how does a Dutchman picture his ideal mountain retreat in South Tyrol? At first sight it is a log house titled "The Mead Hall" among friends. Surrounded by heather and pine trees, the back side of the dwelling is a patchwork of glass and wood, not too sleek or design-y. The interior is an assembly of oriental and European furniture. There's books, lutes and guitars, maybe even a harpsichord, and plenty of fermentation vessels lining the basement walls. The kitchen is well-stocked with local produce and herbs aplenty. Fish and mosquitoes are from the lake close by and the chickens roam around peacefully. Oh, and don't forget the mountain bike and camping gear: I am Dutch after all. A bit cheesy still? I'll keep dreaming.
Jelle Kalsbeek,  melancholic music man. He lives in the Netherlands but much of his mental time he spends in a log cabin in the Alps. He has a love for the ancestral and the wild. He writes, reads and codes for a living.
SUGGESTIONS FOR DAY TWELVE:
* Herinneringen aan Holland by Hendrik Marsman, translated by Renée Delhez (1936)
This is the poem I opened the article with and a suggestive one of its fierce flatness. Naturally, water is also central and so are the farmhouses and the low-hanging skies so typical of my Fryslân.  
* The Penguin Book of Dutch Short Stories edited by Joost Zwagerman (2016) 
This small gem is a proper primer to Dutch culture, blending snapshots of everyday reality with surrealism, fantasy and subversion.
 * The Undutchables: An Observation of the Netherlands, Its Culture and Its Inhabitants by Colin White and Laurie Boucke (2013)
If rather than into fiction you are into satire, then scrap the previous suggestion and opt for this one. Giggles are a sure thing, but only if you already have an inkling of what Dutch culture looks like. Among the highlights are: cozy Dutch homes, flowers & plants, money & thriftiness, Protestant work ethics, commercial cunning, sex, drugs and obviously bikes.
* One Man's Wilderness: An Alaskan Odyssey by Sam Keith (1973)
The book that gives the title to the present article is based on the journals of Richard Proenneke, who in 1968 retreated to the wilderness of Twin Lakes in Alaska to escape his tedious 50-hour work week. In order to "do a thing to completion", Proenneke built a home for himself and lived in absolute isolation for more than 30 years.
* Landscape, Constitution, Cement: the Battle for the Environment Against Civil Degradation by Salvatore Settis (2019)
I found this book on my last trip to South Tyrol and could not agree more with every single word it contains. A hymn to the integrity of the landscape, a romantic and harsh critique against today's inexplicable aversion towards everything natural. A Bible to go by for anyone interested in starting their own mountain hermit library.
* The Great War and Geo-Graphy. Mountain Fortifications Midway Between Matter and Landscape by Marco Ferrari, in Moreness 01 (2019), pp. 66-67
Following from Settis' book, this article by Marco Ferrari for Moreness is the perfect conclusion to a melancholic overlook of the garish grayness of cement in the context of the mountains.