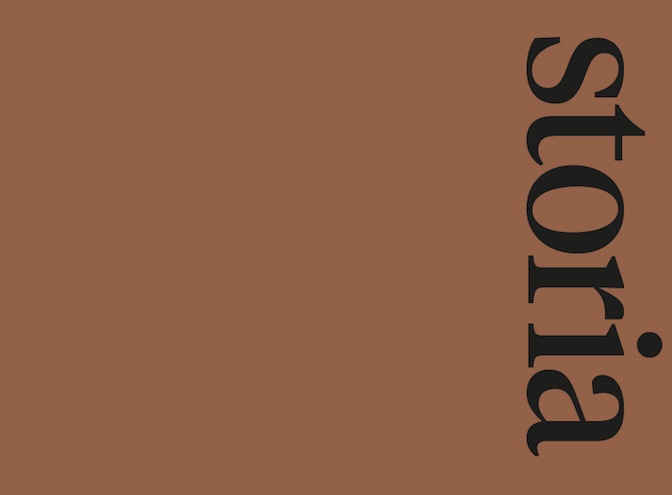 December 2, 2020
Moreness in December.
Day Two: Staying Here
Now that mountains are the talk of the town, we feel like letting our eyes and thoughts be gobsmacked by the very heights encircling the city. We are going to gather observations, reflections, notes and scribbles for the whole of December by taking our cue from our brainchild Moreness. Moreness in December will unfurl until the 31st of the month, which takes it beyond the merely Christmassy or festive. In fact, our calendar is a compendium of 31 brief love letters addressed to our Dolomites.
"There was no lack of space in that farmhouse and outside was a fine field where Grau loved to run. But because it was near the stables, the odour of hay and silage lingered and seeped into your skin; some evenings it made me feel like vomiting. To say nothing of the cold, which in winter made us move like ghosts, our blankets over our shoulders, while the wind gusted under the door with a terrible noise. We were always huddled around the majolica stove, and we washed when we washed. (…) On Sundays Erich and I rode our bikes. At the riverbank, we'd fill baskets with mushrooms, clamber up paths to the summits. If I know the valley it's because he led me all over it, not because I was born here. When I felt cold up on the mountaintop, he'd rub my back. He had long, nervous hands and I liked feeling them on me. On holidays, too, he'd wake up at dawn and say 'C'mon, let's go for a walk while the sky is clear.'"
"An unvarnished language that of Marco Balzano, in stark contrast to the glossy varnish layers in which the land he discusses covers itself at present". These were my thoughts a few pages into Balzano's "I'm Staying Here", a multi-award-winning novel about a seventeen-year-old aspiring teacher called Trina. "Maybe that is exactly where the book's value lies", I wondered. "It was most likely Balzano's intention to paint a stripped-down portrait of South Tyrol that could best give back in writing the harsh and anything-but-glossy landscapes of the place in Fascist Italy", I kept on musing. "It must be. Yes, it certainly is so… But still, why does something seem off?"
Set in Fascist Italy, Trina's is a story of resilience and visceral attachment to one's native birthplace, what South Tyroleans like to refer to as Heimat – a much-discussed term that encompasses a plethora of meanings and that most claim to be untranslatable; basically, a Pandora's box, which is best to keep hermetically sealed to avoid being riddled with shots from all sides. Hence, back to Balzano. 
In "I'm Staying here", Trina is a female hero, a harbinger of pride and courage, a strong member of a community weakened by the authoritarian abuse of a usurping government. Nothing new up to this point, really. Much like numerous other texts about South Tyrolean history, "I'm Staying Here" turns Fascism into the background framework to a narrative concerned with issues of belonging, authoritarianism, migration and ethnic conflicts. No need to cite the umpteen texts and films that already tackled these topics, and which did so as exhaustively as biasedly. Enough ink has been spilled on this, for what concerns me. 
However, if history is trite, what is left of South Tyrol beyond its Fascist phase? What can we talk about in relation to South Tyrol if not its singular political make-up, its plurilinguism and the beauty of its used and abused mountains? What is there more to be said about a land that belongs to everybody and nobody in equal measure? Would it be a sign of authentic respect to dedicate yet another piece to the devastation of forests in South Tyrol, or to the non-sustainable tourism that is slowly but surely sullying and defacing its soil and soul? Do we really need to be demagogic? Are we careless and superficial if we think that not talking about all this does not mean avoiding the thought of it? 
Novelty being a chimera, there is little to no scope for relevancy. Everything and more has already been written and uttered about South Tyrol. The risk in adding to the debate is that of becoming stale at best and repetitive at worse. But is that really so, some might ask? Sadly, it is. So why bother? Why touch a raw nerve? Although personally, I have mixed feelings for the topic, being someone who writes for a living, I do believe there is always something more to be said. It would be odd for me to think the opposite, contradictory even. Yet, as bleak as all of the above sounds, and as negative as my perspective might seem, in my very humble opinion, there is only one way out of all this, only one path left to be walked, and that is the one Balzano also took: fiction. For, if all that could possibly be said about South Tyrol has already been churned out and rattled off with ample respite and bitter spite, the interpretative bubble of fiction is the only space left for meaning to flourish. 
Now I understand what seemed off to me only a few pages into "I'm Staying Here". It was the strident freedom of Balzano's writing against the pigeonholed entrenchment of the facts he was covering. Trina's first-person narrative was entirely supposed, imagined and constructed, although likely and possible. Weirdly enough, with respect to the heavy weight politicised and allegedly engaged historical texts priorly written on similar or the same topics, Balzano's book was somehow more accurate and less arbitrary despite being fictional. There were and there are still things I do not fully appreciate about "I'm Staying Here", one for all the style, but beyond personal preferences, the narrative seemed fit for the times. This, because it put centre stage the individual rather than the collective and it did so through a zero focalisation technique without falling into the trap of omniscience. As such, it gave back a rendition of history to which we are underexposed, one that concerns the one rather than the whole, one that might seem fragmentary at first and even preposterously castle-in-the-air-like in the long run, but one that goes far beyond mere facts. History cannot be experienced the same by everybody as our school texts and teachers want us to believe. It would be wrong to project one's lived experience onto a collective dimension called 'history' for this would be both disrespectful and inaccurate. There are only histories in the plural. As such, it is better to leave the academicism of historical accounts on the side and dive deep into the much more perilous and by far more radical fields of fiction. It is not about avoiding the filth of factuality, nor about a certain pusillanimous superiority towards politics, but rather a call for reframing.
As soon as I realised all this, I also understood why I had mixed feelings towards Balzano's book at first. Feelings that became clearer and convinced me to give it a second read. Only then, I grasped it. It was then that like Trina, I started to smell the odour of hay, to move like a ghost in winter, to huddle around majolica stoves, to go for a walk while the sky was clear. If I am to stay here, I might just as well live the place my own way. Are you staying here as well?
SUGGESTIONS FOR DAY TWO
* "I'm Staying Here" by Marco Balzano, translated by Jill Foulston (Penguin, 2020) 
The starting point for the present article in all its grit and glory.
* "The Last Train to London" by Meg Waite Clayton (Harper, 2019) 
To expand your historical fiction shelf beyond the confines of South Tyrol whilst holding on to the same fictional afflatus of Balzano's novel.
* "The Dutch House" by Ann Patchett (Bloomsbury, 2019) 
To fast-forward to post-WWII times through a poignant family drama set in the US, sharing the same brittle style and crude realism of Balzano's novel.
 * "The White War. Life and Death on the Italian Front 1915-1919" by Mark Thompson (Basic Books, 2010) 
To dive deep into the colossal and murderous butchery of WWI from a perspective at odds with Balzano's. Expect gore and take your guts on a journey into the filth of attrition.
 * "The Sunny Side of the Alps. Year-Round Delights in South Tyrol and the Dolomites" by Paul Hoffman (Henry Holt & Company, 1995)
To embark on a journey as personal as that of Balzano's Trina, but one in which the evocative details about the art, the architecture, the food, the routes and the traditions of South Tyrol mix with the precision typical of guidebooks.