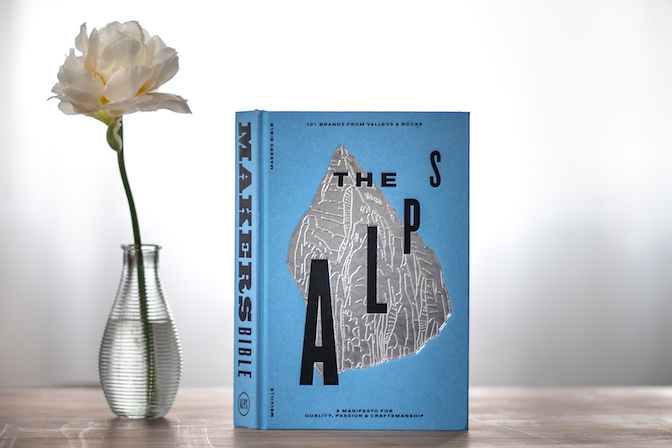 May 3, 2019
Books, I've never read: "Makers Bible. The Alps."
Ich behaupte jetzt einfach mal, dies hier ist ein Buch, an dem kein Mensch einfach nur vorbeigehen kann, der in irgendeiner Form bibliophile Züge in sich trägt. Tja und weil unser Redaktionsteam schöne Bücher und gutes Design liebt, war es eigentlich klar, dass früher oder später jemand von uns mit diesem Prachtexemplar in der Hand in die Redaktion spazieren würde, wo es im übrigen seinen perfekten Platz gefunden hat. Und ja, bevor jemand fragt, wir haben jetzt 3 davon. 
AUSSEN
Haptisch und visuell ein Hochgenuss. Eingebunden in feinstes Azurblau, Gedanken an klares Gletscherwasser kommen auf, das Cover aufwendig gearbeitet, mit eingestanzter Grafik und Lettern, über die das Fingergleiten zur Sucht wird. Stilvoll und dekorativ, fast schon ein Einrichtungsgegenstand, zeitlos und schön. "Makers Bible. The Alps. 101 Brands from Valleys & Rocks"  ist das dritte Buch zur gleichnamigen Münchner Website, ein Manifest für Qualität, Passion und Handwerkskunst.

INNEN 
Das Schwärmen geht nahtlos weiter ins Innere des Buches mit schön gestaltetem Vorsatzblatt, Lesebändchen, Papier in angenehmer Stärke, toller Grafik und anspruchsvollen Bildern. Nix auszusetzen also – eher kritiklos anzumerken – Englisch sollten die LeserInnen schon können, denn dies ist hier Buchsprache.
DRINNEN
Die lieben Alpen und wir mitten drin. So bauchnabelmäßig eben. Und ja eigentlich wissen wir ja schon, wie hier der Hase läuft und wo. Oder doch nicht. Denn Überraschung! Die Alpen reichen ja noch weiter als bis vor unsere Haustür, nämlich von Frankreich und der Schweiz über Italien, Österreich, Deutschland nach Slowenien. Ok, das war jetzt etwas gemein, das wussten unsere LeserInnen schon, nur manchmal, ja manchmal vergisst man es halt auch wieder.  Und weil es bei Makers Bibel ums Handwerk geht, ist das Team nicht in die unberührte Natur der Alpen vorgedrungen, sondern hat in den Dörfern und Städten des "great continental barrier" nach dem Charakter und heutigen Image dieses bergigen Landstrichs gesucht. Gefunden hat es 101 leidenschaftliche Marken und Macher, tolle Architektur, leckeres Essen und Trinken, modernes Handwerk und Design und mehr oder weniger bekannte und berühmte Botschafter.
Das Geschichten-Erzählbuch Makers Bible. The Alps. 101 Brands from Valleys & Rocks mit Lesebändchen konzipiert, designed und verlegt bei Melville Brand Design in München, nimmt auf über 400 Seiten den Kulturraum Alpen unter die Lupe. Frankreich + Schweitz, Deutschland + Österreich, Italien + Slowenien, aber auch Norwegen + Neuseeland – jawohl! – alles dabei. Reisebegleiter, Inspirationshilfe, Restaurant-Guide, Shopping-Hilfe, Bildband, Lesebuch, alles in einem. More than apples and cows eben.
I think we like it!
Foto: Franziska Unterholzner