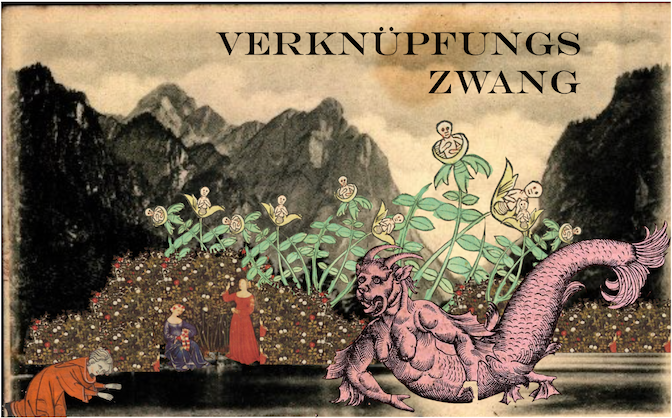 November 8, 2018
Verknüpfungszwang #02: Der Blutschink: Kinderschreck oder übernatürlicher Zweck?
La compulsione alla conoscenza di oggi ci conduce al quarto piano della biblioteca Warburg. Qui è ospitata la categoria 'Azione' che comprende storia, politica, folklore, scienza e magia. Il Warburg è forse l'unico luogo al mondo in cui scienza e magia convivono pacificamente da più di un secolo. Si può dire che il Warburg provi scientificamente che le magie accadono. Come è possibile? Cerchiamo una risposta nella sezione 'demoni', nel volume Der Dämon und sein Bild, una raccolta di brevi saggi esposti ad un convegno tenutosi a Dorf Tirol nel 1980. Prima di aprire il volume scrutiamo nei paraggi. Posiamo lo sguardo su "L'autunno del diavolo", "Demonologia cristiana e mitologia popolare", "La paura in Occidente" e per finire, un magistrale esempio di ludibrio satanico, "No Go the Bogeyman: Scaring, Lulling and Making Mock". Capiamo subito che il divino e il demoniaco non sono poli così opposti.
Nel mezzo di simili diavolerie non possiamo che destreggiarci tra una sinistra serie di mostruosità. Eccone una tipicamente tirolese: un demone acquatico, der Blutschink. Secondo Johann Nepomuk Ritter von Alpenburg, "der Blutschink war halb Bär, halb Mensch, wie auf einem alten Marterl ausser der Gemeinde ,See' aufgemalt war, welches vor Alter faulte und zusammenbrach und im Jahr 1802 fortgenommen wurde." Sul carapace figurava "einen Bauernknaben, welcher ein Christuskreuz umklammert hielt, wodurch er sich vor dem ihm verfolgenden Blutschink rettete, der mit abgewendetem Angesicht und weit geöffneten Rachen von der heiligen Stelle weichen musste." Alla vista della croce, "Blutschink war am Oberliebe ein kohlenschwarzer Zottelbär, der Unterheil starke, knochige, nackte Menschenfüsse, blutroth und tiefend von Menschenblut – eine schreckliche schwarzrothe Figur."
Der Blutschink, auch Bluetschinke oder Plutschinke genannt, non era solamente un Babau, un Krampus, un uomo nero che infestava i bacini acquatici del Sudtirolo, ma un angelo custode per bambini che scorrazzavano con troppo entusiasmo nei prati o nei pressi dei laghi. Si dice che il Blutschink spuntasse non appena la minaccia di una pianta nociva si presentasse o il rischio di annegamento fosse certo. Abbiamo testimonianze in proposito da alcuni abitanti di Kematen che ricordano di essere stati salvati dall'annegamento proprio da un mostro che afferrò le loro gambe così forte da morderle e ricoprirle di sangue.
Riflettiamo. Esiste un mostro che è al contempo minaccioso e protettivo, acquatico e terrestre, umano e animale. Al Warburg il Blutschink è il perfetto antidoto al rischio che la religione diventi superstizione. Il mostruoso è divinamente magico perché dimostra scientificamente come l'uomo demonizzi ciò che è per lui più benefico.
Alla prossima connessione! Alla prossima compulsione! La conclusione.
Immagine: Allegra Baggio Corradi/franzmagazine