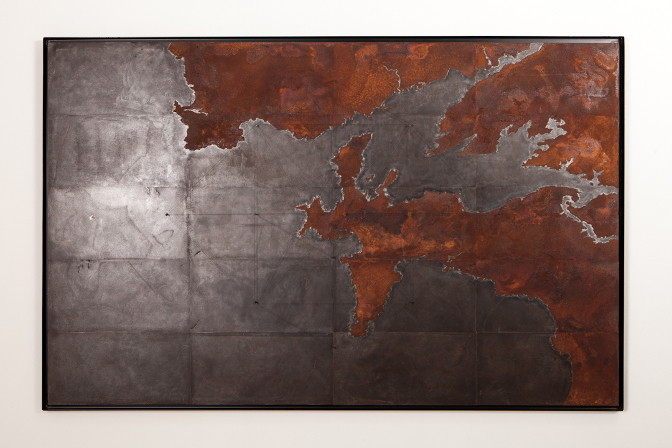 May 7, 2018
Ignazio Mortellaro @ Same Same But Different
Con il titolo di "Same Same But Different" le curatrici Laura Barreca e  Christiane Rekade, rispettivamente del Museo Civico di Castelbuono e di Kunst Merano Arte,  presentano al pubblico siciliano e altoatesino una "mostra ubiqua". Tale collettiva infatti, dopo l'inaugurazione meranese del 20 aprile, si è aperta ieri domenica 6 maggio, nella sua sede castelbuonese. In maniera felice – tanto per le opere che presenta, quanto per gli artisti che riunisce e per come ha permesso loro di esprimersi – l'appuntamento è di certo interesse.
L'occasione ci permette di incontrare Ignazio Mortellaro, artista palermitano che, con il lavoro presentato in questa occasione, indaga i significati di unità e unificazione.
La tua indagine si rivolge all'esistenza dell'uomo, con i suoi limiti razionali e gli sbocchi verso l'irrazionalità. Credi esista una soglia della conoscenza che è meglio non passare per condurre una vita sopportabilmente spensierata?
Penso che in fondo, durante la nostra esistenza, non facciamo altro che abitare quella soglia: non è un luogo monodimensionale, ma uno spazio a tre dimensioni (se non di più). Non credo poi che ci sia quella rigida dicotomia tra Apollineo e Dionisiaco, così figlia della "La Nascita della Tragedia dallo Spirito della Musica" del filosofo tedesco Friedrich Nietzsche, intuisco infatti che la realtà sia più complessa e articolata. Basti pensare che quei limiti razionali di cui parli non fanno che spostarsi con la storia della civiltà, mentre l'irrazionalità non fa altro che ridefinirsi con l'affinarsi della nostra logica.   

Il lavoro che porti a "Same Same But Different" riguarda, in senso sia proprio che lato, il "prendere le misure". Credi che nel nostro tempo – penso ai social media – le distanze tra le persone si siano allungate o accorciate?
Ricordo che, quando cominciai gli studi di ingegneria e architettura, uno degli ambiti che più mi interessò fu proprio quello della prossemica, quella disciplina semiologica che studia i gesti, il comportamento, lo spazio e le distanze all'interno di una comunicazione, sia verbale sia non verbale. Oggi questo luogo occupato dalle relazioni dei social digitali ha chiaramente costruito una nuova geometria, che stiamo integrando automaticamente all'interno dei nostri processi percettivi. Come tutti i sistemi geometrici ha una sua logica, una sua struttura e sintassi; io sto cercando di decifrarla, ma è sicuro che per misurare quegli spazi non possiamo certo usare i nostri vecchi strumenti. Quindi, per rispondere alla tua domanda, penso che le distanze non si siano né allungate né diminuite, ma abbiano cambiato densità.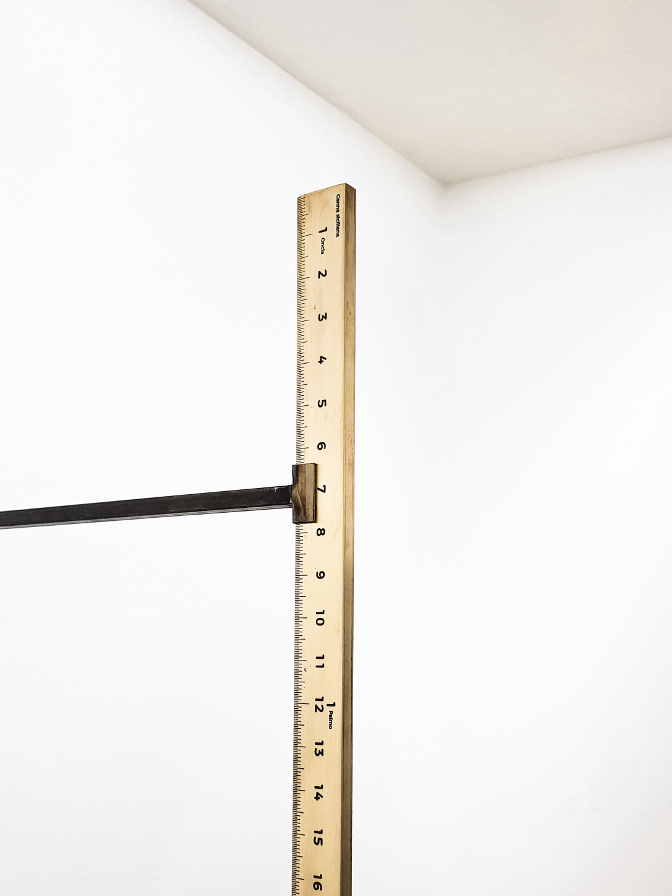 Affermi che "la misurazione è operazione incerta per natura, diciamo fallimentare". Quali accorgimenti pensi possa adottare l'uomo per facilitare la conoscenza dei fenomeni con i quali si confronta?
Intanto effettuare sempre operazioni di comparazione, cercare riferimenti, osservare con attenzione ciò che lo circonda, trovare relazioni e affinità.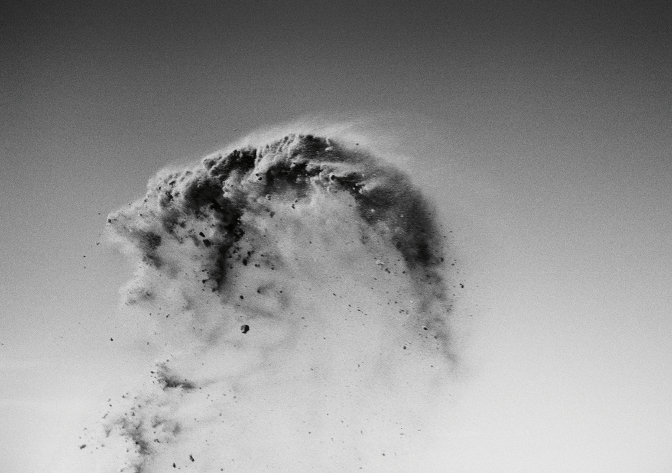 Pensando alla tua vita e alla tua carriera artistica, a quali criteri – se non temporali e quindi sanciti dalla misurazione del tempo – ispireresti il racconto della tua biografia?
Mi piace pensarla come accumulo di frammenti, fisici perlopiù. Un accumulo di sabbia, un pugno di granelli di materia di cui non ho più controllo e che mi è impossibile contare, ma che è comunque distante da essere una duna.
Foto:
Land XVI [Cap de la Chèvre to Ponte de la Corses], 2017; ferro, chiodi, filo di nylon, legno 120 x 77 cm.
To measure against (ed. 1/3, dettaglio), 2018  incisione su ottone; 5 elementi (208x3x1, 192x3x1, 79x3x1, 33x3x1, 28x3x1 cm).
To measure against (ed. 1/3), 2018, incisione su ottone; 5 elementi (208x3x1, 192x3x1, 79x3x1, 33x3x1, 28x3x1 cm).
Vedere il vento, 2012, stampa con inchiostri epson ultrachrome su carta fine art hahnemuehle su D-bond 41 x 59 cm.