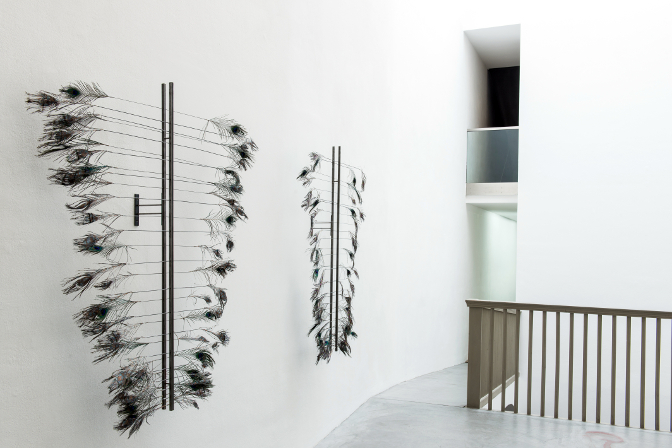 February 13, 2018
"Into the Wild" con Luca Trevisani
Dal 10 febbraio all'8 aprile, il Kunst Merano Arte ospita "Into the Wild" collettiva dedicata alla rappresentazione della natura e al rapporto che l'uomo intrattiene con essa. Curata da Christiane Rekade, la mostra vede esposte opere di Gina Folly, Linda Jasmin Mayer, Stefano Pedrini e Luca Trevisani. Sottotraccia – padre nobile dello studio ed anche della rappresentazione della natura, ancorchè per scopi scientifici – un estratto dall'erbario Franz Tappeiner, figura nota ben oltre il burgraviato.
In occasione dell'inaugurazione abbiamo incontrato Luca Trevisani, che ci racconta così il suo lavoro…
Un tema come quello del rapporto tra natura e uomo ha per l'artista delle implicazioni che possono virare facilmente dall'estetico all'etico. Se interessato alla valenza sociale che il tuo lavoro può assumere?
Non esiste il rischio, ma solo la certezza, che il mio lavoro possa assumere una valenza sociale, la contiene per statuto, per come è concepito e pensato. Ogni arte è politica, e più è colorata e sibillina più riesce a sciogliere il proprio messaggio nel mondo.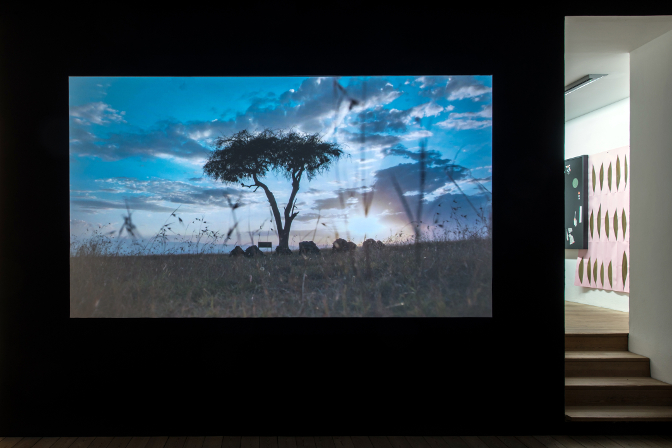 Se è possibile dire: credi che le forme e i materiali di origine vegetale ed animale siano strumento del suo lavoro o ispirazione.
La trasformazione della materia e del mondo in modo radicale e permanente è quello che ci contraddistingue in quanto esseri umani. Il linguaggio, ciò che ci rende diversi dal resto delle cose, è proprio questo che fa. Non distinguerei tra animale vegetale, animato e non animato; ciò che mi interessa è la natura mercuriale delle cose e delle identità, e come noi umani invece spesso la dimentichiamo, preferendo raccontarci di avere identità granitiche, genealogie solide e appartenenze stabili. Il mondo in cui viviamo è sempre stato fluido, molle, e aperto.
La tua opera si divide tra scultura e video, non disdegnando incursioni e contaminazioni in altri campi. Pensi che questa poliedricità risponda ad una personale esigenza espressiva o sia, in qualche modo, specifica delle nuove generazioni "multimediali"?
Pensare che l'essere multimediali sia caratteristica delle ultime generazioni è un errore, confondere gli strumenti digitali con una mentalità multimediale è pericoloso, fuorviante. Il nostro bisogno di crederci parte di un'evoluzione senza sosta è tenero e naif, non fosse pericoloso e fuorviante. Michelangelo era multimediale molto prima di Seth Price, mentre le immagini in movimento, il cinema, quello è nato nelle caverne più di quattordicimila anni fa. Quello che noi viviamo oggi è solo una forma attualizzata, uno sviluppo recente e a noi congeniale di bisogni antichi come l'uomo. Io sviluppo a modo mio esigenze e stimoli che condivido con progenitori non meno fluidi e freschi di me, di noi. Spesso pensiamo di vivere in un'epoca tecnologicamente all'avanguardia, ma dimentichiamo che la vera grande rivoluzione tecnologica non è stato il nucleare o la clonazione… ma l'invenzione del pane .
Quali opere presenterai ad "Into the Wild"?
Video, sculture e opere su carta, un ampia selezione di quanto ho fatto negli ultimo due anni, riguardo alla natura e all'uomo, che l'ha creata senza mai ascoltarla.
 Foto: 1) Luca Trevisani, Wireless Fidelity, 2018, courtesy the artist & Galerie Mehdi Chouakri, Berlin. Installation view "Into the Wild". Foto: Ivo Corrà. 2) Luca Trevisani, Sudan, Interview with a Body, 2016, courtesy the artist & Galerie Mehdi Chouakri, Berlin. Installation view "Into the Wild". Foto: Ivo Corrà. 3)Luca Trevisani, Il secco e l'umido, 2016, courtesy the artist & Galerie Mehdi Chouakri, Berlin. Installation view "Into the Wild". Foto: Ivo Corrà.