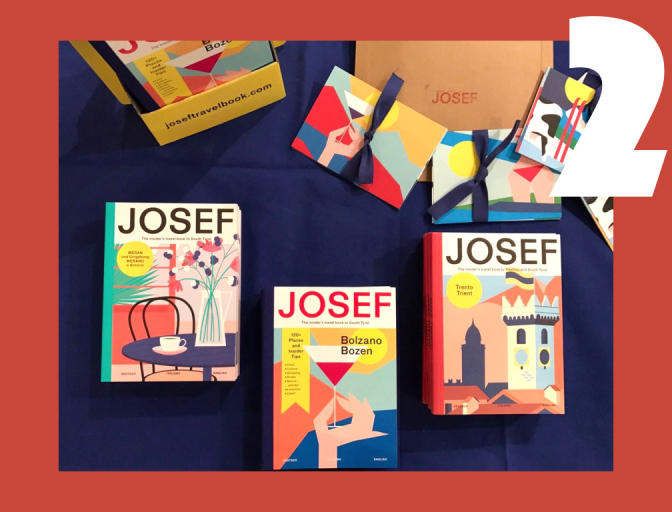 December 2, 2017
More than Santa and Klaus: day 2
Ist das die schönste Zeit im Jahr? "More than Santa and Klaus" entgegnen wir und packen die Gelegenheit, stürzen den Topf und rattern die letzten Kalenderblätter dieses Jahres runter. Kein gewöhnlicher, ein franz-Adventskalender, ein kurioser. "More" auch an der Zahl, sogar 31 und nicht 24 Pförtchen, hinter denen sich spannende Geschichten, Leute und Dinge verstecken, bereit zum Entdecken. Magic! 
Wo steht die künstlerischste Parkgarage? Wo krieg ich Flöten und Okarinas? Wo trinken die Locals Aperitivo? Wie komm ich schnurstracks zur besten Salami, zum lässigsten Pulli, zum köstlichsten Tattoo oder Buch, zum kühnsten Eis oder Dessert? Wo geht abends die Post ab?
Tust du eine Reise, kannst du was erzählen. Mit JOSEF in der Tasche oder unter den Arm geklemmt umso mehr. Ausgabe #1 begleitet dich durch Bozen, in JOSEF Nummer #2 geht's um Meran und Umgebung, JOSEF #3 guckt sich in Trient um. Alle drei Reisebücher erzählen Orte und Dinge, abseits der bekannten Pfade oder Plätze.
Bunt illustriert von Studio MUT, Susann Stefanizen, Collettivo Mare; grafisch umgesetzt von Sutdio MUT und aufbereitet von Studio BABAI; mit Fotos bebildert von Flipflop Collective, Matteo Vegetti, Barbara Elias Da Rocha; mit Texten aus den Insider-Federn von Impact Hub Trentino und der franzLAB-Crew all over the territory – dreisprachig auf Deutsch, Italienisch und Englisch; konzipiert und herausgegeben vom aufstrebenden Verlag franzLAB; inklusive Guest Contributors – Martino Gamper, 39NULL, Monocle/Tyler Brûlé, Turrisbabel, Italian Stories, Campomarzio, Trento To Do, Wunderkammer Trento. 
Für dich, die du neugierig bist, und Lust auf lässige Tipps, Menschen und Geschichten über das nicht so weit entfernte Trient hast. Für deinen Onkel, der von Welsberg einen Ausflug nach Bozen macht und einmal etwas Unübliches erleben möchte. Für deine Kusine aus Villanders, die seit Kurzem in Meran arbeitet und die Stadt und ihre Umgebung etwas besser kennen lernen möchte und gespannt auf ein paar Einblicke aus der Sicht von Insidern ist. Strawanzen, ein paar Runden drehen und gucken, was die da dort so machen … joseflich und  more than apples and cows.
[Alle drei Ausgaben – #1 JOSEF Bozen Bolzano, #2 JOSEF Meran und Umgebung, #3 JOSEF Trient Trento – kannst du hier bestellen oder in Geschäften in den jeweiligen Städten kaufen – hier die Liste der Verkaufsstellen. Wenn du bei uns online JOSEF Meran und JOSEF Trento bestellst, bekommst du JOSEF Bozen als Special Gift dazu.]
Foto: JOSEF Travel Book