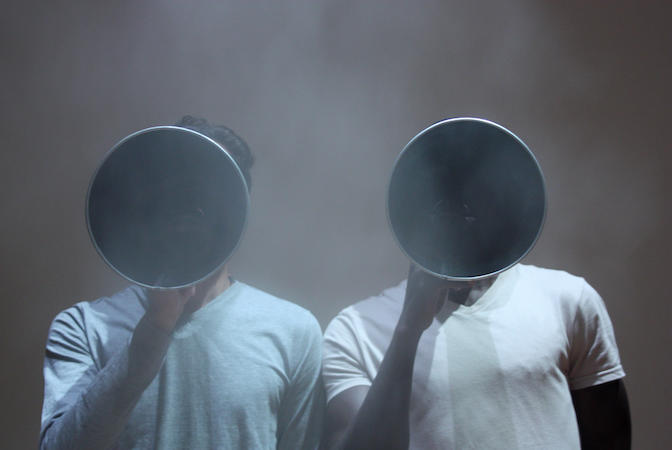 July 28, 2017
Destinazione Supercontinent #02: Francesca Grilli e The forgetting of Air
Respirare è la prima azione che porta la vita all'essere. La fine del respiro è il segno definitivo della sparizione. The Forgetting of Air è una performance che trova nell'idea di aria, intesa come territorio di scambio, il terreno per una riflessione sugli attuali flussi migratori: il materiale di condivisione tra pubblico e performer è l'aria stessa. In scena, chi ha lasciato il proprio paese a causa dei conflitti, condivide con il pubblico la prossimità e la distanza in uno spazio carico di aria, evidenziata dalla presenza di vapore. Il tempo è segnato dal respiro e dalle sue potenziali interruzioni, contenute in una presenza che rimane. Due rifugiati del luogo sono invitati a unirsi, rafforzando la relazione con il territorio e con il pubblico, che è libero di entrare e uscire dallo spazio.
Francesca Grilli ha esposto le sue opere in numerose mostre personali e collettive, tra cui Family (Van Abbemuseum, NL) e Vice Versa, Padiglione Italia alla 55. Biennale di Venezia. All'interno della Factory di Centrale Fies dal 2006 al 2013, ha partecipato a diversi festival, tra cui: Homo Novus/LT – Buda/BE – Roma Europa, UOVO Performing Arts/IT, Tupp Festival/SW, Rencontres Choregraphiques/FR. Nel 2016 ha ricevuto il New York Prize.
Cos'è, com'è il tuo SUPERCONTINENT?

Il mio SUPERCONTINENT è un luogo molto arieggiato, dove tutti respirano la stessa aria.
Il lavoro che presenti al festival riflette su una tematica cruciale in questo periodo storico: perché hai scelto di lavorare su questo e come hai trattato il tema? 
È stata una scelta lungamente meditata, il tema attuale della migrazione è un soggetto talmente importante in questo momento, e mi ha colpita talmente tanto, che non mi sono potuta sottrarre dal raccontarlo.
La modalità che ho scelto, attraverso il coinvolgimento del primo gesto performativo del corpo, il respiro,
vuole riportare la tematica all'essenza dell'essere umano, raccontando semplicemente l'esistere.
L'aria tuttavia, è il vero elemento scultoreo dell'opera performativa.
Che riflessioni sono scaturite nel corso del processo creativo, cosa hai scoperto/cosa ti ha toccato di più?
Il processo creativo in questo lavoro specifico, si modella sulla biografia dei performer.
Sebbene non vi sia narrazione, e il loro gesto performativo sia sempre il medesimo, quello che cambia è l'energia invisibile, la comunicazione nascosta che si costruisce sulla scena tra i performers. Ogni volta che la performance cambia città, si inizia un nuovo percorso creativo attraverso un workshop
che coinvolge migranti che abitano in loco: il processo creativo necessita dell'apertura personale di ogni persona coinvolta.