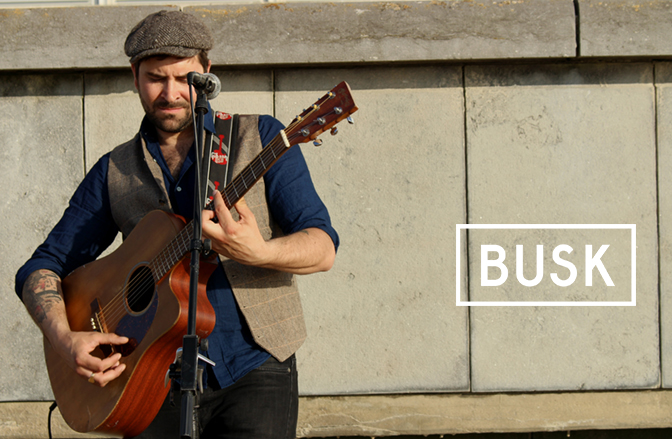 June 19, 2017
BUSK 2017: J-Zèle
On September 9th 2017 we're bringing again buskers and their music out to the streets of Merano. VOTE this profile and YOUR FAVOURITE MUSICIANS by clicking on the facebook like button at the end of the article (this result will be added to a selection made by an expert group). Spread the music!
Name
J-Zèle
Genre
Folk Rock
Hometown
Nantes (France)
Age
37
Your first contact with music?
Since teenager the music has got my attention, I started singing some classic french songs at home but also mixing electronic music. After 10 years composing electronic music, I made my debut as guitarist and songwriter at the age of 27. I had a need to get back to basics and to french music, to create something more personal and to tell stories.
What do like about playing music on the street?
It is much more special than anywhere else, but harder at the same time. Busking is a surprising gift for you, you never know what is going to happen, but also for the audience, since they don't expect you in their lives. Some people get trapped by your music, they just stop their lives for few minutes or one hour to listen to it and to dream with you. This moment is a magical one. I have some of the best memories thanks of playing music on the street.
Which artist or concert impressed you particularly and why?
I am a music-lover, so many artists and concerts have impressed me, but if I have to choose one I would say Jacques Brel. He was such a charismatic artist and songwriter with an inexhaustible energy and respect for ordinary people. His songs were very powerful, they dealt with complex themes, many of them explosive ones where he revealed his mastery of the crescendo. His songs were written not to be sung but to be performed. He delivered them with such pain and profound emotion that he, famously, ended each concert dripping with sweat. Definitely Jacques Brel is one of the greatest representatives of French chanson and such a musical model for me.
The soundtrack of your current life?
Forrest Gump (soundtrack). It reminds me that "everything is possible and life is beautiful (run for it!)". I always gets goosebumps when I hear it. It's a glorious movie, there is some sadness, but it's mostly inspirational and uplifting.
What does it mean to be a musician?
Being a musician and songwriter means life, and all that life involves. Happiness, effort, to never give up, to be alone, lack of motivation, love, storytelling, road trips, to find amazing people, to get wrong, rehearsals, to trust yourself, crazy days, empty notebooks, to find bars to play or places to busk, lack of sleep, broken strings, to get inspiration one day and to get stuck the next one, good memories, family and friends, and everything else.
What does your family think of your choice to be a musician?
My family and friends are very proud of my decision of leaving my former job and focusing on my music. Sometimes it is hard for them since this profession is not a bed of roses; however I have a great capacity of rapidly recovering myself after any issue. Their support goes beyond. Sometimes I sing with my mother even. And my best friend, Claire, has composed, together with me, some of my songs.
Dream concert – impossible concert: who would you like to hear?
Woodstock Music Festival. I would love to listen and see all those artists and musicians live like Janis Joplin, Arlo Guthrie, Joe Cocker, Joan Baez, Creedence Clearwater Revival, The Grateful Dead, Jefferson Airplane, Sly and the Family Stone and Crosby, Stills, Nash and Young.
Best or worse experience of your musical career?
A very wonderful experience was last summer when I played together with other amazing musicians (Jean, Keyaki, Charlene, Eve and Juan) in the Europopcorn Festival Mervans in France. The parents of the organizer just discovered me while busking in Brussels and months later I was performing there sharing scene with other artists like Colletive 13 or Soviet Suprem. A great experience. Regarding disappointed experiences, I would say when some "ghost" producer come across you and he decides to produce you and boost your carrier but at the end of the day, unfortunately, it is a scam.
Photo: J-Zèle