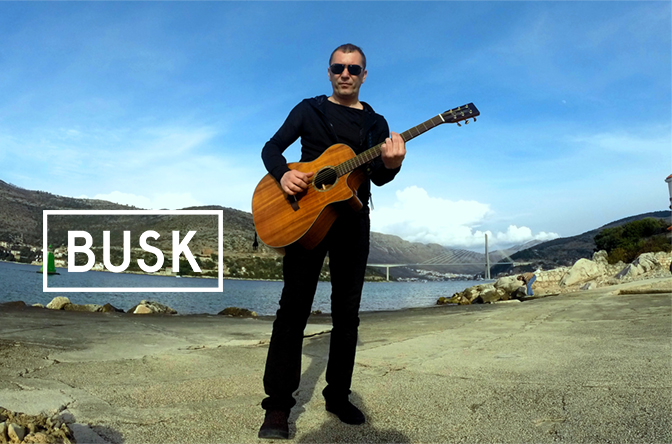 June 19, 2017
BUSK 2017: Genetic Grooves Guru
On September 9th 2017 we're bringing again buskers and their music out to the streets of Merano. VOTE this profile and YOUR FAVOURITE MUSICIANS by clicking on the facebook like button at the end of the article (this result will be added to a selection made by an expert group). Spread the music!
Name
Trnka Muhamed, art name Genetic Grooves Guru
Genre
Acoustic guitar and voice, indie pop
Hometown
Sarajevo, Bosnia and Herzegovina
Age
49
Your first contact with music? 
It is started in my childhood, my grandfather played the guitar.
What do like about playing music on the street? 
It is for me a new challenge, I'm interested in sounds that spreads on the streets among the people who are there only passing by.

Which artist or concert impressed you particularly and why?
I like music made by Prince, Bowie, Police, Dirty Vegas and many other artists. The concert which I was most impressed by was the U2 Sarajevo in 1997 shortly after the war. In addition to the mixed feelings, Bono lost his voice and had The Edge take on. Although nothing went according to the plan, everything went beautifully with a powerful connection with the people.

The soundtrack of your current life?
If I understand the question. Now I'm recording my first solo album, by the way I perform as a live artist, DJ, and compose new songs.

What does it mean to be a musician?
This is for me the best thing in the world, playing all day and evening before going to sleep. I can hardly wait until dawn and the new day to continue … music shaping humanity … really cool thing….

What does your family think of your choice to be a musician? 
My family totally supports me in this, my daughter is a young pianist and she is excellent. My family is my music.

Dream concert – impossible concert: who would you like to hear?
My unfulfilled desire is a Prince concert. But I see a lot of talented artists who have made music under his influence, so it is his music that continues to live.

Best or worse experience of your musical career? 
There were many events. But now I remembered one of the war days in Sarajevo, I had a concert with my band Erogene Zone, and grenades started to fall nearby, the walls were shaking like crazy, grenades sounded stronger than the band, we were terrified, but we have not stopped playing.

Contact
https://www.facebook.com/muhamedtrnka/ 
For more information on the call for the BUSK Singer Songwriter Festival Meran|o 2017, click
here
.
Photo: Genetic Grooves Guru