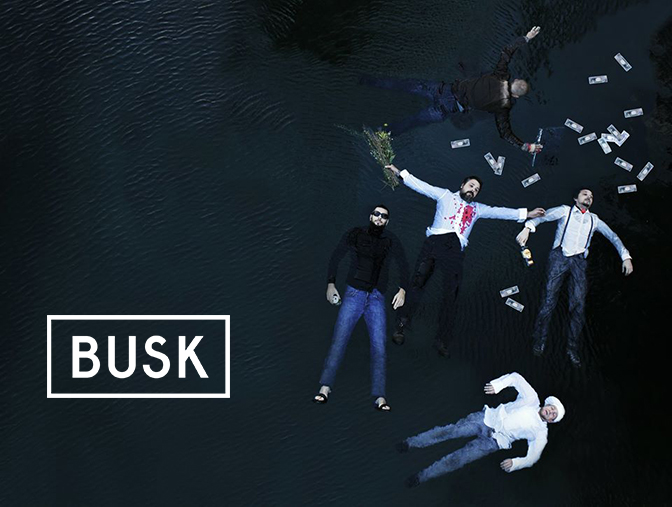 June 13, 2017
BUSK 2017: The Bad Bastards
On September 9th 2017 we're bringing again buskers and their music out to the streets of Merano. VOTE this profile and YOUR FAVOURITE MUSICIANS by clicking on the facebook like button at the end of the article (this result will be added to a selection made by an expert group). Spread the music!
Name
The Bad Bastards
Musikrichtung
Surreal Dark Folk
Herkunftsort
Meran
Alter
von 25 – 60
Dein erster Kontakt mit der Musik?
Madonna, verschiedene Metall-Bands, The Ramones, Presidents of The United States. Vaters Trompete. Über unsere Familien. Die waren alle sehr musikalisch und haben uns früh in Kontakt mit Musik gebracht. 
Warum spielst du gerne auf der Straße?
Wir lieben den direkten Kontakt zu den Leuten, ohne Zwischenraum.
Welches Konzert hat dich besonders beeindruckt und warum?
Hier will unbedingt unser Tastendrücker (Harmonika) antworten: Il concerto dei Milli Vanilli del 1990 specialmente durante la canzone "Girl you know it's true"
Der Soundtrack deines derzeitigen Lebens?
Dead Brothers, Pussy Warmers und Tiger Lillies
Was bedeutet es MusikerIn zu sein?
Für wenig Geld das machen, was uns allen am meisten Spaß macht! Mit unserem Publikum feiern!
Was sagt deine Familie zu deiner Entscheidung, Musik zu machen?
Die freuen sich alle und besuchen, wenn möglich, alle Konzerte. = wir haben immer Publikum. 
Wunschkonzert – mögliches unmögliches Konzert: Wen würdest du gerne mal hören?
Motörhead in einem möglichst kleinen Lokal. Immer noch und leider wirklich unmöglich . R.I.P. Lemmy
Erzähl uns eine Anekdote aus deinem Musikerleben, was war die schönste oder schlimmste Erfahrung?
Das wollt ihr wirklich immer noch alles wissen? Uff. Wir sind inzwischen 11 Leute in der Band, einer blöder als der der andere. Ihr habt ja gar keine Ahnung, was meine Bandkollegen auch dieses Mal auf die Fragen geantwortet haben und wie schwierig es ist, hier etwas halbwegs Normales, Glaubwürdiges zu schreiben ; ) Also die Einladung: ihr fragt selbst nach, wenn ihr uns einladet?
Kontakt
Fb.me/badbastards
hebadbastards.com
youtube.com/thebadbastards
For more information on the call for the BUSK Singer Songwriter Festival Meran|o 2017, click
here
.
Photo: The Bad Bastards