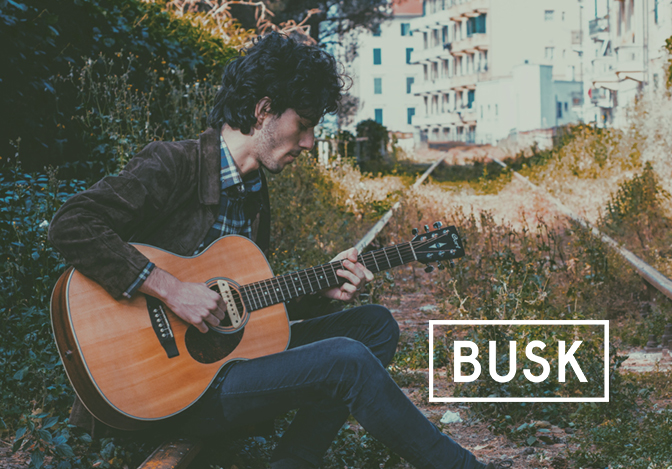 June 1, 2017
BUSK 2017: Samuele Puppo
On September 9th 2017 we're bringing again buskers and their music out to the streets of Merano. VOTE this profile and YOUR FAVOURITE MUSICIANS by clicking on the facebook like button at the end of the article (this result will be added to a selection made by an expert group). Spread the music!
Nome 
Samuele Puppo
Luogo di provenienza
Celle Ligure
Età 
19
Il primo contatto con la musica? 
Ho iniziato a suonare la chitarra a 8 anni grazie a mio padre (bassista), che mi ha insegnato le prime note ed i primi accordi. 
Che cosa ti piace del suonare per strada?
C'è qualcosa di molto sincero e semplice nel suonare per strada e per me è qualcosa di molto speciale. I legami che si instaurano fra l'artista e le persone sono molto più forti che in altre situazioni.
L'artista o il concerto che ti ha colpito di più e perché?
Domanda difficile perché ci sono stati davvero parecchi  concerti che ho amato. Uno degli ultimi è sicuramente stato quello di Foy Vance a Zurigo. Lui e la sua band hanno trasportato noi del pubblico nel loro mondo e credo sarei potuto rimanere lì ad ascoltarli per giorni e giorni…serata impagabile. 
La colonna sonora della tua vita ora? 
Nell'ultimo mese: John Mayer – The Search of Everything (Album), California Honeydrops – Spreadin' Honey (Album), Leif Vollebekk – Twin Solitude (Album) 
Cosa significa per te/voi essere musicista? 
Il mio sogno più grande sarebbe quello di poter essere musicista nella vita. Ci proverò con tutto me stesso! 
Cosa ne pensa la tua famiglia della tua/vostra scelta di fare musica?
Devo essere grato alla mia famiglia perché mi è sempre stata accanto e so che sarà sempre presente per supportarmi nelle mie scelte, musicali e non.
Concerto dei sogni – concerto impossibile: chi vorresti sentire? 
Dopo 5 anni di ascolto e quasi tutta una discografia a memoria, non sono ancora riuscito a sentire il mio idolo John Mayer dal vivo. Ce la devo fare! Però oltre a lui sicuramente in questo momento non vorrei perdermi i Vulfpeck, Chris Stapleton e tanti tanti altri.
Aneddoti: la migliore o peggiore esperienza della tua carriera musicale?
Ricordo che una volta, durante una serata in un locale, mi stavo esibendo per un concorso. Mi mancavano ancora due canzoni e, mentre annunciavo la seguente, mi è stato chiuso il sipario davanti. Microfono spento, chitarra staccata e non ho potuto far altro che andarmene tra qualche risata del pubblico. Non posso dire che sia stato il peggiore, ma sicuramente uno dei più comici!
For more information on the call for the BUSK Singer Songwriter Festival Meran|o 2017, click
here
.
Photo: Samuele Puppo