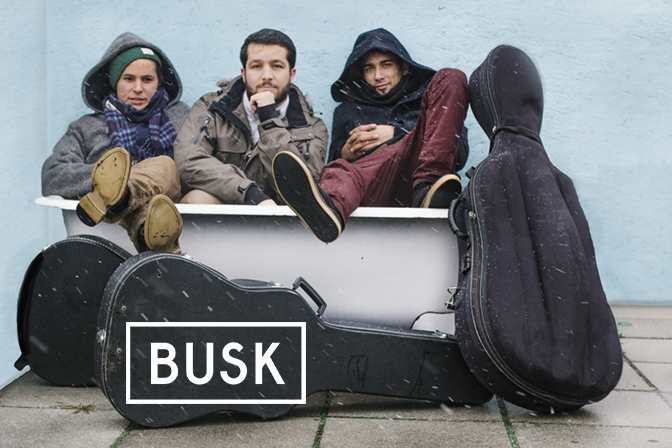 May 25, 2017
BUSK 2017: Teddy Bear Cove
On September 9th 2017 we're bringing again buskers and their music out to the streets of Merano. VOTE this profile and YOUR FAVOURITE MUSICIANS by clicking on the facebook like button at the end of the article (this result will be added to a selection made by an expert group). Spread the music!
Name
Teddy Bear Cove
Genre
Acoustic blues/rock
Hometown
Seattle (USA), Würzburg (GER), Brno (CZ), playing now in Vienna (AU).
Age
25, 26, 29
Your first contact with music?
As a small kid, I was running around with sticks from the woods and pounded on everything that made a sound. After breaking several of mom´s favourite vases, I was denied becoming a drummer and received my first guitar instead. As a band we met during an exchange semester in Sweden, then our ways crossed in Vienna again where the cello player was performing on the street. Since then we are a street band and entertain the streets of Vienna. 
What do like about playing music on the street?
It is the smile of people passing by and when they forget for a minute that they actually are in a hurry. Also it is super cute to see small toddlers to dance to the music, the parents being happy that these kids are not crying anymore. Let´s see if anyone of them becomes a vase drummer!
Which artist or concert impressed you particularly and why?
Crazy laser shows at a concert of Flaming Lips or the spectacular fire show of Rammstein, both of which we hope to include in our street performance one day….
The soundtrack of your current life?
Johnossi – Into the wild. A song that makes you want to get into a car and just drive through the endless forests of Scandinavia. Also: Audioslave – Be yourself. Two words with an incredible meaning.
What does it mean to be a musician?
"A musician (or instrumentalist) is a person who plays a musical instrument or is musically talented. Anyone who composes, conducts, or performs music may also be referred to as a musician." – Wikipedia*. So I guess it means we play instruments, have fun, rock out and spread the joy towards other people. 
* "never cite wikipedia" said my teacher once. So what now?
What does your family think of your choice to be a musician?
"Awwwwwwwww that´s my son there awwwwwwwwwwwwwwwww!" – Mamma Wilhelm. 
Dream concert – impossible concert: who would you like to hear?
Freddy Mercury with Queen. To be able to see that awesome performance would kick ass, and then a nice backyard BBQ jam session with Chuck Berry, Johnny Cash, David Bowie and as grill master and burger king, no one else other than the master BB King himself.
Best or worse experience of your musical career?
As a band we toured through the streets of Germany in the summer of 2016. We met incredible people, saw many places and had so much fun performing in different cities. Overall an amazing experience, except the oyster-incident… which happened around 11:30 am when we played on a market square close to a small fish food truck. The owner, who was happy to hear our music, brought us 3 oysters for free. Happy with the gift, we said thank you, and swallowed the down quickly. However, no more than 10 minutes later, the little buggers decided to say hello again in the form of chronic hiccups. This made it very difficult to sing out loud for the street to hear.. So to all street musicians: don´t eat oysters while performing! 
Contact
facebook.com/teddybearcove
youtube.com/channel/UC8Qkp8dp5i0zyd8_pK7xZ1w
For more information on the call for the BUSK Singer Songwriter Festival Meran|o 2017, click 
here
.
Photo: Teddy Bear Cove