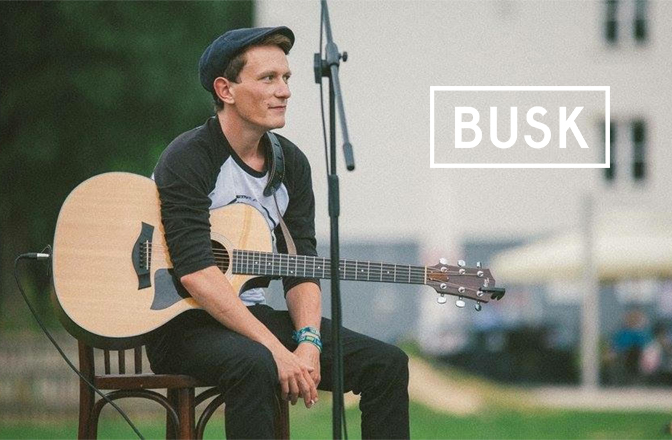 May 18, 2017
BUSK 2017: Sam Chalcraft
BUSK Singer-Songwriter Festival is back! On September 9th 2017 we're bringing again buskers and their music out to the streets of Meran. VOTE this profile and YOUR FAVOURITE MUSICIANS by clicking on the facebook like button at the end of the article (this result will be added to a selection made by an expert group). Spread the music!
Name
Sam Chalcraft
Genre
Acoustic Folk/Rock. 

Hometown/Age
I come from Cornwall, England. I'm twenty-five years old and I'm currently situated in the beautiful city of Vienna.
Your first contact with music?
My family is very musical. From a very young age I used to watch my grandfather play saxophone in my grandparents living room. He would go out and busk in one of the local towns and I was amazed by his transition from a World War II veteran to a musician and recognised busker. I also took part in many musicals, directed by my father and extended family, before taking my own direction as a singer-songwriter.
What do like about playing music on the street?
It's an experience like no other, right? As most of us say, it's a way to practice new material in front of passersby, but this isn't really what draws me to busking. I genuinely enjoy bringing a smile to peoples faces. You never know what kind of day someone has had, particularly if you don't know said person(s). If one single person sends a smile my way when I'm out busking, and it can be just the one, I know that I've at least made someone's day that little bit better.
Which artist or concert impressed you particularly and why?
There have been so many. It's difficult to pick just one! Two years ago, I saw a band I'd never heard of (James Choice & The Bad Decisions) in Salzburg. They totally blew me away from start to finish. Coincidently, I've seen them a few more times since and I can call them all friends now. Lovely guys and gal. Every single time they play live they've improved by at least fifty percent, or so it sounds and feels. They keep their sound fresh, with a variety of songs, and adjust their performance to the type of show they're playing incredibly well. If you haven't heard of them or checked them out, I really suggest doing so! 
The soundtrack of your current life?
Tough one again! Currently I'd say, Unconditional Love by The Flatliners.
What does it mean to be a musician?
To me, it's a chance to express myself through song. Ultimately though, I want to give a memorable performance. It's important for me to bring something unique to the table each time and (hopefully) deliver a different vibe to the audience. I truly enjoy performing and playing for others. So much so, I am a full-time musician. There isn't anything else I'd rather do and believe me, I tried!
What does your family think of your choice to be a musician?
They're fully supportive and always have been. I couldn't ask for much more to be honest.
Dream concert – impossible concert: who would you like to hear?
I'm going to go with Jimi Hendrix. I've never been a particularly huge fan of his but I'm almost obsessed with musicians throughout the years who have changed the face of music. It's difficult to do these days because everyone has access to all sorts of music making tools and a lot has been done already. Still, those that take the industry in a different direction are guilty of leaving their mark on music. Better hope it's a good one! Nrivana would be my next choice. 
Best or worse experience of your musical career?
The worst experience was actually my best! I'd rehearsed for weeks for a particular show not too long ago. Long story short, everything went totally wrong on the night. I actually couldn't believe it when, what had felt so comfortable during rehearsal, totally disappeared on the night. Since then, I've become a far more relaxed performer and learnt to adapt should anything change. Be prepared for anything comes to mind.
Contact
Website: samchalcraft.com
Facebook: facebook.com/samchalcraftmusic
Listen: open.spotify.com/album/1n2wZedQvbJZWJQsNwLkRT
Listen: amchalcraftmusic.bandcamp.com/
Watch: youtube.com/channel/UCOz2yK-pQcinqg7EMr4-t6w
For more information on the call for the BUSK Singer Songwriter Festival Meran|o 2017, click here.
 Photo: Sam Chalcraft