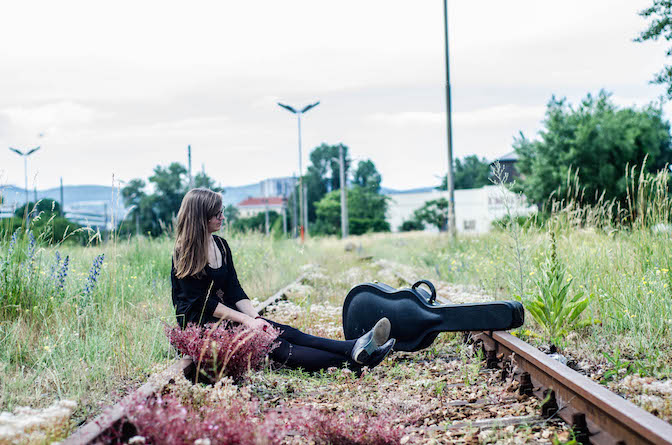 September 26, 2016
…when seagulls fall in love with scorpions… singer-songwriter aNNika
She's not more a unsung bird in this town and region: aNNika had her debut at the singer-songwriter festival BUSK this spring. During her European tour she stops in Bozen (27/9 @ Temple Bar) and in Trento (30/9 @ Bookique during the word festival "Peso alle parole"), after another stop in Bologna. Therefore we're really looking forward to have the 26 year old singer-songwriter from Vienna with her unique inspiring voice and guitar once again in town. – …and we're secretly hoping she will bring a new song (back) to the sleepy city…
What's the meaning of the two big NN in aNNika?
A friend of mine started to call me "DoubleN" (French pronunciation ; – )) because I told him that I hate it when someone writes my name with just one 'n' … that gave me the idea of pointing out those beautiful two 'n's ; – ) 
What are your songs about?
Seagulls who fall in love with scorpions, Viennese tramway-passengers, drunken tigers, nerve-wracking toilets, …and everything that comes to my mind – everything I need to deal with. 
When did you (first) start getting into music and why did you decide to go outside on the streets or on stage?  
I started playing the guitar at the age of 11–12 and I always loved to sing so I started to combine those two wonderful things at the age of 13 I guess?
Well… it's great to find your passion but it's amazing to share it with others (like happiness).
Does songwriting come easily for you? Why is it the "right thing" for you?
Sometimes it comes easily, sometimes I rewrite and change my lyrics again and again for weeks or months until I get the feeling that a song is "finished" (sometimes they never are…). 
Well… I get the chance to tell stories, I get the chance to reach other people's emotions (most of the time in a positive way I hope ; – )) and it's kind of a therapy for me (actually – that's exactly the topic of my newest song which I'm writing at the moment : – D) 
Are singer-songwriters able to keep mum? 
Maybe some are… for my part, I try to be (and feel) free of constraints, of public expectations… Just writing about what comes to my mind  feels very healthy and good for my heart and mind (therapy again).
How is it to be on tour? What's the best? What's not so good? 
I like it a lot. I love traveling and I love making music – so – quite a good match ; ) Of course it's exhausting, but  the good stuff (meeting wonderful, interesting new people, playing concerts, traveling to new places, sharing your music with people who get inspired by your songs…) is waaay too good to let the short of sleep (and hygiene ; )) hold me off touring. 
aNNika on tour:
27.9. Bozen – Temple Bar – facebook.com/events/977479329065070
29.9. Bologna – Dynamo – facebook.com/events/1079560678779443
30.9. Trento – Bookique – Peso alle parole – Word Festival – facebook.com/events/1062451760490699