August 22, 2016
Slide that Blues, Dave Kelly! Live @ Steinegg Live Festival 2016
David Kelly, aka Dave Kelly, was born in England in 1947 and is one of the main exponents of the so-called "British Blues". His passion for music started with the charming gramophone of his parents. Very keen on blues and a big expert in this genre, Dave has frequently played in Italy with different line ups. This autumn, with the Dave Kelly Band, he will take part in the 20th edition of the Steinegg Live Festival [20–29.10.2016], an event not to be missed [Fr 28.10.2016 –  19:45 H]. Let's discover more about his story and his music in this small talk with franz! 
Dave, you have devoted your whole life to music by playing and singing blues. When and how did you first come into contact with music and what was your musical and cultural background back then? 
My first contact with music was in my parents' home. Neither of them were musicians however they owned a 78 gramophone, which fascinated me because it played records for hours. Pop stuff of the 50s, but no blues.
Do you remember what the first album you bought was or the first the song you've ever played? 
I don't remember the first album I bought, but the first single (78) was Freight Train by Chas McDevitt Skiffle Group featuring Nancy Whiskey. The first song I ever played was Cumberland Gap – a hit by Lonnie Donegan.  
What do you consider to be the substantial differences between the music scene you encountered when you first started playing and that of present times?
Today there are far fewer venues for new bands/musicians to play at and that's a pity. I wouldn't want to be starting out now. I hate X factor etc. etc. 
You are one of the main exponents of the so called British Blues, which was born during the 50s, inspired by the American Blues Culture. At first, this type of music was played by British jazz bands, which discovered "the music of the devil" through the records of the American soldiers based in the UK during World War II. Later on, this substantial exchange between British and American musicians led and inspired lots of other musicians, who at the time focused on rock music, deeply rooted in Blues. What can you tell us about this music trend?  
Once music has been recorded and spread around the world, people who may not have witnessed the development of a particular genre can listen to it, even those from different cultures. I love the story of an African musician whose name escapes me, who was claimed to be the missing link between African music and Blues. It turned out he had a lot of John Lee Hooker records in his collection! 
Perhaps Blues it's the music genre that is most often surrounded by an aura of legend. Take for example the stories of some  bluesmen. What is "Blues" for you, why did you start playing it and why do you keep doing so? 
My life was never going to be the same  as a black itinerant musician in the deep south USA in the 1930s so it's always going to be different. I'm not bothered by the old question "Can white men play/sing blues?" – I don't care. I do it and have done so most of my life. I get paid for it, so people seem to like what I do. That's enough.  
Jimi Hendrix, once said : "Blues is easy to play but hard to feel." What do you think about this quote, used and abused in everyday life? 
Hendrix may have been misquoted. Blues is a simple music, if played badly or without feeling, like all forms of music it is not interesting. There has to be feeling in order to communicate to other human beings.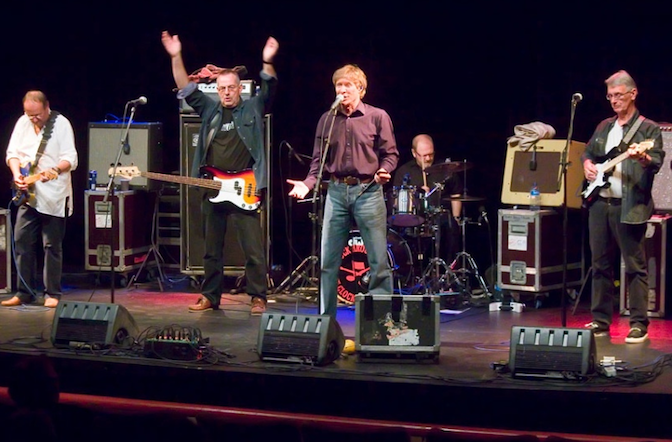 Lots of musicians have always had a favorite song; a song they've always wanted to write. What is yours and why?
I wish I'd written: Waiting in the Weeds by The Eagles written by Don Henly, I think. And: If You Could Read My Mind by Gordon Lightfoot. 
…I have so many favourite songs – I love many singer/songwriters: Joni Mitchell, Jackson Brown etc.  
In October, you will play here in South Tyrol at Steinegg Live Festival 2016, which is now at its 20th edition, proving to be, year after year, a big event showcasing different kinds of music. How do you feel about this? Have your ever been to Italy for a concert or on holiday? 
This will be my third time at this festival after having played here first with The Dave Kelly Band (DKB) in the 90s and later with The Blues Band. Now I am back again with the DKB and very much looking forward to returning. I've been to Italy many times for concerts and music stuff. I've been to Pistoia Blues Fest 3 times, Ameno Blues Fest twice in 2012  and 2015, San Siro with The Blues Band, Arena di Verona, Florence Football ground, Rome, Milan, Turin with The Blues Band opening for Dire Straits 1992. There would be many other occasions, too many to remember them all and yes … I have been on holiday in Italy many times.  
Tricky question: is music or food better here in Italy?  
Food is wonderful and music is great. I played many times with Fabio Treves and Paolo Bonfanti, the late Guido Toffoletti etc. 
I bet you have toured all around the world with your different music line-ups. How do you feel about it and what can you tell us about life on tour? 
About touring: it has been and continues to be a wonderful life. Getting paid for what would be your hobby is just the best!
What are your next projects and where can we see you live in the upcoming weeks?  
For the future more gigs are planned, hopefully also a new album with The Blues Band – if we get time. In September I'm going to play with The Blues Band and in October with The DKB. You can find all the info on www.thebluesband.com  and www.gtamusic.co.uk
Last question: Can you give an advice to all those young musicians who are in love with blues music and would like to play it? 
My only advice is to do what you love with passion and commitment. Believe entirely in what you are playing.
Photo: The Dave Kelly Band