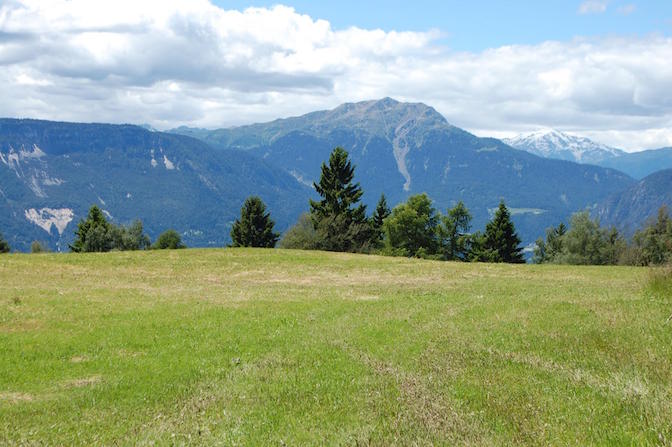 June 23, 2016
Afn Tschaufen aui schnaufen: Back to Nature Festival 2016
Verzeiht den etwas doofen Titel, vielleicht besser so: "a lonely tree surrounded by hills, the sun shines strong, the wind is turning the mills, a flock of birds is dancing while i'm passing by…" – so strömt's mir ziemlich genau nach Sisyphos' Travel Wide durch den Kopf, wenn ich ans Back to Nature auf'n Tschaufen denk. 
Dunkel erinnern wir uns noch ans Miracle Hill, den Umzug und das Ende des Festivals. Nach dem Motto "aufgeben tun wir Briefe und Pakete" haben sich die Organisatoren an den Kopf gefasst und lancieren ein neues Festival: Back to Nature, Music & Art Festival, am Freitag, 24. und Samstag, 25. Juni am Ende der Welt auf 1300 Metern Meereshöhe beim Gasthaus Tschaufen bei Verschneid bei Mölten in Südtirol. (Den genauen Anstiegsplan gibt's auch auf Facebook.) Einen von ihnen, Bertrand J. Risè, haben wir uns für ein paar Nachfragen geschnappt:
Wer lässt sich nicht unterkriegen? 
…weil man im Leben niemals aufgeben darf. Alles ist möglich! Just do it!  
Warum noch ein Festival? 
Weil eine Location wie diese sich ihr eigenes Festival verdient. Gott hat sie wahrscheinlich dafür erschaffen. Zu schön um wahr zu sein! 
Hippies sind…? 
Heutzutage anders als früher. Ich finde die Hippies des 21. Jahrhunderts haben mehr Verantwortung, glauben konkreter an das, was sie sagen, setzen mehr Ideen um und nehmen weniger Drogen. Immerhin müssen wir die Welt retten!  
Was muss ich in die Wildnis unbedingt mitnehmen? 
Respekt für Mutter Natur. Falls man vor hat, das ganze Wochenende in der Wildnis zu bleiben, wäre es sehr cool, wenn man einen oder mehrere Müllsäcke mitnehmen würde. Auch die Zigaretten einfach in den Müll und nicht in die Wiese oder den Wald auf den Boden schmeißen! Danke : ) 
Auch einen Schlafsack oder wird nicht geschlafen? 
Schlafen tut gut. Deshalb ja zu Schlafsack. Man kann ihn logischerweise auch im Zelt lassen und durchfeiern die ganze Nacht. Oder jemandem leihen, der seinen vergessen hat… Share the vibe!  
Was kann ich beruhigt zu Hause lassen? 
Alltägliche Sorgen und technologische Gegenstände. Don't worry, be happy & keep it real!  
Was wird in den Workshops gebaut? 
Beim Festival findet man einen Acro-Yoga-Workshop, eine Literaturwanderung, einen Drogennotfall-Workshop und Aktivitäten zur Selbstfindung. Neben Workshops gibt es auch einen Poetry Slam.  
3 Sätze zu den Music Acts bitte!
Mit Zion Train aus England haben wir Dub Legenden im Line-Up, darauf darf sich das Publikum besonders freuen. Neben den Headlinern haben wir viele, super, lokale Bands eingeladen – von der Live Goa Band shantifax bis zur Rockband Marianne's Legacy oder der Pop-Folk-Band Color Colectif. Wenn es um Reggae geht, haben wir die Creme de la Creme der Südtiroler Reggae-Szene on board, fehlt nur noch Myztic Lion und dann wäre die ganze Familie on stage!  
Also Back to Nature und was dann? 
Einen Traum nach den anderen versuchen zu realisieren… und logisch Back to Nature 2017! 
Also, voran, auf geats, singt mit Shanti Powa und den Peaceful Warriors: "…So lead a new way, ca the chance is one, do not take the wicked way, choose peace and bring faith, light the faya in the heart, revolution must take place, be free as a bird…"
Foto: Back to Nature Festival