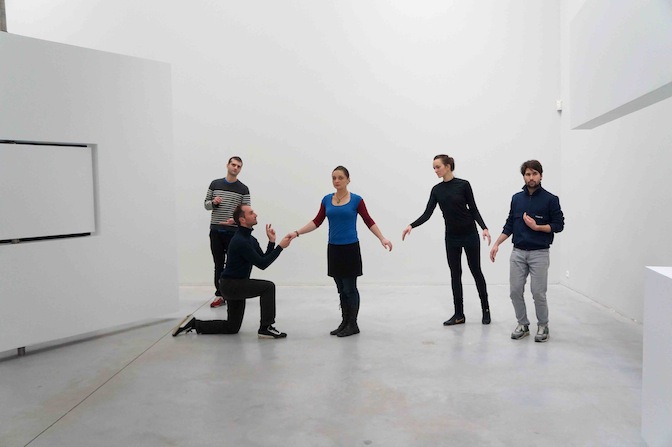 May 5, 2016
La Banda dei Bandi: Performance-Workshop + Performance mit Manuel Pelmuş und Alexandra Pirici
Anlässlich des vier Tage andauernden Performance-Zyklus' von Manuel Pelmuş (1974, RO) und Alexandra Pirici (1982, RO) im Palais Mamming Museum [siehe Infos weiter unten] findet als Teil des Vermittlungsprogramms von "Art & Nature 2016 Walking with Senses" von BAU ein Performance-Workshop statt.
Workshop mit Manuel Pelmuş: Di 10.5.2016 14–17 H
Treffpunkt/Punto d'incontro: Palais Mamming Museum, Pfarrplatz 6, Meran. 
Der praktische Teil des Workshops findet im Yoga Shiatsu Zentrum Meran (Ortensteingasse 4) statt. 
Alter: ab 15 Jahre
Teilnehmeranzahl: max 20
Anmeldung innerhalb 9. Mai unter: info@b-a-u.it
Es sind keine Vorkenntnisse erforderlich, bitte bequeme Kleidung mitbringen.
Während dem dreistündigen Workshop wird gemeinsam mit dem Künstler und Choreograph Manuel Pelmuş das Verhältnis zwischen Objekten und  Körper erkundet. Neben dem spannenden Kennenlernen der konzeptuellen Arbeit des international agierenden Künstlerduos werden im praktischen Teil gemeinsam körperliche Strategien des Aufführens (Enactments) erprobt.  
Manuel Pelmuş (1974, RO) und Alexandra Pirici (1982, RO) leben und arbeiten als Künstlerduo in Bukarest. Ihre Projekte befassen sich häufig mit dem Kontext von Museen und Institutionen. Bei der 56. Biennale Venedig (2013) bespielten sie den rumänischen Pavillon mit der Performance An Immaterial Retrospective of the Venice Biennale. Zuletzt waren ihre Werke im Oratorium S.Filippo Neri im Rahmen von ON, Bologna (2015), Centre Pompidou, Paris ( 2014), und im Van Abbemuseum, Eindhoven (2014), zu sehen. 
Performance: 
Di 10.5.  Fr 13.5. 13–17 H und Sa 14.5. 10.30–14:30
H auf Einladung von
BAU
:
Manuel Pelmuş und Alexandra Pirici präsentieren eine Serie performativer Akte, die Strategien des Enactments (Aufführens) und des Embodying (Verkörperns) umfassen. Ihre Enactments arbeiten an der Beziehung zwischen Subjekt und Objekt, wobei die Unterscheidung zwischen Mensch und Nicht- Mensch, zwischen dem Selbst und dem Anderen verwischt wird. Die Performer verkörpern unterschiedliche Materialien und Gegenstände aus Holz, Stein, Stahl etc., um diese in lebende Medien zu transformieren und einen Raum des Fragens zu eröffnen, sowie ein Changieren zwischen den Kategorien zu ermöglichen.