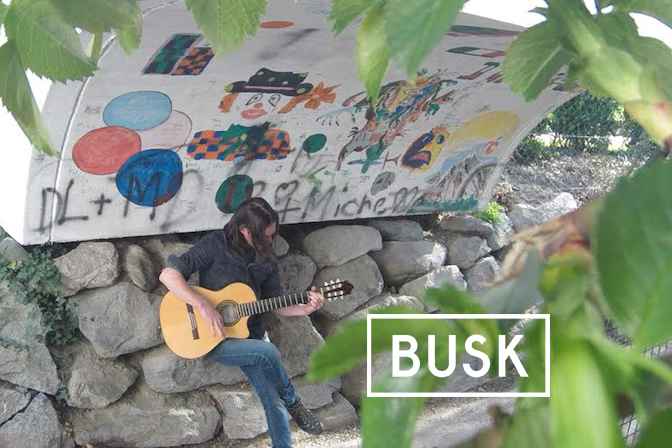 April 14, 2016
BUSK 2016: Florian Scheiber
BUSK Singer-Songwriter Festival is back in Bolzano Bozen: on May 20th and 21st 2016 once again we're bringing buskers and their music out to the streets of the city. VOTE this profile and YOUR FAVOURITE MUSICIANS by clicking the facebook like button at the end of the article (the result will be added to a selection made by an expert group). Spread music!
Mein Name ist Florian Scheiber und bin 38 Jahre jung und bin Sologitarrist  ohne Gesang.
Das erste Mal kam ich mit ca. 12 Jahren mit Musik bzw. einer Acustic Gitarre in Kontakt. 
Nachdem ich endlich einen eigenen Stil fand, traute ich mich auf die Straße und lernte viele Menschen und ein unheimlich freies Lebensgefühl kennen, die ich sonst nirgendwo habe, aber bald an den Wochenenden wieder erleben darf! : )
Am meisten berührt wurde ich im musikalischen Sinne von Paco de Lucia und vielen anderen auch…
Zur Zeit hab ich gar keinen Lieblingssong, da ich eher komponiere als höre …
Musiker zu sein bedeutet für mich: Meine Gefühle musikalisch auszudrücken.  Ich habe zwar noch keine eigene Familie, aber ich sag mal, in unserer Familie hören sie mir gerne zu, besonders mein Vater. 
Hab noch keine Ahnung, welches Traumkonzert ich besuchen möchte, aber es würde sich schon was finden lassen.
Mein größtes Erlebnis war bei einer Openstage-Veranstaltung, als die Veranstalterin am Ende meines Auftritts sagte: "It's always amazing when people are playing guitar like mind blowing".
Hier geht's nun zu einem aktuellen instrumentalen Song, wenn du diesem Link folgst.

P.S.: meine Facebookseite gibt's erst seit Juli 2015: florianscheibermusic 
For more information, the guidelines and the call click here.
Foto: Florian Scheiber