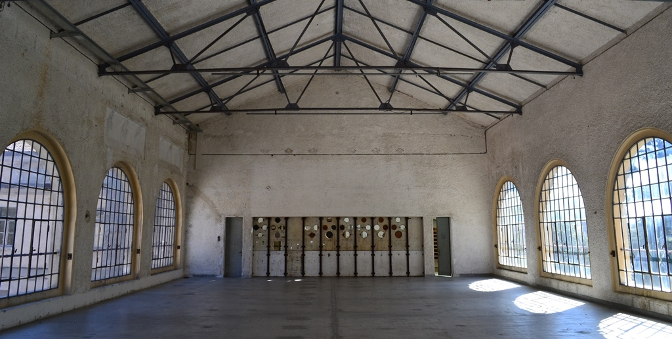 April 7, 2016
REGENERATION 2016 – The Conference
Edifici viventi, costruzioni che non sottraggono risorse, ma - come grandi organismi viventi - accolgono e interagiscono positivamente con l'ambiente. Di questo "Living Future" se ne parla sabato 16 aprile alla Centrale Fies - Dro.
Living Building Challenge è una filosofia, una certificazione e uno strumento di tutela delle condizioni ambientali e sociali, adatto per progetti che vogliono andare oltre l'essere semplicemente "meno dannosi", per diventare veramente "rigenerativi". The Challenge ( la sfida) definisce la più avanzata misurazione di sostenibilità dell'ambiente costruito possibile oggi e agisce per ridurre rapidamente il divario tra i limiti attuali e le soluzioni efficaci e definitive che stiamo cercando.
Collegata a REGENERATION, il concorso di progettazione non-stop di 64 ore organizzato da Macro Design Studio insieme all'International Living Future Institute, ritorna sabato 16 aprile 2016 mattina a Centrale Fies – Dro (Trento) la conferenza che rappresenta il principale evento annuale del Living Building Challenge Collaborative: Italy, una comunità nata con l'obiettivo di condividere la conoscenza e i principi di LBC e creare le condizioni locali per lo sviluppo di edifici, territori e comunità "viventi".
Il programma (l'evento è in inglese)
Sabato 16 aprile 2016, ore 10-13
10:00 – 10.50: Registration
10:50 – 11:00: INTRODUCTION | Macro Design Studio
11.00 – 11.40: NOW IT IS THE TIME FOR A WORLD OF LIVING BUILDINGS AND COMMUNITIES | Amanda Sturgeon, The International Living Future Institute – CEO
11.40 – 12:00: CHALLENGING UK CONSTRUCTION. THE UK FIRST LIVING BUILDING PROJECT | Martin Brown, Fairsnape – Founder
12.00 – 12:20: THE EXPERIMENTAL UNDERSTANDING OF COMPLEX ENVIRONMENTS FOR THEIR REGENERATION | Emanuele Naboni, Royal Danish Academy Copenhagen, School of Architecture – Associate professor
12.20 – 12:40: REGENERATION 2015. PROUD TO BE ZERO. |  The YELLOW Team, REGENERATION 2015
12:40 – 13:00: Questions and answers
I relatori internazionali sono gli esperti che da tempo stanno lavorando per introdurre i principi di LBC in Europa, con l'aggiunta di un'ospite d'eccezione: Amanda Sturgeon, che è stata designata dall'ex Segretario di Stato e First Lady Hillary Clinton come una delle "10 donne più importanti della sostenibilità". FAIA, LEED Fellow, Amanda è da quest'anno presidente e amministratore delegato dell'International Living Future Institute dopo esserne stata direttore esecutivo. Ha tenuto a battesimo la prima edizione di REGENERATION.
Martin Brown è fondatore di Fairsnape, società di consulenza attiva dal 2005, che fornisce una vasta gamma di servizi di assistenza per le organizzazioni nell'ambiente costruito. Si occupa di sostenibilità innovativa, social media e miglioramento del business, con oltre 40 anni di esperienza. E' Living Building Challenge Ambassador, con la passione per la promozione nel Regno Unito di LBC e dei concetti di sostenibilità rigenerativa.
Emanuele Naboni (BArch, Dip. Arch., MPhil, PhD in Science, LEED AP, Licensed Architect) è, dal 2010, professore associato presso l'Istituto di Tecnologia della Royal Danish Academy di Copenaghen, Facoltà di Architettura. Insegna e ricerca nel campo delle Tecnologie dell'Architettura e della progettazione ambientale sostenibile.
Il Team YELLOW è la squadra che ha vinto la prima edizione di REGENERATION (15-18 aprile 2015) ed è composta da (nella foto) Emanuele Mondin (architetto, Vicenza), Guido Zanzottera (ingegnere energetico, Torino), Luigi Greco (pianificatore urbano, Agrigento), Bernardette Soust Verdaguer (architetto, Siviglia) e Maija Krizmane (ingegnere civile, Riga).