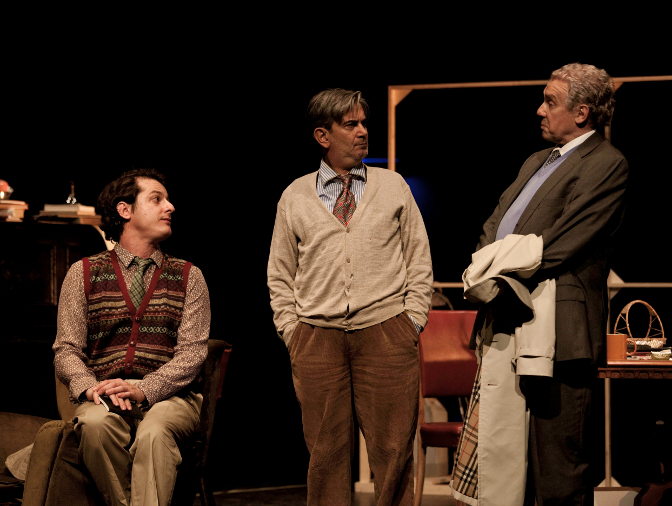 February 24, 2016
Theatre Quiz. Vinci i biglietti per Il vizio dell'arte di Alan Bennett con Ferdinando Bruni e Elio de Capitani
Ferdinando Bruni – che del testo originale è anche traduttore – e Elio De Capitani portano sul palco del Teatro Stabile di Bolzano un piccolo gioiello di fresco metateatro. Ne  Il vizio dell'arte i due protagonisti impersonano due attori che portano in scena un testo, Il giorno di Calibano. La rappresentazione vede raccontato l'incontro, dopo vent'anni di lontantanza, tra il poeta Wystan Hugh Auden e il compositore Benjamin Britten . In questo gioco di teatro nel teatro, Bruni e De Capitani si confrontano con grande passione, sostenuti da un testo che concede ampio spazio alla vis comica. protagonisti si trovano nell'occhio di un ciclone in cui gravitano gli altri attori,il direttore di scena, le maestranze, le loro manie, le loro stranezze e il loro sentimento.
Vuoi vincere un biglietto omaggio per assistere allo spettacolo Il vizio dell'arte?
Rispondi a questa semplice domanda:
In quale teatro ha debuttato The habit of art, il testo originale di Alan Bennett che Ferdinando Bruni ha tradotto per portare in scena Il Vizio Dell'Arte?
a) Wyndham's Theatre di Londra
b) Cort Theatre, New York
c) Royal National Theatre di Londra
Invia la tua risposta a info@franzmagazine.com
Per i primi che risponderanno correttamente, sono in palio due biglietti omaggio per ciascuna delle repliche (4×2) che si svolgeranno nella Sala Grande dal 3 al 6 marzo.
Foto: Laila Pozzo